Christopher Walken on His Dislike of Punctuation and Filming 'A Late Quartet' in His Hometown of NYC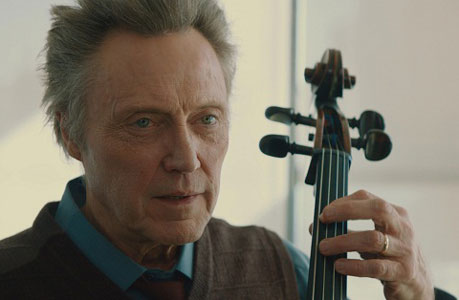 Every time I think I'm finished writing articles about one of Christopher Walken's roles, in less than a month I find myself writing about another one of the prolific actor's roles.  This time around it's an interview Walken did with The New York Post to promote A Late Quartet, in which he plays the cellist of a Manhattan chamber ensemble.  He talks about faking the cello, what he loved about filming in New York, and, of course, his recognizable delivery.
Walken didn't learn how to play the cello for the movie, but he had to learn how to convincingly fake it.  He credits this to his teacher, saying, "I had a wonderful teacher. Of course, the body language — the way your shoulders move and the angle of your head, there was a lot of that."
One of the draws to making the film for Walken was being able to conveniently work where he was born.  He explains, "I was born in New York, I went to school at Columbus Circle and I watched Lincoln Center be built from the tenements featured in West Side Story. So to make a movie on my own turf! [During filming] I had an apartment there on the Upper West Side, and I had forgotten something. So I just walked back to my apartment and got it, and nobody even knew I was gone. I wish I could make a lot of movies that way. To work where you live, it's just divine!"
Of course, it wouldn't be a Christopher Walken interview if he wasn't asked about his unique delivery.  Surprisingly, he seems to have a different answer every time, and this time he blames it on his dislike of punctuation.  He explains, "I think it has to do with the fact that I love the words, but I don't like the punctuation. I feel that punctuation is a kind of stage direction. Punctuation tells you how to say something, and I think the words of what you have to say and how you say them is really up to you."
A Late Quartet is now playing in limited release.
http://www.dailyactor.com/wp-content/uploads/2015/03/alec-baldwin.jpg
Alec Baldwin On Keeping SNL Fresh, His Daily Routine and His Ideal Role
Alec Baldwin is an ordinary guy. Well, that's what he said in a recent Reddit AMA, anyway. The actor took the chance to open up about what his average day was like, holding the public's interest and why he chooses not to do many films any more. "My average day is pretty ordinary," he says. […]
http://www.dailyactor.com/2015/04/alec-baldwin-snl-daily-routine-his-ideal-role/
http://www.dailyactor.com/wp-content/uploads/2015/03/steve-buscemi-boardwalk-empire.jpg
Steve Buscemi's "Ask Me Anything" Chat on Reddit: "I don't think you can point to any one character and say that that's 'me'"
"With any role I play, I only have myself" - Steve Buscemi
http://www.dailyactor.com/2015/03/steve-buscemi-ask-me-anything-chat-on-reddit/
http://www.dailyactor.com/wp-content/uploads/2015/03/sally-field-hello-my-name-is-doris.jpg
Sally Field On Improvisation, How She Chooses Her Roles and 'Hello, My Name is Doris'
"There's a dearth of roles for women. I turn down a lot of stuff because there's just nothing in it for me to do." – Sally Field Actress Sally Field put in an appearance at SXSW last week to promote her new film, Hello My Name is Doris. Michael Showalter has directed the movie […]
http://www.dailyactor.com/2015/03/sally-field-improvisation-roles-hello-my-name-is-doris/
http://www.dailyactor.com/wp-content/uploads/2015/03/Will-Ferrell-Get-Hard.jpg
Will Ferrell on His Comedy Roots, 'Get Hard' and His Favorite Roles to Play
Ferrell was on hand to take part in a Q&A and spoke more about how working with Hart came about. When asked if he chooses his projects based on who he wants to work with, or the script itself, Ferrell explained that each project was different.
http://www.dailyactor.com/2015/03/will-ferrell-on-his-comedy-roots-get-hard-and-his-favorite-roles-to-play/
http://www.dailyactor.com/wp-content/uploads/2015/03/daniel-dae-kim.jpg
Hawaii Five-0's Daniel Dae Kim Talks Directorial Debut: "The first day I had to yell action, it was kind of odd"
Hawaii Five-0's Daniel Dae Kim, who fans know best as Chin Ho Kelly, recently made his directorial debut on the CBS series. Kim shared his experience with The Hollywood Reporter, saying that his experience was "weird at first," as he had to direct his co-stars. "The first day I had to yell action, it was […]
http://www.dailyactor.com/2015/03/hawaii-five-0-daniel-dae-kim-directorial-debut/