Christopher Walken on His Dislike of Punctuation and Filming 'A Late Quartet' in His Hometown of NYC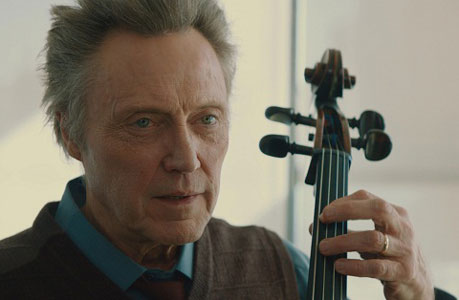 Every time I think I'm finished writing articles about one of Christopher Walken's roles, in less than a month I find myself writing about another one of the prolific actor's roles.  This time around it's an interview Walken did with The New York Post to promote A Late Quartet, in which he plays the cellist of a Manhattan chamber ensemble.  He talks about faking the cello, what he loved about filming in New York, and, of course, his recognizable delivery.
Walken didn't learn how to play the cello for the movie, but he had to learn how to convincingly fake it.  He credits this to his teacher, saying, "I had a wonderful teacher. Of course, the body language — the way your shoulders move and the angle of your head, there was a lot of that."
One of the draws to making the film for Walken was being able to conveniently work where he was born.  He explains, "I was born in New York, I went to school at Columbus Circle and I watched Lincoln Center be built from the tenements featured in West Side Story. So to make a movie on my own turf! [During filming] I had an apartment there on the Upper West Side, and I had forgotten something. So I just walked back to my apartment and got it, and nobody even knew I was gone. I wish I could make a lot of movies that way. To work where you live, it's just divine!"
Of course, it wouldn't be a Christopher Walken interview if he wasn't asked about his unique delivery.  Surprisingly, he seems to have a different answer every time, and this time he blames it on his dislike of punctuation.  He explains, "I think it has to do with the fact that I love the words, but I don't like the punctuation. I feel that punctuation is a kind of stage direction. Punctuation tells you how to say something, and I think the words of what you have to say and how you say them is really up to you."
A Late Quartet is now playing in limited release.
Latest Videos
http://www.dailyactor.com/wp-content/uploads/2014/07/bill-hader.jpg
Bill Hader: "I kind of fell into acting" (video)
Bill Hader, starring in the soon to be released The Skeleton Twins, talks about the film and how he fell into acting and then got "crazy lucky" in this quick video from USA Today. Share on Tumblr
http://www.dailyactor.com/2014/07/bill-hader-fell-into-acting-video/
http://www.dailyactor.com/wp-content/uploads/2014/07/director-john-carney-narrates-a.jpg
Director John Carney Narrates a Scene from 'Begin Again' Starring Kiera Knightley and Mark Ruffalo
Director John Carney (Once) narrates a scene from his new film, Begin Again. Starring Keira Knightley and Mark Ruffalo, the scene shows the first time the two characters meet. I haven't seen it yet but I've heard it's great.
http://www.dailyactor.com/2014/07/begin-again-scene-director-john-carney-keira-knightley-mark-ruffalo/
http://www.dailyactor.com/wp-content/uploads/2014/07/holler-if-you-hear-me-gma.jpg
Watch the Cast of Broadway's 'Holler If You Hear Me' Perform 'California Love' on GMA
The cast of Broadway's newest musical, Holler If You Hear Me with music from Tupac Shakur, performed on Good Morning America this morning. Singing 'California Love', the cast (including the teriffic Christopher Jackson – read our interview here), show why they're the most energetic and inspiring group of actors on Broadway. Holler If Ya Hear [...]
http://www.dailyactor.com/2014/07/watch-cast-broadways-holler-hear-perform-california-love-gma/
http://www.dailyactor.com/wp-content/uploads/2014/07/behind-the-scenes-of-dawn-of-the.jpg
Behind the Scenes of 'Dawn of the Planet of the Apes' with Performance Capture Actor Terry Notary
Actor Terry Notary is 1 of 5 actors playing the apes in the new Dawn of the Planet of the Apes. "When you see armies of apes," he says, that's "five of us." Check out the video where you can watch his performance capture work.
http://www.dailyactor.com/2014/07/dawn-planet-apes-performance-capture-actor-terry-notary/
http://www.dailyactor.com/wp-content/uploads/2014/07/melissa-mccarthy-daily-show.jpg
Melissa McCarthy and John Stewart Talk About Terrible Commercial Auditions on 'The Daily Show'
Melissa McCarthy stopped by The Daily Show last week to plug about her new movie, Tammy. She talked about how she loved working with her husband, Ben Falcone (director of Tammy) and then segued into talking about some horrible working situations. The always hilarious McCarthy then started to tell host John Stewart about a particular [...]
http://www.dailyactor.com/2014/07/melissa-mccarthy-john-stewart-commercial-auditions-the-daily-show/