'Batman Live' Actor Talks About Dressing Up as the Caped Crusader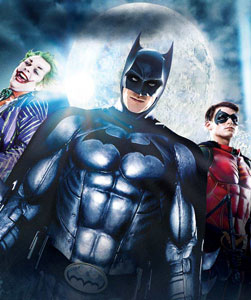 Just about everyone would like to be Batman, which is why thousands of Batman Halloween costumes for children and adults are sold every year.  The costume is just awesome in every way, right?
Actor George Turvey would beg to differ.  He would know — he appears as Batman night after night in Batman Live, an arena show touring nationally.  He reveals, "You feel a little bit like you're wearing every item of your clothing at the same time. You can't move your head that much and if you're going to look in a direction, you've got to move your entire body."
Nonetheless, there are some perks to dressing as Bruce Wayne's alter ego.  Turvey points out, "It's quite tight on you but it's a nice feeling. It makes you feel like you're strong." That's definitely a plus, since Turvey confesses that he feels it would be wrong to ever show Batman as tired.  He explains, "That's why fitness is so important. You don't want the suit to wear you. You want to wear the suit. He's so much about strength and power."  Of course, putting the suit on itself is mind-blowing, with Turvey adding, "You catch your shadow in the light, you see the outline of the costume and you get excited."
But there's more to the role than just looking good in the suit.  Turvey explains that he has to make sure that he has to balance both sides of Batman's personality, explaining, "There are two sides to him — Bruce Wayne and Batman — and you've got to continue the truth: that he's the same person inside the suit. It's really tough. You act through the cowl and the mask but still bring that level of truth."
When he walks offstage, Turvey is still pumped, but it doesn't last.  He reveals, "An hour after that, I'm spent. It's such a unique acting job. You get a lot of energy from the audience cheering."
via The Sioux City Journal. For information on when Batman Live is coming to your town, check out the show's website.
Latest Videos
http://www.dailyactor.com/wp-content/uploads/2014/07/bill-hader.jpg
Bill Hader: "I kind of fell into acting" (video)
Bill Hader, starring in the soon to be released The Skeleton Twins, talks about the film and how he fell into acting and then got "crazy lucky" in this quick video from USA Today. Share on Tumblr
http://www.dailyactor.com/2014/07/bill-hader-fell-into-acting-video/
http://www.dailyactor.com/wp-content/uploads/2014/07/director-john-carney-narrates-a.jpg
Director John Carney Narrates a Scene from 'Begin Again' Starring Kiera Knightley and Mark Ruffalo
Director John Carney (Once) narrates a scene from his new film, Begin Again. Starring Keira Knightley and Mark Ruffalo, the scene shows the first time the two characters meet. I haven't seen it yet but I've heard it's great.
http://www.dailyactor.com/2014/07/begin-again-scene-director-john-carney-keira-knightley-mark-ruffalo/
http://www.dailyactor.com/wp-content/uploads/2014/07/holler-if-you-hear-me-gma.jpg
Watch the Cast of Broadway's 'Holler If You Hear Me' Perform 'California Love' on GMA
The cast of Broadway's newest musical, Holler If You Hear Me with music from Tupac Shakur, performed on Good Morning America this morning. Singing 'California Love', the cast (including the teriffic Christopher Jackson – read our interview here), show why they're the most energetic and inspiring group of actors on Broadway. Holler If Ya Hear [...]
http://www.dailyactor.com/2014/07/watch-cast-broadways-holler-hear-perform-california-love-gma/
http://www.dailyactor.com/wp-content/uploads/2014/07/behind-the-scenes-of-dawn-of-the.jpg
Behind the Scenes of 'Dawn of the Planet of the Apes' with Performance Capture Actor Terry Notary
Actor Terry Notary is 1 of 5 actors playing the apes in the new Dawn of the Planet of the Apes. "When you see armies of apes," he says, that's "five of us." Check out the video where you can watch his performance capture work.
http://www.dailyactor.com/2014/07/dawn-planet-apes-performance-capture-actor-terry-notary/
http://www.dailyactor.com/wp-content/uploads/2014/07/melissa-mccarthy-daily-show.jpg
Melissa McCarthy and John Stewart Talk About Terrible Commercial Auditions on 'The Daily Show'
Melissa McCarthy stopped by The Daily Show last week to plug about her new movie, Tammy. She talked about how she loved working with her husband, Ben Falcone (director of Tammy) and then segued into talking about some horrible working situations. The always hilarious McCarthy then started to tell host John Stewart about a particular [...]
http://www.dailyactor.com/2014/07/melissa-mccarthy-john-stewart-commercial-auditions-the-daily-show/