Cynthia Nixon on the Challenges of a British Accent and Playing Evil in 'World Without End'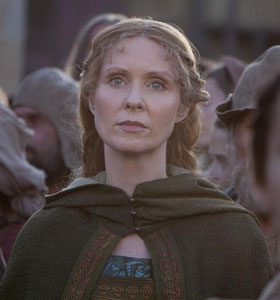 Sex and the City's Cynthia Nixon has taken on a whole new world in the upcoming ReelzChannel's mini-series that has been adapted from the works of author Ken Follett.  Entitled World Without End, Nixon has traded in her glamorous life with Carrie Bradshaw and the girls for a more devilish role.  In the $46 million dollar production Nixon plays Petranilla, a killer and master manipulator living in the 14th century in the midst of the Hundred Years' War with Black Death looming in the air.
Speaking with The Hollywood Reporter about her challenging role, Nixon explains that the dramatically different character is what drew her in. "It's such a wonderfully juicy part and also such a departure. I've never played anything quite like this. I might have played a couple slightly villainous people in my time, but I've never playing anyone this evil yet seemingly sweet and helpless on top of it. I haven't murdered a lot of people in my roles."
The British accent was also a challenge for Nixon.  "I have had to do that before, but I've never had to do it surrounded by other people with real English accents. That was a challenge. We had a vocal coach who I worked with transatlantically before I arrived [for the shoot]. Before filming, [I worked on it] quite intensively. She was there every day watching filming, and if something was wrong to ear after a particular take, she'd jump right up and attack it." 
The 46-year old actress shared that there were other demands she has to meet while  tackling the role of Petranilla.  "I would say the most challenging thing was making sure to plot carefully what was happening to Petranilla episode by episode and chart that out in my own mind. I had to make sure it would build, so all of the character of Petranilla would really evolve and change. I didn't want to be completely a dastardly person at the beginning."
World Without End airs Wednesdays at 8pm.
Latest Videos
http://www.dailyactor.com/wp-content/uploads/2014/07/bill-hader.jpg
Bill Hader: "I kind of fell into acting" (video)
Bill Hader, starring in the soon to be released The Skeleton Twins, talks about the film and how he fell into acting and then got "crazy lucky" in this quick video from USA Today. Share on Tumblr
http://www.dailyactor.com/2014/07/bill-hader-fell-into-acting-video/
http://www.dailyactor.com/wp-content/uploads/2014/07/director-john-carney-narrates-a.jpg
Director John Carney Narrates a Scene from 'Begin Again' Starring Kiera Knightley and Mark Ruffalo
Director John Carney (Once) narrates a scene from his new film, Begin Again. Starring Keira Knightley and Mark Ruffalo, the scene shows the first time the two characters meet. I haven't seen it yet but I've heard it's great.
http://www.dailyactor.com/2014/07/begin-again-scene-director-john-carney-keira-knightley-mark-ruffalo/
http://www.dailyactor.com/wp-content/uploads/2014/07/holler-if-you-hear-me-gma.jpg
Watch the Cast of Broadway's 'Holler If You Hear Me' Perform 'California Love' on GMA
The cast of Broadway's newest musical, Holler If You Hear Me with music from Tupac Shakur, performed on Good Morning America this morning. Singing 'California Love', the cast (including the teriffic Christopher Jackson – read our interview here), show why they're the most energetic and inspiring group of actors on Broadway. Holler If Ya Hear [...]
http://www.dailyactor.com/2014/07/watch-cast-broadways-holler-hear-perform-california-love-gma/
http://www.dailyactor.com/wp-content/uploads/2014/07/behind-the-scenes-of-dawn-of-the.jpg
Behind the Scenes of 'Dawn of the Planet of the Apes' with Performance Capture Actor Terry Notary
Actor Terry Notary is 1 of 5 actors playing the apes in the new Dawn of the Planet of the Apes. "When you see armies of apes," he says, that's "five of us." Check out the video where you can watch his performance capture work.
http://www.dailyactor.com/2014/07/dawn-planet-apes-performance-capture-actor-terry-notary/
http://www.dailyactor.com/wp-content/uploads/2014/07/melissa-mccarthy-daily-show.jpg
Melissa McCarthy and John Stewart Talk About Terrible Commercial Auditions on 'The Daily Show'
Melissa McCarthy stopped by The Daily Show last week to plug about her new movie, Tammy. She talked about how she loved working with her husband, Ben Falcone (director of Tammy) and then segued into talking about some horrible working situations. The always hilarious McCarthy then started to tell host John Stewart about a particular [...]
http://www.dailyactor.com/2014/07/melissa-mccarthy-john-stewart-commercial-auditions-the-daily-show/