Times Square TKTS Booth Changes Policies to Offer More Options to Ticketbuyers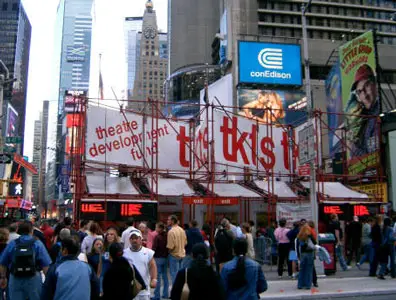 One of New York City's top tourist attractions isn't a museum or a historic building, it's a booth.  Well known to Broadway fans, the TKTS booth in Times Square has been selling discount day of the show tickets to theatergoers for four decades.  But whether you've only used the service once or are there every weekend you should be aware that the Theater Development Fund, which is the nonprofit that operates the TKTS booth, are changing some of the policies.
Previously, tickets to matinee performances were sold in the morning with tickets to evening performances not going on sale until 3PM.  Now tickets to even performances are available as soon as the booth opens at 10AM.   The booth is also selling full-price tickets to  upcoming dates of future shows without discounts for the first time — and the benefit of buying full-price tickets at the TKTS booth is knowing that your $4 service fee is being doing donated to the Theater Development Fund rather than the pockets of one of the many ticket selling corporate outlets (in order not to compete with the theater box offices, TKTS will not sell full-price tickets for performances on that day).  These new policies only apply to the TKTS booth in Times Square and not the satellite locations in South Street Seaport and Brooklyn.
The hours of the Times Square booth have also changed.  The booth opens for full-price sales every day starting at 10AM (11 AM on Sundays) and discount tickets go on sale when the booth opens at 10AM on Wednesday and Saturday and 11AM on Sunday, 2PM on Tuesdays, and 3PM on Monday, Thursday, and Friday.
The new policies offer more options to those looking to save a little bit of money when choosing to see a Broadway show while in New York, and the increased hours will allow theatergoers more time to nab their tickets.
http://www.dailyactor.com/wp-content/uploads/2015/01/watch-al-pacino-talks-the-humbli.jpg
Watch: Al Pacino Talks 'The Humbling' and His Extraordinary Career
In this conversation with Al Pacino talks about his role in The Humbling -- including working with Greta Gerwig -- and his historic acting career
http://www.dailyactor.com/2015/01/watch-al-pacino-extraordinary-career/
http://www.dailyactor.com/wp-content/uploads/2015/01/watch-oscar-nominee-steve-carell.jpg
Watch: Oscar Nominee Steve Carell Talks Improv, Auditioning for 'The Office' and 'Foxcatcher'
Carell talks about his entire career as an actor, including his background in improv, how he landed the Michael Scott role on The Office, and Foxcatcher
http://www.dailyactor.com/2015/01/oscar-nominee-steve-carell-improv-auditioning-for-the-office-foxcatcher/
http://www.dailyactor.com/wp-content/uploads/2015/01/ethan-hawke-ellar-coltrane-boyhood.jpg
Ethan Hawke Calls 'Boyhood' the "most special endeavor of my life"
Ethan Hawke is riding high with his fourth Oscar nomination for the Richard Linklater-directed Boyhood. In a recent "Ask Me Anything" on Reddit, the 44-year-old actor gave some thoughtful insight into his career and the 12-year creative endeavor that became the biggest film of the Oscar season. When asked what was the most difficult thing about […]
http://www.dailyactor.com/2015/01/ethan-hawke-boyhood-reddit-amaife/
http://www.dailyactor.com/wp-content/uploads/2015/01/martha-plimpton-a-delicate-balance.jpg
Martha Plimpton Takes a Refreshing Approach to a Long-Lasting Career
Martha Plimpton is an actress who enjoys the work, she's not in it for the fame. The proof is in her continually excellent work that she is doing on-screen and on the stage. She's currently starring in A Delicate Balance on Broadway. It's the audience who gives her the ultimate thrill. "I try to get […]
http://www.dailyactor.com/2015/01/martha-plimpton-long-lasting-career/
http://www.dailyactor.com/wp-content/uploads/2015/01/watch-michael-keaton-talks-candi.jpg
Watch: Michael Keaton Talks Candidly About His Career and His Approach to Acting in 'Birdman'
In this nearly 90 minute conversation, Michael Keaton is his usual affable self but is also remarkably candid about his career and his approach to acting.
http://www.dailyactor.com/2015/01/michael-keaton-career-approach-to-acting-birdman/