Thomas Sadoski on His 'The Newsroom' Audition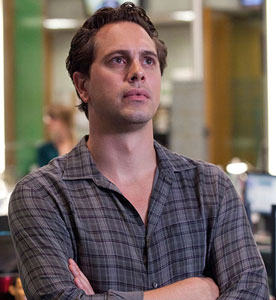 Thomas Sadoski's connections to the world of theater helped him land the role of Don Keefer on HBO's The Newsroom.
"The thing that was so exciting about working on The Newsroom is that we're all theater rats," Sadoski told Yahoo! News. "The first day of rehearsal in LA, Aaron [Sorkin, creator and writer of Newsroom] got up and said, 'You're going to look around this room and notice we are front-loaded with an extraordinary amount of Broadway theater talent.  That is not by accident.'"
Sadoski was working on Broadway when Sorkin decided to audition him for the show.  "Aaron Sorkin had seen reasons to be pretty, and at the time I was doing The House of the Blue Leaves on Broadway, which Scott Rudin was producing," the actor recalled.  "Actually, both Alison Pill [his Newsroom costar] and I were doing it. I got a call: 'Aaron would like you to read for this part.'  Pill came in and was like, 'Oh my God, I'm auditioning for the new Aaron Sorkin series!'  And I was like, 'Oh my God, I just got the same call!'"
"I went in and read; it went well.  A couple of weeks went by, and it was the opening night of House of Blue Leaves, and my agent and manager grabbed me, pulled me into a corner, and told me: 'We got the call, you're going to get the offer on Sorkin's new series."
But despite his television success, Sadoski is spending his break from the series by starring in a play in LA called Build.
"Theater is all I really know, and it's all I really trust as an artist at this point," he admitted.  "It's my artistic home, and it's where I'm comfortable.  I operated through the entirety of shooting the first season of The Newsroom in this daze and in this very sort of persistent nagging image that at any given moment somebody was going to come walking around the corner and be like, 'I'm sorry, we've realized we've made a terrible mistake, nobody knows who you are, and you need to get the hell out of here.'  So I feel very blessed to have made it through the season and to have been asked to come back for a second one."
"I had time, and I didn't want to do nothing with it—and I didn't trust that there was going to be any film or television work that would come my way.  So when this opportunity presented itself, I said, 'Yeah, absolutely.'  I want to be in the theater world out here because, frankly, I can't live without it.  I can't imagine my life without doing theater."
Latest Videos
http://www.dailyactor.com/wp-content/uploads/2014/08/bryan-cranston-emmy-award-speech.jpg
Watch: Bryan Cranston's Emmy Award Speech: "I love to act. It is a passion of mine and I will do it until my last breath."
The Emmy Awards weren't the most exciting awards show this year but with Bryan Cranston winning for Outstanding Actor in a Drama for Breaking Bad, we at least got to hear one heck of a fantastic acceptance speech. "I was a kid who always looked for the shortcut," he said. "I did happen to stumble […]
http://www.dailyactor.com/2014/08/watch-bryan-cranston-and-aaron-pauls-emmy-award-speeches/
http://www.dailyactor.com/wp-content/uploads/2014/08/audition-tapes-gerard-butler-aud.jpg
Audition Tapes: Gerard Butler Auditions for 'Dracula 2000′
Check out Gerard Butler auditioning for the role of Dracula in the movie, Dracula 2000. The film, about a group of thieves who break into a chamber expecting to find paintings, but instead find Dracula himself, also starred Christopher Plummer, Jonny Lee Miller and Nathan Fillion. Bulter has some sweet rock star hair, huh?
http://www.dailyactor.com/2014/08/audition-tapes-gerard-butler-dracula-2000/
http://www.dailyactor.com/wp-content/uploads/2014/08/interview-matt-dillon-and-carla.jpg
Interview: Matt Dillon and Carla Gugino Talk 'Wayward Pines'
FOX has a new limited-series that's got a terrific cast and interesting premise. It's called Wayward Pines and stars Matt Dillon, Carla Gugino, Melissa Leo, Toby Jones, Terrance Howard, Juliette Lewis, Tim Griffin and Shannyn Sossamon. The show, whose pilot was directed by M. Night Shyamalan, is about a Secret Service agent (Dillon) goes to […]
http://www.dailyactor.com/2014/08/interview-matt-dillon-carla-gugino-wayward-pines-comic-con/
http://www.dailyactor.com/wp-content/uploads/2014/08/interview-wayward-pines-stars-ti.jpg
Interview: 'Wayward Pines' Stars Tim Griffin and Shannyn Sossamon on the Show, Their Characters and More!
Griffin and Sossamonwere at Comic-Con where they sat in on some roundtable interviews to talk about the show.
http://www.dailyactor.com/2014/08/interview-wayward-pines-stars-tim-griffin-shannyn-sossamon-comic-con/
http://www.dailyactor.com/wp-content/uploads/2014/08/interview-m-night-shyamalan-talk.jpg
Interview: M. Night Shyamalan Talks 'Wayward Pines' and Why He Expanded a Young Actors Role on the Show
I talked to Shyamalan at Comic-Con in a roundtable interview where he talked about the cast, what he learned from working in TV and how young actor Charlie Tahan started out with a small part but as the story grew, so did his role.
http://www.dailyactor.com/2014/08/interview-m-night-shyamalan-wayward-pines-comic-con/