'Pushing Daisies' Anna Friel takes on 'Uncle Vanya': "Every single word matters"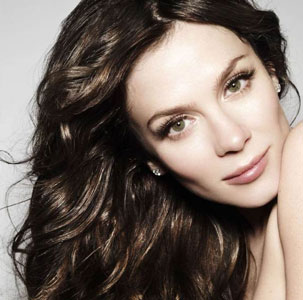 Sometimes an actor is faced with the decision of whether to choose a role for the popularity it will bring or to stick with more fulfilling projects.  British actress Anna Friel ended up choosing to star in a new production of Anton Chekov's Uncle Vanya.
"I was actually offered a big job in LA at the same time as Uncle Vanya that would have earned me a lot of money and brought fame again," Friel recounted to The Guardian.  "I say 'fame again,' but it would have heightened my profile because more people would have seen it on television.  But I thought this part would teach me more.  Now, my thinking tends to be, what have I not done?  I'd like to have longevity as an actress and be able to do theatre for many, many years and get better at that."
Friel, of Pushing Daisies fame, researched the role of Yelena before rehearsals began.  "When I accepted it, I knew the play, but I'd never really studied Chekhov the person," she said.  "So I went to Moscow for a few days and went to the Chekhov museum and asked lots of questions.  They said: 'If you want to understand Chekhov, learn about a man called [Ivan] Bunin.'  He was his friend, a contemporary, and he wrote this beautiful book called About Chekhov.  You learn so much about the man that you can't help but fall in love with him.  It's his whole attitude to life: you must work and work and work.  Don't waste a second of it."
This was the perfect attitude for Friel to adopt, since the play can be emotionally draining.  "Sometimes you think: 'Oh I'm really happy today, I'm with my daughter, and obviously I've got to go to the theatre and put myself in a very dark place,'" she said.  "But with this, I feel honored that I'm speaking Chekhov's words.  That could sound wanky but I think he's one of the most beautiful writers.  Where others would have a whole page of writing, he can condense it to just two sentences.  Every single world matters."
The actress is quick to note the importance of the writer in the theatrical process.  "It all comes down to the writing: you're as good as the writing you're given," Friel said.  "If Capote's written something, it's going to be brilliant and it's just up to you to do the work."
http://www.dailyactor.com/wp-content/uploads/2015/02/Helen-Mirren-The-Queen.jpg
Helen Mirren on Winning an Oscar: "It's an indescribable moment"
"It's hard to say, because you don't know what would have happened if you hadn't won" - Helen Mirren When Asked If Winning an Oscar Changed Her Career
http://www.dailyactor.com/2015/02/helen-mirren-on-winning-an-oscar/
http://www.dailyactor.com/wp-content/uploads/2015/02/anna-chlumsky-james-earl-jones.jpg
Anna Chlumsky on Her Broadway Debut: "For me, it was an opportunity to go in the direction that I hadn't played in a while"
"I think my personality lends itself to ensembles" - Anna Chlumsky
http://www.dailyactor.com/2015/02/anna-chlumsky-broadway-debut-ensemble/
http://www.dailyactor.com/wp-content/uploads/2015/02/joanne-froggatt-downton-abbey.jpg
'Downton Abbey' Star Joanne Froggatt on Creating Her Own Backstory and How She's "Not a Big-Budget Hollywood Type"
"They want the model type, classically beautiful, and I'm not" - Joanne Froggatt on Working in Hollywood
http://www.dailyactor.com/2015/02/downton-abbey-star-joanne-froggatt-character-backstory-hollywood/
http://www.dailyactor.com/wp-content/uploads/2015/01/al-pacino-the-humbling.jpg
Al Pacino on Acting: "It becomes such a part of your nature you rarely ever think about quitting"
After working infrequently in film over the last decade, Al Pacino appears in several films released in 2015, including The Humbling, an indie drama directed by Barry Levinson.
http://www.dailyactor.com/2015/02/al-pacino-on-acting-it-becomes-such-a-part-of-your-nature/
http://www.dailyactor.com/wp-content/uploads/2015/01/still-alice-julianne-moore.jpg
Julianne Moore Talks Her Research for 'Still Alice' and How the Movie Came Together
Moore talks about shooting Still Alice, research of Alzheimer's patients and how she didn't expect that the film would come together on such a small budget.
http://www.dailyactor.com/2015/02/julianne-moore-research-for-still-alice/