'Pushing Daisies' Anna Friel takes on 'Uncle Vanya': "Every single word matters"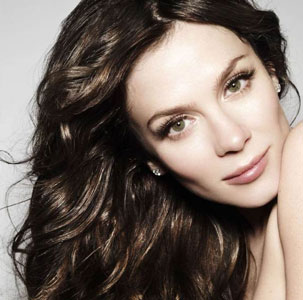 Sometimes an actor is faced with the decision of whether to choose a role for the popularity it will bring or to stick with more fulfilling projects.  British actress Anna Friel ended up choosing to star in a new production of Anton Chekov's Uncle Vanya.
"I was actually offered a big job in LA at the same time as Uncle Vanya that would have earned me a lot of money and brought fame again," Friel recounted to The Guardian.  "I say 'fame again,' but it would have heightened my profile because more people would have seen it on television.  But I thought this part would teach me more.  Now, my thinking tends to be, what have I not done?  I'd like to have longevity as an actress and be able to do theatre for many, many years and get better at that."
Friel, of Pushing Daisies fame, researched the role of Yelena before rehearsals began.  "When I accepted it, I knew the play, but I'd never really studied Chekhov the person," she said.  "So I went to Moscow for a few days and went to the Chekhov museum and asked lots of questions.  They said: 'If you want to understand Chekhov, learn about a man called [Ivan] Bunin.'  He was his friend, a contemporary, and he wrote this beautiful book called About Chekhov.  You learn so much about the man that you can't help but fall in love with him.  It's his whole attitude to life: you must work and work and work.  Don't waste a second of it."
This was the perfect attitude for Friel to adopt, since the play can be emotionally draining.  "Sometimes you think: 'Oh I'm really happy today, I'm with my daughter, and obviously I've got to go to the theatre and put myself in a very dark place,'" she said.  "But with this, I feel honored that I'm speaking Chekhov's words.  That could sound wanky but I think he's one of the most beautiful writers.  Where others would have a whole page of writing, he can condense it to just two sentences.  Every single world matters."
The actress is quick to note the importance of the writer in the theatrical process.  "It all comes down to the writing: you're as good as the writing you're given," Friel said.  "If Capote's written something, it's going to be brilliant and it's just up to you to do the work."
Latest Videos
http://www.dailyactor.com/wp-content/uploads/2014/07/bill-hader.jpg
Bill Hader: "I kind of fell into acting" (video)
Bill Hader, starring in the soon to be released The Skeleton Twins, talks about the film and how he fell into acting and then got "crazy lucky" in this quick video from USA Today. Share on Tumblr
http://www.dailyactor.com/2014/07/bill-hader-fell-into-acting-video/
http://www.dailyactor.com/wp-content/uploads/2014/07/director-john-carney-narrates-a.jpg
Director John Carney Narrates a Scene from 'Begin Again' Starring Kiera Knightley and Mark Ruffalo
Director John Carney (Once) narrates a scene from his new film, Begin Again. Starring Keira Knightley and Mark Ruffalo, the scene shows the first time the two characters meet. I haven't seen it yet but I've heard it's great.
http://www.dailyactor.com/2014/07/begin-again-scene-director-john-carney-keira-knightley-mark-ruffalo/
http://www.dailyactor.com/wp-content/uploads/2014/07/holler-if-you-hear-me-gma.jpg
Watch the Cast of Broadway's 'Holler If You Hear Me' Perform 'California Love' on GMA
The cast of Broadway's newest musical, Holler If You Hear Me with music from Tupac Shakur, performed on Good Morning America this morning. Singing 'California Love', the cast (including the teriffic Christopher Jackson – read our interview here), show why they're the most energetic and inspiring group of actors on Broadway. Holler If Ya Hear [...]
http://www.dailyactor.com/2014/07/watch-cast-broadways-holler-hear-perform-california-love-gma/
http://www.dailyactor.com/wp-content/uploads/2014/07/behind-the-scenes-of-dawn-of-the.jpg
Behind the Scenes of 'Dawn of the Planet of the Apes' with Performance Capture Actor Terry Notary
Actor Terry Notary is 1 of 5 actors playing the apes in the new Dawn of the Planet of the Apes. "When you see armies of apes," he says, that's "five of us." Check out the video where you can watch his performance capture work.
http://www.dailyactor.com/2014/07/dawn-planet-apes-performance-capture-actor-terry-notary/
http://www.dailyactor.com/wp-content/uploads/2014/07/melissa-mccarthy-daily-show.jpg
Melissa McCarthy and John Stewart Talk About Terrible Commercial Auditions on 'The Daily Show'
Melissa McCarthy stopped by The Daily Show last week to plug about her new movie, Tammy. She talked about how she loved working with her husband, Ben Falcone (director of Tammy) and then segued into talking about some horrible working situations. The always hilarious McCarthy then started to tell host John Stewart about a particular [...]
http://www.dailyactor.com/2014/07/melissa-mccarthy-john-stewart-commercial-auditions-the-daily-show/