Movie Review: 'The Oranges'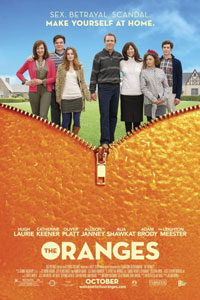 Every movie requires some suspension of disbelief.  Whether major, like with a sci-fi movie, or minor, like actors waking up with perfect hair and make-up, you have to shrug your shoulders at some point and say "it's a movie."  I'm willing to suspend a lot when it comes to movies, but when it comes to the ways basic human relationships operate it's a bit hard. 
The Oranges (so titled because it takes place in West Orange, New Jersey with seemingly no other reason for the title) is narrated by Vanessa Walling (Elizabeth Shawkat), a 24 year old aspiring furniture designer who lives with her parents, David and Paige Walling (Hugh Laurie & Catherine Keener), though their marriage has deteriorated to the point that David sleeps in the pool house.  They have another son, Toby (Adam Brody), who is mostly an afterthought.  The Wallings live across the street from their best friends Terry and Cathy Ostroff (Oliver Platt & Allison Janney), whose daughter, Nina (Leighton Meester) used to be best friends with Vanessa before Nina began ignoring her in high school and then decided to travel the world on her parents' dime.  Nina, who is 24 but seemingly going on 15, is the kind of girl who fancies herself a world traveler but seems to have only learned that in Europe all the alcohol bottles have funny writing on them.
Although she has swore that she would never return to New Jersey, Nina comes home after she breaks up with her fiance.  Though Toby has a thing for Nina, she decides to go after unhappy David and they begin a relationship that naturally causes chaos among the families.  This is compounded by the fact that the families seem to have no other friends or family (they spend all their holidays together — the film primarily takes place between Thanksgiving and Christmas), unless the plot requires some random character to show up for thirty seconds to solve a problem, like Nina's roommate who appears for all of ten seconds because her character needs a place to live.
This is supposed to be a comedy, and as such it has many funny lines.  But as far as comedies go it is a selfish and sour one, especially since after the initial shock of David and Nina's May-December relationship (in real life Laurie is 27 years Meester's senior) wears off, it apparently makes everyone's lives better, including David's best friend Terry's.  Think about that for a second: if your best friend is banging your daughter in the house across the street, you're not going to just let that slide.  But Platt just plays this nerdy, dumbfounded, heavy-breathing character, the type Patton Oswalt might get stuck doing twenty years from now if he doesn't stay choosy with his roles. In fact, Vanessa seems far more affected by the situation than Nina's own father, but the fact that her dad is screwing a girl her age doesn't get Vanessa to actually move out of the house, which makes it obvious that she has her own issues with leaving the nest.  Her only recourse is to get bad advice from her coworkers at Huffman Koos, including Hoo Lee as her manager Henry, perhaps the most blatant Asian stereotype in a movie since Mr. Yunioshi in Breakfast at Tiffany's.
I like Hugh Laurie and really wanted him to hit a home run in his first live action film in several years, but his pathetic character never gives him a chance.  The absolute nadir is when David emotionally tells Nina that she is a wonderful and amazing person, which sounds nice but she displays neither wonderful nor amazing behavior throughout the film (it seems her aspirations in life begin and end with becoming a waitress).  She has no discernible skills except the power of seducing much older men, and she shows no maturity (it seems clear that she's primarily with David to piss off her parents) whatsoever, so instead of taking this relationship seriously (because David and Nina insist it is serious) it makes more sense to think that Dr. House is just out for some easy young tail.  I respect the fact that the film doesn't follow the well-worn "romantic awakening" cliches like in Seeking a Friend for the End of the World, but there's no reason to pretend this relationship has depth when the characters have no depth.
Which brings up the biggest question: what audience is this movie aimed toward?  Fans of Gossip Girl and Meester won't like it because her character is a homewrecker shacking up with a creepy old guy.  Women won't like it for the same reasons, and while men might want to high-five Laurie's character for getting with a hot young girl, they'll probably eventually be annoyed by his pandering to her and the fact that he totally screwed over his relationships with his best friend, son, and daughter so he could buy his trophy girlfriend comfy shoes and run on the beach with her in Atlantic City.  As I said, there are a number of funny lines in the script by Ian Helfer (Wet Hot American Summer) and newcomer Jay Reiss, but funny lines alone don't make a great comedy.
This is the first film directed by Julian Farino since 1999's The Last Yellow, as he's spent most of his career directing TV episodes for shows like Sex and the City, The Office, and Entourage.  This is definitely filmed like a TV series, and perhaps this concept would've made a great ongoing dramatic television serious.  But it isn't a film comedy — and it's especially not a Christmas comedy — despite how hard everyone tries.
http://www.dailyactor.com/wp-content/uploads/2015/02/Larry-David.jpg
Larry David on Who he Wanted to Star in his Broadway Play 'Fish in the Dark': "Anybody but me"
"It's one of the reasons I didn't like acting. I don't like not being able to interject" – Larry David on acting with a script Who doesn't like Larry David? Well, to be honest, Larry David probably doesn't like Larry David. In fact, David didn't even want to cast himself in the lead of […]
http://www.dailyactor.com/2015/02/larry-david-on-who-he-wanted-to-star-broadway-play-fish-in-the-dark/
http://www.dailyactor.com/wp-content/uploads/2015/02/Helen-Mirren-The-Queen.jpg
Helen Mirren on Winning an Oscar: "It's an indescribable moment"
"It's hard to say, because you don't know what would have happened if you hadn't won" - Helen Mirren When Asked If Winning an Oscar Changed Her Career
http://www.dailyactor.com/2015/02/helen-mirren-on-winning-an-oscar/
http://www.dailyactor.com/wp-content/uploads/2015/02/anna-chlumsky-james-earl-jones.jpg
Anna Chlumsky on Her Broadway Debut: "For me, it was an opportunity to go in the direction that I hadn't played in a while"
"I think my personality lends itself to ensembles" - Anna Chlumsky
http://www.dailyactor.com/2015/02/anna-chlumsky-broadway-debut-ensemble/
http://www.dailyactor.com/wp-content/uploads/2015/02/joanne-froggatt-downton-abbey.jpg
'Downton Abbey' Star Joanne Froggatt on Creating Her Own Backstory and How She's "Not a Big-Budget Hollywood Type"
"They want the model type, classically beautiful, and I'm not" - Joanne Froggatt on Working in Hollywood
http://www.dailyactor.com/2015/02/downton-abbey-star-joanne-froggatt-character-backstory-hollywood/
http://www.dailyactor.com/wp-content/uploads/2015/01/al-pacino-the-humbling.jpg
Al Pacino on Acting: "It becomes such a part of your nature you rarely ever think about quitting"
After working infrequently in film over the last decade, Al Pacino appears in several films released in 2015, including The Humbling, an indie drama directed by Barry Levinson.
http://www.dailyactor.com/2015/02/al-pacino-on-acting-it-becomes-such-a-part-of-your-nature/