Clips and Quotes from Tomorrow Night's 'Inside the Actors Studio' Featuring Liam Neeson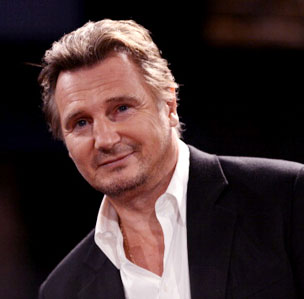 Inside the Actors Studio and its host, James Lipton, welcomes Oscar-nominated actor and Taken 2 star Liam Neeson to its stage tomorrow night (October 2nd).
In the show, Lipton asks Neeson about his roles in Schindler's List, The Dark Knight Rises and Kinsey. I'm assuming they won't talk about the cinematic trash pile, Battleship.
Neeson also shares details ranging from his always-changing accents to his romances with famous leading ladies.
 Here are some quotes from the upcoming episode:
– "Of course I can ride [a horse], John. I'm Irish." – The lie Neeson told "Excalibur" director John Boorman to get a part.
– "That's a big tree, right?" – Neeson's response to drama critic John Lahr's description of him as "a sequoia of sex."
–  "It's always script, then director, then size of the salary I guess." – Neeson on how he picks his choice of role.
– "You're wife's inside with a big chilled bottle of Pinot Noir." – Neeson on what he would like to hear God say at the gates of Heaven.
Check out some clips:
Neeson discusses his involvement with Taken
 Neeson shares that he was a competent boxer
http://www.dailyactor.com/wp-content/uploads/2015/05/Caitriona-Balfe-Outlander.jpg
Outlander's Caitriona Balfe On The Emotional Toll of Filming Violent Scenes
"Having to put yourself in that place is tough. To sit in that emotional space, especially when you're doing it day after day." - Caitriona Balfe
http://www.dailyactor.com/2015/05/outlander-catriona-balfe-emotional-toll-of-filming-violent-scenes/
http://www.dailyactor.com/wp-content/uploads/2015/05/Chrissie-Fit.jpg
Chrissie Fit on How She Landed Her Role in 'Pitch Perfect 2′
"I remember getting the audition and being like, "This might not happen," just because it is such a massive movie." - Chrissie Fit
http://www.dailyactor.com/2015/05/chrissie-fit-on-how-she-landed-her-role-in-pitch-perfect-2/
http://www.dailyactor.com/wp-content/uploads/2015/05/Sam-Elliott.jpg
Sam Elliot on How he "F–ked" Himself Out of a Career as a Lead Actor
The rugged Sam Elliot has most often cast in character actor roles throughout his long career in film, though the 70 year-old Elliot thinks it wasn't always meant to be that way.
http://www.dailyactor.com/2015/05/sam-elliot-on-how-he-f-ked-himself-out-of-a-career-as-a-lead-actor/
http://www.dailyactor.com/wp-content/uploads/2015/05/Anna-Kendrick-Pitch-Perfect-2.jpg
Anna Kendrick Talks Hollywood and its Gender Bias
"As an actress you're perpetually about to be unemployed." - Anna Kendrick
http://www.dailyactor.com/2015/05/anna-kendrick-talks-hollywood-and-its-gender-bias/
http://www.dailyactor.com/wp-content/uploads/2015/05/tom-hardy-mad-max-fury-road.jpg
Tom Hardy on Fame, Acting School, and His 'Mad Respect' for Michael Fassbender
"Do what you love doing, do it well—everything should fit into place." - Tom Hardy
http://www.dailyactor.com/2015/05/tom-hardy-fame-acting-school-michael-fassbender/