Hugo Weaving on Big-Budget Blockbusters and Playing the Red Skull: "I've done my dash with that sort of film"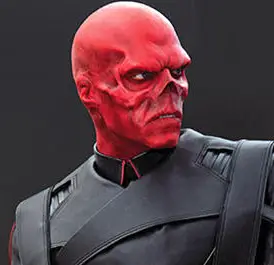 Hugo Weaving is no stranger to big-budget genre films as a key character in both The Matrix trilogy and The Lord of the Rings films (he will reprise his Rings character, the elf lord Elrond, in The Hobbit prequel movies).  However, despite starring in some of highest-grossing blockbusters of all time Weaving admits that he's ready to move on from those types of films. 
In a remarkably candid interview with Collider, Weaving expresses regret over voicing Megatron in the Transformers films and why he doesn't want to reprise his Red Skull role in future Captain America/Avengers sequels.
Surprisingly, even though Weaving only had to do voiceovers for the Transformers films he says he largely regrets the experience.  He reveals, "That's a weird job for me because it honestly was a two-hour voice job, initially.  I was doing a play and I actually didn't have time, anyway.  It was one of the only things I've ever done where I had no knowledge of it, I didn't care about it, I didn't think about it.  They wanted me to do it.  In one way, I regret that bit.  I don't regret doing it, but I very rarely do something if it's meaningless.  It was meaningless to me, honestly.  I don't mean that in any nasty way.  I did it.  It was a two-hour voice job, while I was doing other things… I never read the script.  I just have my lines, and I don't know what they mean.  That sounds absolutely pathetic!  I've never done anything like that, in my life."
Similarly, though Weaving starred in Captain America: The First Avenger as the villainous Red Skull and has sequel clauses in his contract, he doesn't expect to be called in to appear in future Marvel Universe movies.  He explains, "I think the tendency, with those films, would be to probably not bring a villain back.  They might for The Avengers, but I didn't think I'd be in Captain America 2 or 3.  I don't think Red Skull will be there.  And it's not something I would want to do again.  I'm glad I did it.  I did sign up for a number of pictures and I suppose, contractually, I would be obliged to, if they forced me to, but they wouldn't want to force someone to do it, if they didn't want to.  I think I've done my dash with that sort of film.  It was good to do it and try it out, but to be honest, it's not the sort of film I seek out and really am excited by.  As an actor, to do all sorts of different films is great.  It stretches you in different ways.  But, I increasingly like to go back to what I used to always do, which is to get involved with projects that I really have a personal affiliation with."
Weaving is currently filming a low-budget thriller titled Mystery Road and has no big-budget films in his schedule, so he seems he is following his preferred career trajectory now.
http://www.dailyactor.com/wp-content/uploads/2015/01/watch-al-pacino-talks-the-humbli.jpg
Watch: Al Pacino Talks 'The Humbling' and His Extraordinary Career
In this conversation with Al Pacino talks about his role in The Humbling -- including working with Greta Gerwig -- and his historic acting career
http://www.dailyactor.com/2015/01/watch-al-pacino-extraordinary-career/
http://www.dailyactor.com/wp-content/uploads/2015/01/watch-oscar-nominee-steve-carell.jpg
Watch: Oscar Nominee Steve Carell Talks Improv, Auditioning for 'The Office' and 'Foxcatcher'
Carell talks about his entire career as an actor, including his background in improv, how he landed the Michael Scott role on The Office, and Foxcatcher
http://www.dailyactor.com/2015/01/oscar-nominee-steve-carell-improv-auditioning-for-the-office-foxcatcher/
http://www.dailyactor.com/wp-content/uploads/2015/01/ethan-hawke-ellar-coltrane-boyhood.jpg
Ethan Hawke Calls 'Boyhood' the "most special endeavor of my life"
Ethan Hawke is riding high with his fourth Oscar nomination for the Richard Linklater-directed Boyhood. In a recent "Ask Me Anything" on Reddit, the 44-year-old actor gave some thoughtful insight into his career and the 12-year creative endeavor that became the biggest film of the Oscar season. When asked what was the most difficult thing about […]
http://www.dailyactor.com/2015/01/ethan-hawke-boyhood-reddit-amaife/
http://www.dailyactor.com/wp-content/uploads/2015/01/martha-plimpton-a-delicate-balance.jpg
Martha Plimpton Takes a Refreshing Approach to a Long-Lasting Career
Martha Plimpton is an actress who enjoys the work, she's not in it for the fame. The proof is in her continually excellent work that she is doing on-screen and on the stage. She's currently starring in A Delicate Balance on Broadway. It's the audience who gives her the ultimate thrill. "I try to get […]
http://www.dailyactor.com/2015/01/martha-plimpton-long-lasting-career/
http://www.dailyactor.com/wp-content/uploads/2015/01/watch-michael-keaton-talks-candi.jpg
Watch: Michael Keaton Talks Candidly About His Career and His Approach to Acting in 'Birdman'
In this nearly 90 minute conversation, Michael Keaton is his usual affable self but is also remarkably candid about his career and his approach to acting.
http://www.dailyactor.com/2015/01/michael-keaton-career-approach-to-acting-birdman/