Ethan Hawke talks 'Sinister' and Trying to 'Act' Fear
Ethan Hawke isn't too macho to admit that he was scared to take on a horror movie, like his new film Sinister.
"I realized about half way through shooting Sinister that I think the real reason that I never wanted to act in a scary movie was because I thought it would be scary to do it," Hawke said in an interview with Flicks and Bits.  "I think some part of me was a little superstitious that if I play that stuff I might open the door to the demons of my own mind. I've even been offered things like Macbeth, and I've found it very scary the idea of if you fully imagine this stuff, what's going to happen to you?  But the truth is that it was a lot of fun, Sinister was a lot of fun."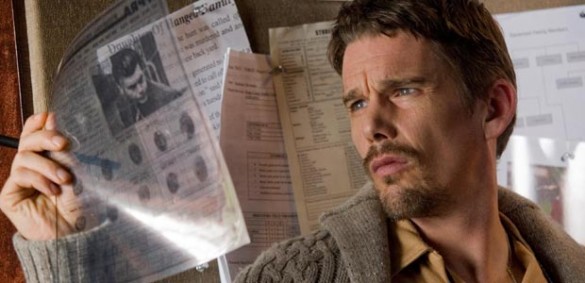 Hawke, known for his roles in Reality Bites and Training Day, was initially drawn to the script because of the lead character.  "This guy Ellison was really interesting to me, he was not a good person or a bad person, he was a really complex person," he said.  "Those are the most fun to play.  Also, the script works in regards to telling a good story.  It has whit to it, which I like."
The actor noted that acting in a thriller required him to become intimately familiar with the various aspects of fear. "Fear is a really interesting emotion," he said.  "Scott [Derrickson, writer/director of Sinister] cut together pieces of footage from The Shining, a horror film I really love.  And he cut together the famous Jack Nicholson 'Here's Johnny!' scene, without Shelley Duvall's reactions.  It became clear that Jack Nicholson isn't scary in the movie, Shelley Duvall makes him scary by her reactions.
"Fear is so hard to play, a lot of times actors love to play tough, or they love to play hurt, vulnerable, bemused, angry—a lot of those emotions are charming or interesting or human. But fear is very unappealing, and it's a scary emotion to play because it's not an emotion you admire, it's not an emotion you respect—or you're afraid of it.  After watching the Shelley Duvall performance, I really challenged myself to commit to playing fear and not be vain about it.  Which I ended up really enjoying."
Sinister opens in theaters Friday, October 12.
http://www.dailyactor.com/wp-content/uploads/2015/01/watch-al-pacino-talks-the-humbli.jpg
Watch: Al Pacino Talks 'The Humbling' and His Extraordinary Career
In this conversation with Al Pacino talks about his role in The Humbling -- including working with Greta Gerwig -- and his historic acting career
http://www.dailyactor.com/2015/01/watch-al-pacino-extraordinary-career/
http://www.dailyactor.com/wp-content/uploads/2015/01/watch-oscar-nominee-steve-carell.jpg
Watch: Oscar Nominee Steve Carell Talks Improv, Auditioning for 'The Office' and 'Foxcatcher'
Carell talks about his entire career as an actor, including his background in improv, how he landed the Michael Scott role on The Office, and Foxcatcher
http://www.dailyactor.com/2015/01/oscar-nominee-steve-carell-improv-auditioning-for-the-office-foxcatcher/
http://www.dailyactor.com/wp-content/uploads/2015/01/ethan-hawke-ellar-coltrane-boyhood.jpg
Ethan Hawke Calls 'Boyhood' the "most special endeavor of my life"
Ethan Hawke is riding high with his fourth Oscar nomination for the Richard Linklater-directed Boyhood. In a recent "Ask Me Anything" on Reddit, the 44-year-old actor gave some thoughtful insight into his career and the 12-year creative endeavor that became the biggest film of the Oscar season. When asked what was the most difficult thing about […]
http://www.dailyactor.com/2015/01/ethan-hawke-boyhood-reddit-amaife/
http://www.dailyactor.com/wp-content/uploads/2015/01/martha-plimpton-a-delicate-balance.jpg
Martha Plimpton Takes a Refreshing Approach to a Long-Lasting Career
Martha Plimpton is an actress who enjoys the work, she's not in it for the fame. The proof is in her continually excellent work that she is doing on-screen and on the stage. She's currently starring in A Delicate Balance on Broadway. It's the audience who gives her the ultimate thrill. "I try to get […]
http://www.dailyactor.com/2015/01/martha-plimpton-long-lasting-career/
http://www.dailyactor.com/wp-content/uploads/2015/01/watch-michael-keaton-talks-candi.jpg
Watch: Michael Keaton Talks Candidly About His Career and His Approach to Acting in 'Birdman'
In this nearly 90 minute conversation, Michael Keaton is his usual affable self but is also remarkably candid about his career and his approach to acting.
http://www.dailyactor.com/2015/01/michael-keaton-career-approach-to-acting-birdman/