Ed Asner Talks Going Back to Broadway in 'Grace' and Working in His 80's: "If I can't act, I may as well be lowered in a box"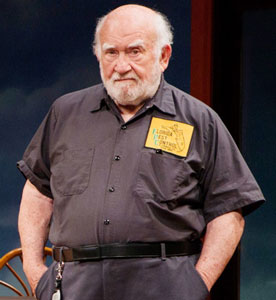 Ed Asner is appearing for the first time onstage since 1989 in the Broadway production of Grace, alongside Michael Shannon and Paul Rudd.
"We've had some difficulties during the rehearsal process, but our interrelationships are magnificent," the 82-year-old told Broadway.com.  "It's a mutual admiration society.  Before the show, I had never seen either Paul or Mike in anything.  Since then, I've seen Mike in Boardwalk Empire and in Premium Rush.  I thought he was beautiful.  Well, 'beautiful' is not a word you use for Michael Shannon."
Asner noted that Grace was the play to bring him back to the theater world because "it's the first time I was asked.  I never got another offer for a Broadway appearance after Born Yesterday with Madeline Kahn.  I got offers to tour, but that was limited, as well.  When Grace came up, I was intimidated to pick up roots and leave for such a long time."
But the actor was attracted to the role.  "I'm basically a very sappy person internally—I'm a mass of Jell-O," he admitted.  "So it's not hard at all to tap into this sappy part of me."
Asner has had a lengthy career, dating back to his days on The Mary Tyler Moore Show, a time he remembers fondly.  "We never got up a sweat rehearsing—banker's hours rehearsals," he said.  "Friday night, you assembled in front of a crowd of 300 adoring people.  Life was very sweet.  We took five days to prepare the show.  Nowadays, you'd be lucky if you got two-and-a-half, even for a hit show."
Experiences like playing Lou Grant have kept the actor working far past the age of retirement.  "Well, I found out a long time ago that I was only good for acting," he said.  "So if I can't act, I may as well be lowered in a box.  It's my way of resisting death.  I love the whole milieu.  In his autobiography Child of the Century, Ben Hecht was asked, 'What do you think of actors?"  And he said that if he went to heaven to find it was populated by actors, he wouldn't be unhappy.  And I certainly feel the same way…as long as I was God!"
http://www.dailyactor.com/wp-content/uploads/2015/03/alec-baldwin.jpg
Alec Baldwin On Keeping SNL Fresh, His Daily Routine and His Ideal Role
Alec Baldwin is an ordinary guy. Well, that's what he said in a recent Reddit AMA, anyway. The actor took the chance to open up about what his average day was like, holding the public's interest and why he chooses not to do many films any more. "My average day is pretty ordinary," he says. […]
http://www.dailyactor.com/2015/04/alec-baldwin-snl-daily-routine-his-ideal-role/
http://www.dailyactor.com/wp-content/uploads/2015/03/steve-buscemi-boardwalk-empire.jpg
Steve Buscemi's "Ask Me Anything" Chat on Reddit: "I don't think you can point to any one character and say that that's 'me'"
"With any role I play, I only have myself" - Steve Buscemi
http://www.dailyactor.com/2015/03/steve-buscemi-ask-me-anything-chat-on-reddit/
http://www.dailyactor.com/wp-content/uploads/2015/03/sally-field-hello-my-name-is-doris.jpg
Sally Field On Improvisation, How She Chooses Her Roles and 'Hello, My Name is Doris'
"There's a dearth of roles for women. I turn down a lot of stuff because there's just nothing in it for me to do." – Sally Field Actress Sally Field put in an appearance at SXSW last week to promote her new film, Hello My Name is Doris. Michael Showalter has directed the movie […]
http://www.dailyactor.com/2015/03/sally-field-improvisation-roles-hello-my-name-is-doris/
http://www.dailyactor.com/wp-content/uploads/2015/03/Will-Ferrell-Get-Hard.jpg
Will Ferrell on His Comedy Roots, 'Get Hard' and His Favorite Roles to Play
Ferrell was on hand to take part in a Q&A and spoke more about how working with Hart came about. When asked if he chooses his projects based on who he wants to work with, or the script itself, Ferrell explained that each project was different.
http://www.dailyactor.com/2015/03/will-ferrell-on-his-comedy-roots-get-hard-and-his-favorite-roles-to-play/
http://www.dailyactor.com/wp-content/uploads/2015/03/daniel-dae-kim.jpg
Hawaii Five-0's Daniel Dae Kim Talks Directorial Debut: "The first day I had to yell action, it was kind of odd"
Hawaii Five-0's Daniel Dae Kim, who fans know best as Chin Ho Kelly, recently made his directorial debut on the CBS series. Kim shared his experience with The Hollywood Reporter, saying that his experience was "weird at first," as he had to direct his co-stars. "The first day I had to yell action, it was […]
http://www.dailyactor.com/2015/03/hawaii-five-0-daniel-dae-kim-directorial-debut/