Ed Asner Talks Going Back to Broadway in 'Grace' and Working in His 80's: "If I can't act, I may as well be lowered in a box"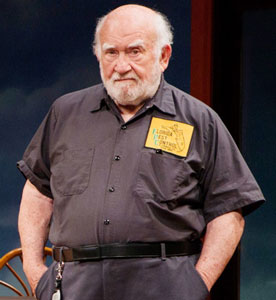 Ed Asner is appearing for the first time onstage since 1989 in the Broadway production of Grace, alongside Michael Shannon and Paul Rudd.
"We've had some difficulties during the rehearsal process, but our interrelationships are magnificent," the 82-year-old told Broadway.com.  "It's a mutual admiration society.  Before the show, I had never seen either Paul or Mike in anything.  Since then, I've seen Mike in Boardwalk Empire and in Premium Rush.  I thought he was beautiful.  Well, 'beautiful' is not a word you use for Michael Shannon."
Asner noted that Grace was the play to bring him back to the theater world because "it's the first time I was asked.  I never got another offer for a Broadway appearance after Born Yesterday with Madeline Kahn.  I got offers to tour, but that was limited, as well.  When Grace came up, I was intimidated to pick up roots and leave for such a long time."
But the actor was attracted to the role.  "I'm basically a very sappy person internally—I'm a mass of Jell-O," he admitted.  "So it's not hard at all to tap into this sappy part of me."
Asner has had a lengthy career, dating back to his days on The Mary Tyler Moore Show, a time he remembers fondly.  "We never got up a sweat rehearsing—banker's hours rehearsals," he said.  "Friday night, you assembled in front of a crowd of 300 adoring people.  Life was very sweet.  We took five days to prepare the show.  Nowadays, you'd be lucky if you got two-and-a-half, even for a hit show."
Experiences like playing Lou Grant have kept the actor working far past the age of retirement.  "Well, I found out a long time ago that I was only good for acting," he said.  "So if I can't act, I may as well be lowered in a box.  It's my way of resisting death.  I love the whole milieu.  In his autobiography Child of the Century, Ben Hecht was asked, 'What do you think of actors?"  And he said that if he went to heaven to find it was populated by actors, he wouldn't be unhappy.  And I certainly feel the same way…as long as I was God!"
http://www.dailyactor.com/wp-content/uploads/2015/05/Caitriona-Balfe-Outlander.jpg
Outlander's Caitriona Balfe On The Emotional Toll of Filming Violent Scenes
"Having to put yourself in that place is tough. To sit in that emotional space, especially when you're doing it day after day." - Caitriona Balfe
http://www.dailyactor.com/2015/05/outlander-catriona-balfe-emotional-toll-of-filming-violent-scenes/
http://www.dailyactor.com/wp-content/uploads/2015/05/Chrissie-Fit.jpg
Chrissie Fit on How She Landed Her Role in 'Pitch Perfect 2′
"I remember getting the audition and being like, "This might not happen," just because it is such a massive movie." - Chrissie Fit
http://www.dailyactor.com/2015/05/chrissie-fit-on-how-she-landed-her-role-in-pitch-perfect-2/
http://www.dailyactor.com/wp-content/uploads/2015/05/Sam-Elliott.jpg
Sam Elliot on How he "F–ked" Himself Out of a Career as a Lead Actor
The rugged Sam Elliot has most often cast in character actor roles throughout his long career in film, though the 70 year-old Elliot thinks it wasn't always meant to be that way.
http://www.dailyactor.com/2015/05/sam-elliot-on-how-he-f-ked-himself-out-of-a-career-as-a-lead-actor/
http://www.dailyactor.com/wp-content/uploads/2015/05/Anna-Kendrick-Pitch-Perfect-2.jpg
Anna Kendrick Talks Hollywood and its Gender Bias
"As an actress you're perpetually about to be unemployed." - Anna Kendrick
http://www.dailyactor.com/2015/05/anna-kendrick-talks-hollywood-and-its-gender-bias/
http://www.dailyactor.com/wp-content/uploads/2015/05/tom-hardy-mad-max-fury-road.jpg
Tom Hardy on Fame, Acting School, and His 'Mad Respect' for Michael Fassbender
"Do what you love doing, do it well—everything should fit into place." - Tom Hardy
http://www.dailyactor.com/2015/05/tom-hardy-fame-acting-school-michael-fassbender/