Daniel Day-Lewis: "I work in a certain way, and I never really felt the need to explain it or apologize for it"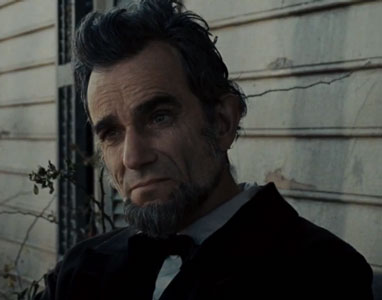 There are few who would not agree that Daniel Day-Lewis is among the most talented actors in the world, and nearly ever role he appears in he is bound to be nominated for dozens of acting's top awards.  The same goes for Lincoln, in which Day-Lewis stars as the iconic American president in the final months of his life.  In a lengthy interview with Time, Day-Lewis talks about finding his passion for acting, his controversial Hamlet performance, and why he takes such lengthy breaks between roles.
After Day-Lewis' father died when was fifteen, Day-Lewis has difficulty focusing on a career.  He explains, "I became conflicted in my late teens.  I imagined an alternative life as a furniture maker. For about a year, I just didn't know what to do. I did laboring jobs, working in the docks, construction sites. When I did make the decision to focus on acting, I think my mother was just relieved for me that I had finally started to focus. She probably feared for me much more than she ever let on, because all I ever got from her, no matter what I was doing, was encouragement—so much so that I think I became quite a harsh judge of myself to try to restore some kind of balance."
Though he received great acclaim early in his acting career, one major incident threatened to derail his entire career.  He recalls, "I had a scuffle with Hamlet when I was last in the theater. I left the production halfway through a performance of the play, and that followed me around for quite some time afterward."  Famously, Day-Lewis claimed that he left because like Hamlet he had seen the ghost of his father.  He adds, "I may have said a lot of things in the immediate aftermath.  And to some extent I probably saw my father's ghost every night, because of course if you're working in a play like Hamlet, you explore everything through your own experience. You think you're traveling a vast distance to understand another life, but it may be that you're bringing that life toward you at the same time. What allows that work to live is the common experience, the bond between the two of you. It's utterly delusional to say you become some other person—you don't. But you do get to know yourself in a different way, through the prism of that other life. That correspondence between father and son, or the son and the father who is no longer alive, played a huge part in that experience. So yes, of course, it was communication with my own dead father.  But I don't remember seeing any ghosts of my father on that dreadful night!"
Since that incident Day-Lewis has never again done theater, but he seems fine with that decision.  He points out, "I work in a certain way, and I never really felt the need to explain it or apologize for it."  Part of that explains why he is so choosy about roles, with him later adding, "I like taking a long time over things, and I believe that it's the time spent away from the work that allows me to do the work itself.  If you're lurching from one film set or one theater to the other, I'm not sure what your resources would be as a human being."  But even his performances are tied up in his emotions — as he points out that he felt lonely on the set of Lincoln.  He says,"I felt tremendously alone for a good part of the last experience.  But it was an aloneness that I needed, and was tremendously helpful to me."
Latest Videos
http://www.dailyactor.com/wp-content/uploads/2014/07/sir-ben-kingsley-talks-about-the.jpg
Sir Ben Kingsley Talks about the Unique Way He Voiced His Character in the Animated Film, 'The Boxtrolls' (video)
I could listen to Sir Ben Kingsley talk about acting and.. well, I could listen to him talk about anything. He's starring in the new Laika stop-motion animated film, The Boxtrolls, and he and some of the cast (along with the director) joined in on a Comic-Con panel about the film. The Boxtrolls is about [...]
http://www.dailyactor.com/2014/07/sir-ben-kingsley-the-boxtrolls-comic-con/
http://www.dailyactor.com/wp-content/uploads/2014/07/bill-hader.jpg
Bill Hader: "I kind of fell into acting" (video)
Bill Hader, starring in the soon to be released The Skeleton Twins, talks about the film and how he fell into acting and then got "crazy lucky" in this quick video from USA Today.
http://www.dailyactor.com/2014/07/bill-hader-fell-into-acting-video/
http://www.dailyactor.com/wp-content/uploads/2014/07/director-john-carney-narrates-a.jpg
Director John Carney Narrates a Scene from 'Begin Again' Starring Kiera Knightley and Mark Ruffalo
Director John Carney (Once) narrates a scene from his new film, Begin Again. Starring Keira Knightley and Mark Ruffalo, the scene shows the first time the two characters meet. I haven't seen it yet but I've heard it's great.
http://www.dailyactor.com/2014/07/begin-again-scene-director-john-carney-keira-knightley-mark-ruffalo/
http://www.dailyactor.com/wp-content/uploads/2014/07/holler-if-you-hear-me-gma.jpg
Watch the Cast of Broadway's 'Holler If You Hear Me' Perform 'California Love' on GMA
The cast of Broadway's newest musical, Holler If You Hear Me with music from Tupac Shakur, performed on Good Morning America this morning. Singing 'California Love', the cast (including the teriffic Christopher Jackson – read our interview here), show why they're the most energetic and inspiring group of actors on Broadway. Holler If Ya Hear [...]
http://www.dailyactor.com/2014/07/watch-cast-broadways-holler-hear-perform-california-love-gma/
http://www.dailyactor.com/wp-content/uploads/2014/07/behind-the-scenes-of-dawn-of-the.jpg
Behind the Scenes of 'Dawn of the Planet of the Apes' with Performance Capture Actor Terry Notary
Actor Terry Notary is 1 of 5 actors playing the apes in the new Dawn of the Planet of the Apes. "When you see armies of apes," he says, that's "five of us." Check out the video where you can watch his performance capture work.
http://www.dailyactor.com/2014/07/dawn-planet-apes-performance-capture-actor-terry-notary/