Daniel Day-Lewis: "I work in a certain way, and I never really felt the need to explain it or apologize for it"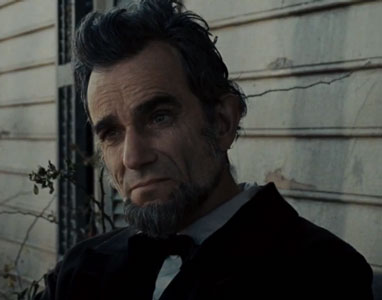 There are few who would not agree that Daniel Day-Lewis is among the most talented actors in the world, and nearly ever role he appears in he is bound to be nominated for dozens of acting's top awards.  The same goes for Lincoln, in which Day-Lewis stars as the iconic American president in the final months of his life.  In a lengthy interview with Time, Day-Lewis talks about finding his passion for acting, his controversial Hamlet performance, and why he takes such lengthy breaks between roles.
After Day-Lewis' father died when was fifteen, Day-Lewis has difficulty focusing on a career.  He explains, "I became conflicted in my late teens.  I imagined an alternative life as a furniture maker. For about a year, I just didn't know what to do. I did laboring jobs, working in the docks, construction sites. When I did make the decision to focus on acting, I think my mother was just relieved for me that I had finally started to focus. She probably feared for me much more than she ever let on, because all I ever got from her, no matter what I was doing, was encouragement—so much so that I think I became quite a harsh judge of myself to try to restore some kind of balance."
Though he received great acclaim early in his acting career, one major incident threatened to derail his entire career.  He recalls, "I had a scuffle with Hamlet when I was last in the theater. I left the production halfway through a performance of the play, and that followed me around for quite some time afterward."  Famously, Day-Lewis claimed that he left because like Hamlet he had seen the ghost of his father.  He adds, "I may have said a lot of things in the immediate aftermath.  And to some extent I probably saw my father's ghost every night, because of course if you're working in a play like Hamlet, you explore everything through your own experience. You think you're traveling a vast distance to understand another life, but it may be that you're bringing that life toward you at the same time. What allows that work to live is the common experience, the bond between the two of you. It's utterly delusional to say you become some other person—you don't. But you do get to know yourself in a different way, through the prism of that other life. That correspondence between father and son, or the son and the father who is no longer alive, played a huge part in that experience. So yes, of course, it was communication with my own dead father.  But I don't remember seeing any ghosts of my father on that dreadful night!"
Since that incident Day-Lewis has never again done theater, but he seems fine with that decision.  He points out, "I work in a certain way, and I never really felt the need to explain it or apologize for it."  Part of that explains why he is so choosy about roles, with him later adding, "I like taking a long time over things, and I believe that it's the time spent away from the work that allows me to do the work itself.  If you're lurching from one film set or one theater to the other, I'm not sure what your resources would be as a human being."  But even his performances are tied up in his emotions — as he points out that he felt lonely on the set of Lincoln.  He says,"I felt tremendously alone for a good part of the last experience.  But it was an aloneness that I needed, and was tremendously helpful to me."
http://www.dailyactor.com/wp-content/uploads/2015/03/alec-baldwin.jpg
Alec Baldwin On Keeping SNL Fresh, His Daily Routine and His Ideal Role
Alec Baldwin is an ordinary guy. Well, that's what he said in a recent Reddit AMA, anyway. The actor took the chance to open up about what his average day was like, holding the public's interest and why he chooses not to do many films any more. "My average day is pretty ordinary," he says. […]
http://www.dailyactor.com/2015/04/alec-baldwin-snl-daily-routine-his-ideal-role/
http://www.dailyactor.com/wp-content/uploads/2015/03/steve-buscemi-boardwalk-empire.jpg
Steve Buscemi's "Ask Me Anything" Chat on Reddit: "I don't think you can point to any one character and say that that's 'me'"
"With any role I play, I only have myself" - Steve Buscemi
http://www.dailyactor.com/2015/03/steve-buscemi-ask-me-anything-chat-on-reddit/
http://www.dailyactor.com/wp-content/uploads/2015/03/sally-field-hello-my-name-is-doris.jpg
Sally Field On Improvisation, How She Chooses Her Roles and 'Hello, My Name is Doris'
"There's a dearth of roles for women. I turn down a lot of stuff because there's just nothing in it for me to do." – Sally Field Actress Sally Field put in an appearance at SXSW last week to promote her new film, Hello My Name is Doris. Michael Showalter has directed the movie […]
http://www.dailyactor.com/2015/03/sally-field-improvisation-roles-hello-my-name-is-doris/
http://www.dailyactor.com/wp-content/uploads/2015/03/Will-Ferrell-Get-Hard.jpg
Will Ferrell on His Comedy Roots, 'Get Hard' and His Favorite Roles to Play
Ferrell was on hand to take part in a Q&A and spoke more about how working with Hart came about. When asked if he chooses his projects based on who he wants to work with, or the script itself, Ferrell explained that each project was different.
http://www.dailyactor.com/2015/03/will-ferrell-on-his-comedy-roots-get-hard-and-his-favorite-roles-to-play/
http://www.dailyactor.com/wp-content/uploads/2015/03/daniel-dae-kim.jpg
Hawaii Five-0's Daniel Dae Kim Talks Directorial Debut: "The first day I had to yell action, it was kind of odd"
Hawaii Five-0's Daniel Dae Kim, who fans know best as Chin Ho Kelly, recently made his directorial debut on the CBS series. Kim shared his experience with The Hollywood Reporter, saying that his experience was "weird at first," as he had to direct his co-stars. "The first day I had to yell action, it was […]
http://www.dailyactor.com/2015/03/hawaii-five-0-daniel-dae-kim-directorial-debut/