Daniel Craig on Product Placement in the Bond Films and Why He Can't Skinny-Dip or Drink at 11am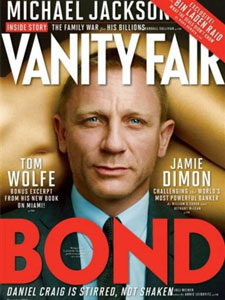 Daniel Craig may only be part of Her Majesty's Secret Service when he appears in James Bond films, but in an interview with Vanity Fair he has some good advice about fame that Prince Harry and his sister-in-law Princess Kate should think about adhering to.
Craig, who stars in next month's James Bond film Skyfall, says, "You talk to people in the movie business who have been doing this 40 years and they all say the difference is that, back in the day, you could go and have a drink in the bar, get drunk, fall over, have a good time, relax, whatever, and no one would know about it. But now everyone's got a camera.  Not that all I want to do is get drunk in a bar, but that's an example. So you can't live a normal life anymore. Because it will become public knowledge that you've whatever—gotten drunk in a bar or skinny-dipped on a beach or something. Things that normal people do occasionally. And in a way that's kind of—I've got to be high-class. I've done a lot of things in my life. But you have to think in that way. Which is sad, because I like bars."
Of course, Craig has become one of the most famous actors in the world, particularly after he began starring as James Bond in 2006′s Casino Royale.  Nonetheless, though he is the sixth actor to portray Bond in the 50 year-old official film series, Craig points out that each Bond actor is different.  He explains, "What I'm doing is not what Pierce [Brosnan] was doing, and Pierce wasn't doing what Roger Moore was doing, or what Sean [Connery] was doing, or what Timothy [Dalton] was doing. Things have changed. It's just kind of the ride of it. Pierce used to say that it's like being responsible for a small country. It's kind of like you have to look after it diplomatically. I kind of get that, but I can't really say that's my deal. I'm not going to be the poster boy for this. Although I am the poster boy."
In fact, Craig realizes that since he took on the role people have difficulty with distinguishing the actor from the character.  He says, "It's amazing how many times I've sat in interviews like this in a bar or a hotel, and it's 11 o'clock in the morning and someone sends a martini over.  And it's like, Really? It's 11 o'clock! Cheers! I'm not going to drink it."
Speaking of alcohol, Craig also talks about the controversy that came up earlier this year when it was mentioned that Bond would be drinking a Heineken at some point during Skyfall instead of his trademark martini. Though there was an initial outrage (apparently people don't remember that Heineken has done tie-in promotions for the last five Bond films), Craig insists that the scene will not be a commercial.  He reveals, "Now, product placement, whichever way you look at it, whether you like it or you think it's disgusting, or whatever, it's what it is. . . . Heineken gave us a ton of money for there to be Heineken in a shot in a bar. So, how easy is that? Just to say, O.K., there's Heineken. It's there—it's in the back of the shot. Without them, the movie couldn't get sold, so that all got kind of blown up. 'Bond's new drink is a Heineken.' He likes a lot of drinks—Heineken, champagne; it's all in there.  I'll drink a beer in the shot, I'm happy to, but I'm not going to do an 'Ahhhhh' [pantomiming an actor looking refreshed]. And I would say this because they're paying, but they're kind of respectful about it. They don't want to screw the movie up."
Latest Videos
http://www.dailyactor.com/wp-content/uploads/2014/08/bryan-cranston-emmy-award-speech.jpg
Watch: Bryan Cranston's Emmy Award Speech: "I love to act. It is a passion of mine and I will do it until my last breath."
The Emmy Awards weren't the most exciting awards show this year but with Bryan Cranston winning for Outstanding Actor in a Drama for Breaking Bad, we at least got to hear one heck of a fantastic acceptance speech. "I was a kid who always looked for the shortcut," he said. "I did happen to stumble […]
http://www.dailyactor.com/2014/08/watch-bryan-cranston-and-aaron-pauls-emmy-award-speeches/
http://www.dailyactor.com/wp-content/uploads/2014/08/audition-tapes-gerard-butler-aud.jpg
Audition Tapes: Gerard Butler Auditions for 'Dracula 2000′
Check out Gerard Butler auditioning for the role of Dracula in the movie, Dracula 2000. The film, about a group of thieves who break into a chamber expecting to find paintings, but instead find Dracula himself, also starred Christopher Plummer, Jonny Lee Miller and Nathan Fillion. Bulter has some sweet rock star hair, huh?
http://www.dailyactor.com/2014/08/audition-tapes-gerard-butler-dracula-2000/
http://www.dailyactor.com/wp-content/uploads/2014/08/interview-matt-dillon-and-carla.jpg
Interview: Matt Dillon and Carla Gugino Talk 'Wayward Pines'
FOX has a new limited-series that's got a terrific cast and interesting premise. It's called Wayward Pines and stars Matt Dillon, Carla Gugino, Melissa Leo, Toby Jones, Terrance Howard, Juliette Lewis, Tim Griffin and Shannyn Sossamon. The show, whose pilot was directed by M. Night Shyamalan, is about a Secret Service agent (Dillon) goes to […]
http://www.dailyactor.com/2014/08/interview-matt-dillon-carla-gugino-wayward-pines-comic-con/
http://www.dailyactor.com/wp-content/uploads/2014/08/interview-wayward-pines-stars-ti.jpg
Interview: 'Wayward Pines' Stars Tim Griffin and Shannyn Sossamon on the Show, Their Characters and More!
Griffin and Sossamonwere at Comic-Con where they sat in on some roundtable interviews to talk about the show.
http://www.dailyactor.com/2014/08/interview-wayward-pines-stars-tim-griffin-shannyn-sossamon-comic-con/
http://www.dailyactor.com/wp-content/uploads/2014/08/interview-m-night-shyamalan-talk.jpg
Interview: M. Night Shyamalan Talks 'Wayward Pines' and Why He Expanded a Young Actors Role on the Show
I talked to Shyamalan at Comic-Con in a roundtable interview where he talked about the cast, what he learned from working in TV and how young actor Charlie Tahan started out with a small part but as the story grew, so did his role.
http://www.dailyactor.com/2014/08/interview-m-night-shyamalan-wayward-pines-comic-con/