Christopher Walken on His Early Musical Roles and Famous Voice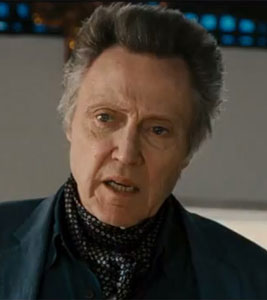 Though Seven Psychopaths didn't do the business at the box office this weekend that CBS Films was hoping for, the film got rave reviews — with much of the praise centered on Christopher Walken's character, Hans.  Walken has been an immensely popular actor for years, and he spoke to The Daily Beast about his surprising early years and why he thinks he's remained so popular all these years.
What most people are surprised by is that Walken — who usually breaks out in a little dance step at some point in his movies — cut his teeth in musicals.  He explains, "I was in musicals for a long time—Broadway musicals, and tours. I did a lot of West Side Story and various musicals in New York during the '60s and '70s. I was in musicals and then at some point I got a job to be in a play, and then I got a part in a movie. It all happened a bit accidentally."
Yet despite his success in acting and his popularity with the general public, Walken admits that like other actors he is always concerned what his next job will be he.  He says, "Actors are always worried about their next job and it's never been any different for me. When I'm busy and when I wasn't busy, I've never really known much about what I'm going to do next. You know, I don't have kids and I don't have hobbies. I don't like to travel. So, going to work is really about it."
Of course, one of the most endearing features of Christopher Walken is his voice, including his unique cadence and New York accent.  Walken reveals that he believes that his voice comes from the immigrant-rich area he grew up in, pointing out, "I think it comes from the part of New York I come from. I'm from an area of New York full of people from other places, particularly Europe. My parents both came to America as adults from Europe and all my friends had parents where English was their second language. There are places I grew up where people still spoke Italian and German and kind of brought Europe to America with them. The people I grew up with, a lot of them had very heavy accents, and I think it rubbed off a little in terms of rhythm."
Latest Videos
http://www.dailyactor.com/wp-content/uploads/2014/08/bryan-cranston-emmy-award-speech.jpg
Watch: Bryan Cranston's Emmy Award Speech: "I love to act. It is a passion of mine and I will do it until my last breath."
The Emmy Awards weren't the most exciting awards show this year but with Bryan Cranston winning for Outstanding Actor in a Drama for Breaking Bad, we at least got to hear one heck of a fantastic acceptance speech. "I was a kid who always looked for the shortcut," he said. "I did happen to stumble […]
http://www.dailyactor.com/2014/08/watch-bryan-cranston-and-aaron-pauls-emmy-award-speeches/
http://www.dailyactor.com/wp-content/uploads/2014/08/audition-tapes-gerard-butler-aud.jpg
Audition Tapes: Gerard Butler Auditions for 'Dracula 2000′
Check out Gerard Butler auditioning for the role of Dracula in the movie, Dracula 2000. The film, about a group of thieves who break into a chamber expecting to find paintings, but instead find Dracula himself, also starred Christopher Plummer, Jonny Lee Miller and Nathan Fillion. Bulter has some sweet rock star hair, huh?
http://www.dailyactor.com/2014/08/audition-tapes-gerard-butler-dracula-2000/
http://www.dailyactor.com/wp-content/uploads/2014/08/interview-matt-dillon-and-carla.jpg
Interview: Matt Dillon and Carla Gugino Talk 'Wayward Pines'
FOX has a new limited-series that's got a terrific cast and interesting premise. It's called Wayward Pines and stars Matt Dillon, Carla Gugino, Melissa Leo, Toby Jones, Terrance Howard, Juliette Lewis, Tim Griffin and Shannyn Sossamon. The show, whose pilot was directed by M. Night Shyamalan, is about a Secret Service agent (Dillon) goes to […]
http://www.dailyactor.com/2014/08/interview-matt-dillon-carla-gugino-wayward-pines-comic-con/
http://www.dailyactor.com/wp-content/uploads/2014/08/interview-wayward-pines-stars-ti.jpg
Interview: 'Wayward Pines' Stars Tim Griffin and Shannyn Sossamon on the Show, Their Characters and More!
Griffin and Sossamonwere at Comic-Con where they sat in on some roundtable interviews to talk about the show.
http://www.dailyactor.com/2014/08/interview-wayward-pines-stars-tim-griffin-shannyn-sossamon-comic-con/
http://www.dailyactor.com/wp-content/uploads/2014/08/interview-m-night-shyamalan-talk.jpg
Interview: M. Night Shyamalan Talks 'Wayward Pines' and Why He Expanded a Young Actors Role on the Show
I talked to Shyamalan at Comic-Con in a roundtable interview where he talked about the cast, what he learned from working in TV and how young actor Charlie Tahan started out with a small part but as the story grew, so did his role.
http://www.dailyactor.com/2014/08/interview-m-night-shyamalan-wayward-pines-comic-con/