Broadway's New 'Annie', Lilla Crawford, talks about working with 'Sandy' the Dog and who she wants to be when she grows up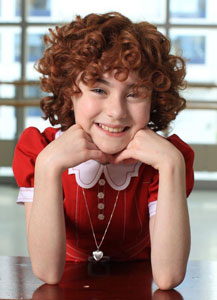 Broadway has found its newest Annie in 11-year-old Lilla Crawford, who has been acting since she was five.
Her first professional gig was "a commercial for Cool Whip when I was seven," she told The New York Times.  "I had no lines.  My fake dad lifted me onto a table next to Cool Whip, and then at the end there's a cookie with Cool Whip on it, and I'm licking it, and then there's a little on my face, so I lick it off my face.  When I first saw it on TV, I was, like, oh my God, that's me!"
Crawford has worked steadily over the past few years, after landing a role in the Broadway production of Billy Elliot.  "It taught me the life of a show, a real one," she said.  "And that I could actually do ballet—I wasn't sure about that.  And that you have to be really careful about backstage safety: there are a lot of set pieces moving around, so you could get hurt."
The native of Los Angeles already sounds confident about living the life of a theater actress.  "Everything was pretty easy [in rehearsal]," she said.  "But working with the dog Sunny was new to me.  The dog trainer Bill Berloni tells me I have to become the trainer.  With movies and TV, he could just stand behind the camera and coach the dog, but I have to learn all these rules to get the dog to do things that I want for the show."
Although she hasn't even reached adolescence, Crawford is already planning the rest of her career. Citing desired roles like Glinda or Elphaba in Wicked, she said, "When I get older I want to be a Kristin Chenoweth and Sutton Foster—you know how they do all of it?  I just want to do anything that has to do with performing."
Latest Videos
Watch Judi Dench Performing "Send In The Clowns" on The South Bank Show in 1995
Dame Judi Dench has such a commanding presence as a film actress that it's easy to forget that her big break came on stage in England with the Old Vic Company in 1957. In fact, she made her Broadway debut the very next year when the Old Vic Company performed Twelfth Night and Henry V […]
http://www.dailyactor.com/?p=63821
Bloopers: Marvel's Agents of S.H.I.E.L.D. – Season 1
Forgetting lines? Corpsing? Delivering lines in Spanish? Unruly props? All in a day's work on the set of Marvel's Agents of S.H.I.E.L.D, apparently. Clark Gregg, Ming-Na Wen, and the rest of the cast find plenty of humor while playing super-serious secret agents in the Marvel Universe. While you're waiting for season 2 of the series […]
http://www.dailyactor.com/?p=63834
http://www.dailyactor.com/wp-content/uploads/2014/08/bryan-cranston-emmy-award-speech.jpg
Watch: Bryan Cranston's Emmy Award Speech: "I love to act. It is a passion of mine and I will do it until my last breath."
The Emmy Awards weren't the most exciting awards show this year but with Bryan Cranston winning for Outstanding Actor in a Drama for Breaking Bad, we at least got to hear one heck of a fantastic acceptance speech. "I was a kid who always looked for the shortcut," he said. "I did happen to stumble […]
http://www.dailyactor.com/2014/08/watch-bryan-cranston-and-aaron-pauls-emmy-award-speeches/
http://www.dailyactor.com/wp-content/uploads/2014/08/audition-tapes-gerard-butler-aud.jpg
Audition Tapes: Gerard Butler Auditions for 'Dracula 2000′
Check out Gerard Butler auditioning for the role of Dracula in the movie, Dracula 2000. The film, about a group of thieves who break into a chamber expecting to find paintings, but instead find Dracula himself, also starred Christopher Plummer, Jonny Lee Miller and Nathan Fillion. Bulter has some sweet rock star hair, huh?
http://www.dailyactor.com/2014/08/audition-tapes-gerard-butler-dracula-2000/
http://www.dailyactor.com/wp-content/uploads/2014/08/interview-matt-dillon-and-carla.jpg
Interview: Matt Dillon and Carla Gugino Talk 'Wayward Pines'
FOX has a new limited-series that's got a terrific cast and interesting premise. It's called Wayward Pines and stars Matt Dillon, Carla Gugino, Melissa Leo, Toby Jones, Terrance Howard, Juliette Lewis, Tim Griffin and Shannyn Sossamon. The show, whose pilot was directed by M. Night Shyamalan, is about a Secret Service agent (Dillon) goes to […]
http://www.dailyactor.com/2014/08/interview-matt-dillon-carla-gugino-wayward-pines-comic-con/