Ben Whishaw on the Intimidation of Playing the New Q in 'Skyfall'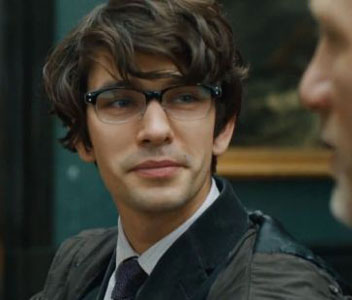 Not many actors have to step into a role that was at one time played by an actor in seventeen films previously, so perhaps it's fair to say that Ben Whishaw has it more difficult than most young actors by appearing as James Bond's personal armorer Q in Skyfall.
After Desmond Llewelyn played the role in seventeen of the first nineteen Bond movies (Llewelyn died in 1999), John Cleese appeared as Q (though as a different character holding the Q position) in 2002's Die Another Day, but the character has been missing from the series since. 
Because of that, it's no surprise that Whishaw admits he was apprehensive about appearing as Q in Skyfall.  He confesses, "I suppose I was intimidated a bit.  But I also thought, this is such a good opportunity because I'm so much younger than the character. I mean, I can't really be compared, and I wouldn't try. Desmond [Llewelyn] and John Cleese were so tremendous, so I thought it had to be new and fresh."
Though Whishaw may not break Llewelyn's record anytime soon, he hopes to stick with the series as long as possible.  He says, "I don't know how many I'm due to do. I want to do it as much as I can. I had such a wonderful time."  Still, while it might be Whishaw's first Bond film, it isn't the first time he's working with Bond — that is, current James Bond Daniel Craig.  He says, "I have worked with Daniel before. I first worked with Daniel when I was 17 on a film called The Trench and then I did Layer Cake with him, and I did a film called Enduring Love, so I [feel] like I know him fairly well, so it was wonderful to be reunited with him."
via Yahoo! News
http://www.dailyactor.com/wp-content/uploads/2015/05/Caitriona-Balfe-Outlander.jpg
Outlander's Caitriona Balfe On The Emotional Toll of Filming Violent Scenes
"Having to put yourself in that place is tough. To sit in that emotional space, especially when you're doing it day after day." - Caitriona Balfe
http://www.dailyactor.com/2015/05/outlander-catriona-balfe-emotional-toll-of-filming-violent-scenes/
http://www.dailyactor.com/wp-content/uploads/2015/05/Chrissie-Fit.jpg
Chrissie Fit on How She Landed Her Role in 'Pitch Perfect 2′
"I remember getting the audition and being like, "This might not happen," just because it is such a massive movie." - Chrissie Fit
http://www.dailyactor.com/2015/05/chrissie-fit-on-how-she-landed-her-role-in-pitch-perfect-2/
http://www.dailyactor.com/wp-content/uploads/2015/05/Sam-Elliott.jpg
Sam Elliot on How he "F–ked" Himself Out of a Career as a Lead Actor
The rugged Sam Elliot has most often cast in character actor roles throughout his long career in film, though the 70 year-old Elliot thinks it wasn't always meant to be that way.
http://www.dailyactor.com/2015/05/sam-elliot-on-how-he-f-ked-himself-out-of-a-career-as-a-lead-actor/
http://www.dailyactor.com/wp-content/uploads/2015/05/Anna-Kendrick-Pitch-Perfect-2.jpg
Anna Kendrick Talks Hollywood and its Gender Bias
"As an actress you're perpetually about to be unemployed." - Anna Kendrick
http://www.dailyactor.com/2015/05/anna-kendrick-talks-hollywood-and-its-gender-bias/
http://www.dailyactor.com/wp-content/uploads/2015/05/tom-hardy-mad-max-fury-road.jpg
Tom Hardy on Fame, Acting School, and His 'Mad Respect' for Michael Fassbender
"Do what you love doing, do it well—everything should fit into place." - Tom Hardy
http://www.dailyactor.com/2015/05/tom-hardy-fame-acting-school-michael-fassbender/