Ben Affleck on Preparing for 'Argo', Acting in the Film and Getting "Lucky" in Casting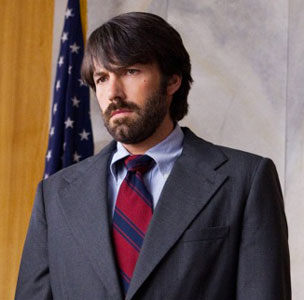 Every media outlet wants to talk to Ben Affleck about Argo, his new film based on the 1979 Iranian hostage crisis, and Affleck is happy to talk about his dual roles as a director and an actor (along with also being one of the film's producers!)  Though many of these interviews have focused on Affleck's second-career success as a director, in others he has spoken about his acting approach to the film and how he worked with the cast as actors.
Affleck plays the lead role of CIA specialist Tony Mendez, though early speculation claimed that George Clooney would play the Mendez role.  Affleck dismisses the speculation as a jump to a conclusion based on Clooney's role as a producer.  Affleck says, "Every time somebody buys a script for their company—in this case it was George Clooney's company—they figure George is going to do it. I called him up and said that this is what I want to do and this is how I want to do it. And he said great. He was doing Ides of March and then he was going to do Gravity. So he had a full dance card himself. If he entertained doing it, it's not something he told me."
Affleck explains that he was drawn to the project not only as a director, but as an actor.  He says, "I thought there was this really interesting part, because there was this guy who because of the nature of his job had to blend in. He was taciturn and quiet and had to be unobtrusive. At the same time, he had to be a leader that inspired these people to be brave enough to do what they had to do. As an exfiltration officer [Mendez] was often in this position to have to lead people and push them along, and that—the tension between those things—was really interesting to me. Plus I found that it's just good as an actor if you could find a way to be in good movies, and this was a very good script."
To prepare for the role, Affleck spent a lot of time with the real-life Tony Mendez, but admits he didn't want to bug him too much.  He reveals, "I spent a fair amount of time with him. We'd meet. We'd talk on the phone. Also Chris [Terrio, screenwriter] had done a gigantic amount of research with Tony and his wife and the houseguests [who had been hiding at Canadian officials' homes prior to escaping], so I was able to draw on him without having to hammer Tony every day. But he was really helpful and so were the houseguests. They really wanted to see the story told." 
However, based on his interactions with the real-life Mendez Affleck picked up on one key element of his personality that he worked into his portrayal.  He says, "When I talked to Tony, I saw he gives nothing away. And that was his idea, to be totally unmemorable. When you dug deeper and find out what he had actually done, he was quite impressive. So that's what I was trying to do, struggle with that contrast between someone who puts nothing out there but is also a leader and accomplished."
As for the other actors he also tried other techniques, including fostering familiarity among the six actors playing hostage escapees by having them live together in the house they filmed in for six days.  Affleck points out, "The hardest thing to do is act familiarity. But they ended up being a unit."
Above all, Affleck compliments the film's cast on the quality of the finished movie.  He says, "I know good acting, and I got lucky. And I really believed in the actors, and I knew I had to give them the best environment to do their job."
via The Star Phoenix and The Wall Street Journal
Latest Videos
Watch: Daniel Radcliffe on the Differences Between American and British Theater Audiences
Though moviegoers can see Daniel Radcliffe in the fantasy film Horns, which opens today, Broadway fans will have to wait a bit longer. Radcliffe is an unapologetic fan of Broadway — he has starred in Equus, How to Succeed in Business Without Really Trying, and The Cripple of Inishmaan — but he hasn't yet made […]
http://www.dailyactor.com/2014/10/daniel-radcliffe-differences-between-american-british-theater-audiences/
http://www.dailyactor.com/wp-content/uploads/2014/10/watch-anna-gunn-jacki-weaver-and.jpg
Watch: Anna Gunn, Jacki Weaver and Virginia Kull on 'Gracepoint' and Strong Female Roles on TV
The actresses also speak candidly about how they feel about their characters in the series and why its important for TV to feature series with strong female leads.Check out the conversation above!
http://www.dailyactor.com/2014/10/watch-anna-gunn-jacki-weaver-virginia-kull-gracepoint-strong-female-roles-on-tv/
http://www.dailyactor.com/wp-content/uploads/2014/10/watch-cristin-milioti-talks-a-to.jpg
Watch: Cristin Milioti Talks 'A to Z', 'Once' and 'How I Met Your Mother'
Few actresses have the kind of rise as Cristin Milioti has had in the last few years. A virtual unknown in 2011, she became a bona fide Broadway star in the 2012 hit Once, appeared in a supporting role in the 2013 film The Wolf of Wall Street, and was featured as the titular mother […]
http://www.dailyactor.com/2014/10/watch-cristin-milioti-a-to-z-once-how-i-met-your-mother/
http://www.dailyactor.com/wp-content/uploads/2014/10/watch-bryan-cranstons-acting-adv.jpg
Watch: Bryan Cranston's Acting Advice
With Breaking Bad: The Complete Series Barrel being released on Blu-ray with all kinds of goodies today, it gives us yet another opportunity to reflect on the series' star Bryan Cranston and all of the incredible advice he has offered actors in the wake of his success. In a video he filmed in 2013 for […]
http://www.dailyactor.com/2014/10/bryan-cranston-acting-advice-video/
http://www.dailyactor.com/wp-content/uploads/2014/10/alex-sharp-curious-incident-of-the-dog.jpg
Alex Sharp Talks About His Broadway Debut in 'The Curious Incident of the Dog in the Night-Time' (video)
Alex Sharp went from working in a call-center and renovating houses to going to Julliard. And now, he's starring in one of the most talked about shows of the season, The Curious Incident of the Dog in the Night-Time. Check out this great, inspiring video!
http://www.dailyactor.com/2014/10/alex-sharp-broadway-debut-the-curious-incident-of-the-dog-in-the-night-time-video/