'Beasts of the Southern Wild' Lead Actors Ineligible for SAG Awards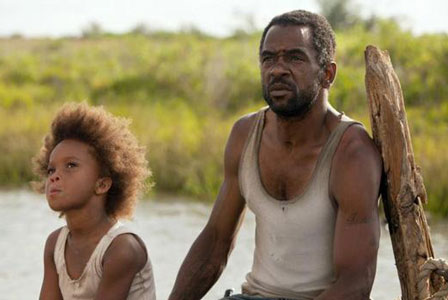 While the Oscars are generally considered the most prestigious awards in film, for actors the Screen Actors Guild Award also have special significance. Unfortunately for the actors in Fox Searchlight's Beasts of the Southern Wild, because the low-budget film was not produced by the guidelines of SAG-AFTRA's Low Budget Feature Agreement its actors will not be eligible for the SAG Awards.
With a budget of only $1.3 million and a desire for realism, director Benh Zeitlin cast locals in most roles, including lead actors Quvenzhane Wallis and Dwight Henry, neither of whom have ever acted before (thus they were not members of SAG-AFTRA).  Fox Searchlight and the film's international distributors could potentially restore the film's eligibility by bringing the film into compliance with the Low Budget Feature Agreement, but that would mean all the companies would have to pay the actors more, something they're not likely to do just to restore eligibility.
Regardless, Zeitlin doesn't feel like Wallis and Henry are missing out on much even if they aren't eligible.  He told The Hollywood Reporter, "Against all logic and planning, two incredible first-time actors won the lead roles in Beasts.  I'm positive they both have long and amazing acting careers in front of them."  In fact, both will appear in director Steve McQueen's Twelve Years a Slave that is due out next year.
The film's lack of eligibility for the SAG Awards might hurt the Oscar chances of the film, as nominations and wins throughout awards season tend to build Oscar buzz among Oscar voters (many of whom are also SAG-AFTRA members).  Of course, Fox Searchlight can build Oscar buzz for the film in other ways since the SAG Awards aren't the only game in town, and many actors who weren't nominated for an SAG award for a film performance still wind up being nominated for an Oscar for the same performance.
Latest Videos
http://www.dailyactor.com/wp-content/uploads/2014/07/bill-hader.jpg
Bill Hader: "I kind of fell into acting" (video)
Bill Hader, starring in the soon to be released The Skeleton Twins, talks about the film and how he fell into acting and then got "crazy lucky" in this quick video from USA Today. Share on Tumblr
http://www.dailyactor.com/2014/07/bill-hader-fell-into-acting-video/
http://www.dailyactor.com/wp-content/uploads/2014/07/director-john-carney-narrates-a.jpg
Director John Carney Narrates a Scene from 'Begin Again' Starring Kiera Knightley and Mark Ruffalo
Director John Carney (Once) narrates a scene from his new film, Begin Again. Starring Keira Knightley and Mark Ruffalo, the scene shows the first time the two characters meet. I haven't seen it yet but I've heard it's great.
http://www.dailyactor.com/2014/07/begin-again-scene-director-john-carney-keira-knightley-mark-ruffalo/
http://www.dailyactor.com/wp-content/uploads/2014/07/holler-if-you-hear-me-gma.jpg
Watch the Cast of Broadway's 'Holler If You Hear Me' Perform 'California Love' on GMA
The cast of Broadway's newest musical, Holler If You Hear Me with music from Tupac Shakur, performed on Good Morning America this morning. Singing 'California Love', the cast (including the teriffic Christopher Jackson – read our interview here), show why they're the most energetic and inspiring group of actors on Broadway. Holler If Ya Hear [...]
http://www.dailyactor.com/2014/07/watch-cast-broadways-holler-hear-perform-california-love-gma/
http://www.dailyactor.com/wp-content/uploads/2014/07/behind-the-scenes-of-dawn-of-the.jpg
Behind the Scenes of 'Dawn of the Planet of the Apes' with Performance Capture Actor Terry Notary
Actor Terry Notary is 1 of 5 actors playing the apes in the new Dawn of the Planet of the Apes. "When you see armies of apes," he says, that's "five of us." Check out the video where you can watch his performance capture work.
http://www.dailyactor.com/2014/07/dawn-planet-apes-performance-capture-actor-terry-notary/
http://www.dailyactor.com/wp-content/uploads/2014/07/melissa-mccarthy-daily-show.jpg
Melissa McCarthy and John Stewart Talk About Terrible Commercial Auditions on 'The Daily Show'
Melissa McCarthy stopped by The Daily Show last week to plug about her new movie, Tammy. She talked about how she loved working with her husband, Ben Falcone (director of Tammy) and then segued into talking about some horrible working situations. The always hilarious McCarthy then started to tell host John Stewart about a particular [...]
http://www.dailyactor.com/2014/07/melissa-mccarthy-john-stewart-commercial-auditions-the-daily-show/