Ashley Greene on Her Future, 'Butter' and Kissing Olivia WIlde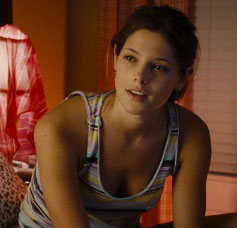 Ashley Greene easily could have been typecast after getting her start in the Twilight series.  But that doesn't mean she's going to take just any role now.
"Listen, never say never, but I think in general college film—playing the, like, hot cheerleader—you're probably not going to see me do that," she told NBC New York.  "I think I've been really lucky being able to bypass typecasting.  When I was cast as Alice [in Twilight], one of the really brilliant things about it is that she's the girl next door.  She's everyone's best friend.  She's sweet and charismatic, and so I think I got to bypass that whole kind of typecasting, saying, 'This is what we see you as and what you're going to play.'  So I don't think I would backtrack in that sense."
The 25-year-old went on to rule out "horror films and slasher films, 99 percent of the time I will probably shy away from [those.]  Thrillers I enjoy—there's a very fine line.  Apart from that, right now I'm just looking for films that inspire me, because that's what it's about for me.  I just enjoy doing my job and I enjoy doing different things and diving into different characters.  I think playing a villain would be really interesting because psychologically there are so many different ways you can go with villains, and their reasoning for doing things kind of dives deep into the psyche.  On the polar opposite side of the spectrum, doing a Victorian kind of film would be ideal.  It's very hard to get those made, but that would be very fun."
Greene's current role in the film Butter allowed her to try using her comedy chops.  "I think the training was just, like, sink or swim," she said.  "I went in and watched and learned and just allowed myself to let go of it.  I think for comedy that's one of the more important things, to allow yourself to go outside the box.  You go outside your comfort zone and you really just have to kind of let it all hang out and go for it—and sometimes it works and sometimes it doesn't.  But when it does, they capture it and that's what goes onscreen."
The movie is already drawing attention for a much buzzed about love scene with Olivia Wilde. Greene recalled the sexy scene, saying, "We didn't really talk about it until we got to set, but luckily she and I were friendly, and we both had that personality where we just said, 'You know what?  Let's just do it!'  We didn't make a big deal out of it.  Apart from her being a girl, it's the same thing that I go through kissing any male onscreen, and it's kind of a part of the job.  There are so many crazy moments in the film that it just kind of fit, and so we got there."
Butter is out in limited release and on VOD now.
Latest Videos
http://www.dailyactor.com/wp-content/uploads/2014/07/bill-hader.jpg
Bill Hader: "I kind of fell into acting" (video)
Bill Hader, starring in the soon to be released The Skeleton Twins, talks about the film and how he fell into acting and then got "crazy lucky" in this quick video from USA Today. Share on Tumblr
http://www.dailyactor.com/2014/07/bill-hader-fell-into-acting-video/
http://www.dailyactor.com/wp-content/uploads/2014/07/director-john-carney-narrates-a.jpg
Director John Carney Narrates a Scene from 'Begin Again' Starring Kiera Knightley and Mark Ruffalo
Director John Carney (Once) narrates a scene from his new film, Begin Again. Starring Keira Knightley and Mark Ruffalo, the scene shows the first time the two characters meet. I haven't seen it yet but I've heard it's great.
http://www.dailyactor.com/2014/07/begin-again-scene-director-john-carney-keira-knightley-mark-ruffalo/
http://www.dailyactor.com/wp-content/uploads/2014/07/holler-if-you-hear-me-gma.jpg
Watch the Cast of Broadway's 'Holler If You Hear Me' Perform 'California Love' on GMA
The cast of Broadway's newest musical, Holler If You Hear Me with music from Tupac Shakur, performed on Good Morning America this morning. Singing 'California Love', the cast (including the teriffic Christopher Jackson – read our interview here), show why they're the most energetic and inspiring group of actors on Broadway. Holler If Ya Hear [...]
http://www.dailyactor.com/2014/07/watch-cast-broadways-holler-hear-perform-california-love-gma/
http://www.dailyactor.com/wp-content/uploads/2014/07/behind-the-scenes-of-dawn-of-the.jpg
Behind the Scenes of 'Dawn of the Planet of the Apes' with Performance Capture Actor Terry Notary
Actor Terry Notary is 1 of 5 actors playing the apes in the new Dawn of the Planet of the Apes. "When you see armies of apes," he says, that's "five of us." Check out the video where you can watch his performance capture work.
http://www.dailyactor.com/2014/07/dawn-planet-apes-performance-capture-actor-terry-notary/
http://www.dailyactor.com/wp-content/uploads/2014/07/melissa-mccarthy-daily-show.jpg
Melissa McCarthy and John Stewart Talk About Terrible Commercial Auditions on 'The Daily Show'
Melissa McCarthy stopped by The Daily Show last week to plug about her new movie, Tammy. She talked about how she loved working with her husband, Ben Falcone (director of Tammy) and then segued into talking about some horrible working situations. The always hilarious McCarthy then started to tell host John Stewart about a particular [...]
http://www.dailyactor.com/2014/07/melissa-mccarthy-john-stewart-commercial-auditions-the-daily-show/