Trailer: Tobey Maguire & Elizabeth Banks star in 'The Details'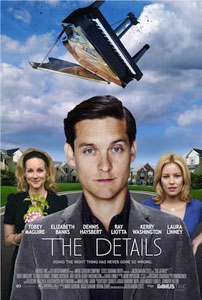 Directed and Writtten by: Jacob Aaron Estes
Starring: Tobey Maquire, Elizabeth Banks, Laura Linney, Ray Liotta, Dennis Haysbert and Kerry Washington
Synopsis: After ten years of marriage, Jeff and Nealy Lang (Tobey Maguire and Elizabeth Banks) have an idyllic suburban home… and a relationship on the skids.  But, when a family of hungry raccoons ransacks their perfectly manicured backyard, Jeff becomes single-mindedly obsessed with eradicating the pests by any means necessary. Soon the relentless rodents aren't merely uprooting the lawn, but also overturning the Langs' entire bourgeois existence, as the man-versus-beast battle leads into an absurd mess of infidelity, extortion, organ donation and other assorted mayhem.  Devilish throughout, THE DETAILS also stars Laura Linney in a stand-out performance as the Langs' eccentric neighbor, Lila.  Ray Liotta, Dennis Haysbert and Kerry Washington round out the cast in this darkly funny meditation on marital malaise.
On VOD October 5, 2012 and in theaters November 2, 2012 

http://www.dailyactor.com/wp-content/uploads/2015/05/Chrissie-Fit.jpg
Chrissie Fit on How She Landed Her Role in 'Pitch Perfect 2′
"I remember getting the audition and being like, "This might not happen," just because it is such a massive movie." - Chrissie Fit
http://www.dailyactor.com/2015/05/chrissie-fit-on-how-she-landed-her-role-in-pitch-perfect-2/
http://www.dailyactor.com/wp-content/uploads/2015/05/Sam-Elliott.jpg
Sam Elliot on How he "F–ked" Himself Out of a Career as a Lead Actor
The rugged Sam Elliot has most often cast in character actor roles throughout his long career in film, though the 70 year-old Elliot thinks it wasn't always meant to be that way.
http://www.dailyactor.com/2015/05/sam-elliot-on-how-he-f-ked-himself-out-of-a-career-as-a-lead-actor/
http://www.dailyactor.com/wp-content/uploads/2015/05/Anna-Kendrick-Pitch-Perfect-2.jpg
Anna Kendrick Talks Hollywood and its Gender Bias
"As an actress you're perpetually about to be unemployed." - Anna Kendrick
http://www.dailyactor.com/2015/05/anna-kendrick-talks-hollywood-and-its-gender-bias/
http://www.dailyactor.com/wp-content/uploads/2015/05/tom-hardy-mad-max-fury-road.jpg
Tom Hardy on Fame, Acting School, and His 'Mad Respect' for Michael Fassbender
"Do what you love doing, do it well—everything should fit into place." - Tom Hardy
http://www.dailyactor.com/2015/05/tom-hardy-fame-acting-school-michael-fassbender/
http://www.dailyactor.com/wp-content/uploads/2015/05/cabaret-emma-stone.jpg
Emma Stone on How Broadway Boosted Her Confidence
"I feel more like I understand acting in a different way." - Emma Stone on Her Broadway Experience
http://www.dailyactor.com/2015/05/emma-stone-on-how-broadway-boosted-her-confidence/