Why did Mindy Kaling leave 'The Office' to create 'The Mindy Project'? "I really wanted to act more"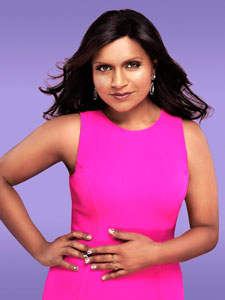 Mindy Kaling has become the It-girl for comedy writing in television.  Now that her show, The Mindy Project (which she created, stars in, writes for, and executive produces) has aired, it's no wonder the girl is busy.
"Now that I'm in Hollywood, I have many friends who run their own shows, and one of the personality traits at a party—being overwhelmed by being a show-runner on a show—is just something people adopt," Kaling told NPR.  "And one thing my mom and dad raised me believing is that everyone is busy, so it's not really a good conversation topic to talk about how busy you are.  And it's a little narcissistic, in fact, to talk about that, because everyone is stressed out no matter what job you're in.  Nobody is like, 'Yeah, I'm doing really well—work is just a total snooze and so easy.'"
Kaling was hoping she would be able to handle all the challenges easily.  "So when I got this job, I thought, 'I'm going to be that person who is the star of their own show and the show-runner and the head writer, et cetera, et cetera—but I'm going to always seem like it's no big deal.'  And I was actually able to do that for the first six weeks.  And now, I have to say, it's a little hard to pretend that I'm just like this cool-as-a-cucumber person."
After doing such a long stint at The Office, she decided it was time to venture out on her own.
"It was the most natural progression from what my interests were and where I was in my career, which was: I really wanted to act more," Kaling told The Los Angeles Times.  "And I really wanted to do a character that had a lifestyle closer to my own 'cause I had such a wealth of information and stuff to draw from in that way."
While being the ultimate hyphenate, Kaling also faces the obstacle of positively representing Indian-Americans.  She noted in the NPR interview, "When you are the only Indian-American female lead in a television show, you seem to be making sweeping statements about that person simply because you are that person and the only one, whereas, for instance, Steve Carell—he's not making sweeping generalizations about white American men on his show because there's so many different white American men on different shows.
"So I get worried by doing this character that people think that I'm saying that about all those people.  And I just have the weight of that on my shoulders, which is something that I do envy other performers for not having."
The Mindy Project airs on FOX, Tuesdays at 9:30 p.m.
http://www.dailyactor.com/wp-content/uploads/2015/01/watch-al-pacino-talks-the-humbli.jpg
Watch: Al Pacino Talks 'The Humbling' and His Extraordinary Career
In this conversation with Al Pacino talks about his role in The Humbling -- including working with Greta Gerwig -- and his historic acting career
http://www.dailyactor.com/2015/01/watch-al-pacino-extraordinary-career/
http://www.dailyactor.com/wp-content/uploads/2015/01/watch-oscar-nominee-steve-carell.jpg
Watch: Oscar Nominee Steve Carell Talks Improv, Auditioning for 'The Office' and 'Foxcatcher'
Carell talks about his entire career as an actor, including his background in improv, how he landed the Michael Scott role on The Office, and Foxcatcher
http://www.dailyactor.com/2015/01/oscar-nominee-steve-carell-improv-auditioning-for-the-office-foxcatcher/
http://www.dailyactor.com/wp-content/uploads/2015/01/ethan-hawke-ellar-coltrane-boyhood.jpg
Ethan Hawke Calls 'Boyhood' the "most special endeavor of my life"
Ethan Hawke is riding high with his fourth Oscar nomination for the Richard Linklater-directed Boyhood. In a recent "Ask Me Anything" on Reddit, the 44-year-old actor gave some thoughtful insight into his career and the 12-year creative endeavor that became the biggest film of the Oscar season. When asked what was the most difficult thing about […]
http://www.dailyactor.com/2015/01/ethan-hawke-boyhood-reddit-amaife/
http://www.dailyactor.com/wp-content/uploads/2015/01/martha-plimpton-a-delicate-balance.jpg
Martha Plimpton Takes a Refreshing Approach to a Long-Lasting Career
Martha Plimpton is an actress who enjoys the work, she's not in it for the fame. The proof is in her continually excellent work that she is doing on-screen and on the stage. She's currently starring in A Delicate Balance on Broadway. It's the audience who gives her the ultimate thrill. "I try to get […]
http://www.dailyactor.com/2015/01/martha-plimpton-long-lasting-career/
http://www.dailyactor.com/wp-content/uploads/2015/01/watch-michael-keaton-talks-candi.jpg
Watch: Michael Keaton Talks Candidly About His Career and His Approach to Acting in 'Birdman'
In this nearly 90 minute conversation, Michael Keaton is his usual affable self but is also remarkably candid about his career and his approach to acting.
http://www.dailyactor.com/2015/01/michael-keaton-career-approach-to-acting-birdman/