Matthew Lillard: "Every career ebbs and flows and right now it's a good time to be me"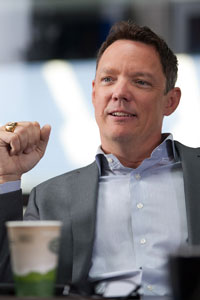 Nobody would fault you if upon hearing the name Matthew Lillard your first thoughts were of a talking dog and the Mystery Machine.  Even IMDb's #1 "Known for" for Lillard is 2002′s live-action Scooby-Doo, in which Lillard somehow managed to pull off the perfect Shaggy.  Considering that Lillard has since stared in a live-action sequel to Scooby-Doo and has also been doing the voice for the animated Shaggy for the last several years he isn't shying away from what some actors might consider a pigeonholing role. 
But in recent years the former star of teen movies has landed some pretty respectable roles, including a major villainous role alongside Clint Eastwood in Trouble with the Curve.  While doing press promoting the film, Lillard spoke about his role in the film and what he currently feels about his career now.
Curiously, Lillard admits that he knows nothing about the highly sophisticated stats and formula employed by adherents to the "moneyball" approach of scouting baseball talent though his character in the film is a huge believer.  So how did he make it sound convincing in the film?  He explains, "The same way I dealt with Scooby-Doo. It's just not real. So I never have to actually manipulate any facts but maybe that's just because I am not Daniel-Day Lewis enough."
Lillard also admits that the major reason why he did the film was to work with Eastwood.  He says, "Look, in my career I try to bat 300. In baseball, the-be-all-end-all of a batting average is 300. That's what every major leaguer aspires too. 300 means you hit three out of 10 balls up at bat. So, for every three good movies that I have, there's seven terrible ones. This would qualify as a good one. Also, it's very rare to collect a legend in your history or be affiliated with a legend. This is one of those opportunities. And other than that, I am a blue-collar actor and it's a gig. It's a good gig. And there's something to be said for that."
However, he confesses that the film's middle-of-the-road nature doesn't allow him to really cut loose creatively as an actor.  He points out, "I wish there was 'I get to create something I've never done before.' The drag of something like this is, I'm not really getting a chance to create something different. The drag is, this is just a guy who happens to be not a very nice guy in the film. But I have to defend my character at all times."
But Lillard believes that he is currently riding a stroke of good luck that extended from starring in the Oscar-winning film The Descendants.  He explains, "My career is an example of what doesn't kill you, makes you stronger. I have been working the whole time, but nobody saw those bad movies. I don't apologize for that. I have kids to feed. Then The Descendants happened and I got to have the Oscar experience. I drank a lot and spent a considerable amount of time admiring George Clooney's handsomeness up close. I've had worse days at work. Every career ebbs and flows and right now it's a good time to be me. And [the Oscars] was a moment of true glamor I can recall whenever I stop getting hired again."
via The Wall Street Journal & New York magazine
Latest Videos
http://www.dailyactor.com/wp-content/uploads/2014/07/sir-ben-kingsley-talks-about-the.jpg
Sir Ben Kingsley Talks about the Unique Way He Voiced His Character in the Animated Film, 'The Boxtrolls' (video)
I could listen to Sir Ben Kingsley talk about acting and.. well, I could listen to him talk about anything. He's starring in the new Laika stop-motion animated film, The Boxtrolls, and he and some of the cast (along with the director) joined in on a Comic-Con panel about the film. The Boxtrolls is about [...]
http://www.dailyactor.com/2014/07/sir-ben-kingsley-the-boxtrolls-comic-con/
http://www.dailyactor.com/wp-content/uploads/2014/07/bill-hader.jpg
Bill Hader: "I kind of fell into acting" (video)
Bill Hader, starring in the soon to be released The Skeleton Twins, talks about the film and how he fell into acting and then got "crazy lucky" in this quick video from USA Today.
http://www.dailyactor.com/2014/07/bill-hader-fell-into-acting-video/
http://www.dailyactor.com/wp-content/uploads/2014/07/director-john-carney-narrates-a.jpg
Director John Carney Narrates a Scene from 'Begin Again' Starring Kiera Knightley and Mark Ruffalo
Director John Carney (Once) narrates a scene from his new film, Begin Again. Starring Keira Knightley and Mark Ruffalo, the scene shows the first time the two characters meet. I haven't seen it yet but I've heard it's great.
http://www.dailyactor.com/2014/07/begin-again-scene-director-john-carney-keira-knightley-mark-ruffalo/
http://www.dailyactor.com/wp-content/uploads/2014/07/holler-if-you-hear-me-gma.jpg
Watch the Cast of Broadway's 'Holler If You Hear Me' Perform 'California Love' on GMA
The cast of Broadway's newest musical, Holler If You Hear Me with music from Tupac Shakur, performed on Good Morning America this morning. Singing 'California Love', the cast (including the teriffic Christopher Jackson – read our interview here), show why they're the most energetic and inspiring group of actors on Broadway. Holler If Ya Hear [...]
http://www.dailyactor.com/2014/07/watch-cast-broadways-holler-hear-perform-california-love-gma/
http://www.dailyactor.com/wp-content/uploads/2014/07/behind-the-scenes-of-dawn-of-the.jpg
Behind the Scenes of 'Dawn of the Planet of the Apes' with Performance Capture Actor Terry Notary
Actor Terry Notary is 1 of 5 actors playing the apes in the new Dawn of the Planet of the Apes. "When you see armies of apes," he says, that's "five of us." Check out the video where you can watch his performance capture work.
http://www.dailyactor.com/2014/07/dawn-planet-apes-performance-capture-actor-terry-notary/