Joseph Gordon-Levitt on Being Bruce Willis in 'Looper'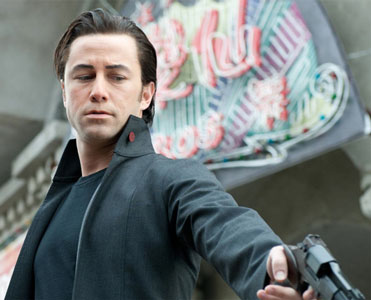 In order to play a younger version of Bruce Willis' character in Looper, Joseph Gordon-Levitt underwent three hours of makeup each day before filming.  While I personally don't think the changes are that drastic (I mean, it isn't like he has to look like the Elephant Man to play Bruce Willis), Gordon-Levitt talked to Moviefone about transforming into Willis and what audiences might discover when watching Looper.
In fact, since actors like to "disappear" into their roles, Gordon-Levitt admits that putting on all that makeup helped him separate himself from the character.  He says, "I love it. One of the main ways that I measure my work is if I can't tell that it's me. If it's convincingly somebody else, that means that the transformation of that character is thorough enough that I did a good job. In this movie I got to transform unlike I ever had before."
Obviously Gordon-Levitt had to do more than just put on makeup — he had to act like Willis too.  So, Gordon-Levitt took a crash course in all things Bruce Willis.  He explains, "I watched a lot of his movies. Even more so I focused on the audio. I was really into his voice. I would rip the audio off of his movies and put him onto the iPod so I could just listen. He also recorded himself doing some of my voiceover monologues and sent me that recording so I could hear how I could say it… The most productive thing was hanging out with him, having dinner, talking, just soaking it in."
Beyond his transformation, Gordon-Levitt thinks audiences will appreciate Looper for its "smart" take on the sci-fi concept of time travel.  He says, "I think being an audience member is creative –you have to apply your own creativity to the story, because a good movie doesn't just serve you the point, a good movie kind of provokes some questions and sets a tone. Then it's up to the audience to bring their own meeting and interpretation to it. Those are my favorite movies. When you're familiar with a movie and you're watching it a second time, for me, I think I am more able to bring my creativity to it, to use it however I need to be using it that day. If something is bothering me that day, I can bring that to the movie, and the movie will often kind of give me back things, depending on what I brought. "
http://www.dailyactor.com/wp-content/uploads/2015/02/Larry-David.jpg
Larry David on Who he Wanted to Star in his Broadway Play 'Fish in the Dark': "Anybody but me"
"It's one of the reasons I didn't like acting. I don't like not being able to interject" – Larry David on acting with a script Who doesn't like Larry David? Well, to be honest, Larry David probably doesn't like Larry David. In fact, David didn't even want to cast himself in the lead of […]
http://www.dailyactor.com/2015/02/larry-david-on-who-he-wanted-to-star-broadway-play-fish-in-the-dark/
http://www.dailyactor.com/wp-content/uploads/2015/02/Helen-Mirren-The-Queen.jpg
Helen Mirren on Winning an Oscar: "It's an indescribable moment"
"It's hard to say, because you don't know what would have happened if you hadn't won" - Helen Mirren When Asked If Winning an Oscar Changed Her Career
http://www.dailyactor.com/2015/02/helen-mirren-on-winning-an-oscar/
http://www.dailyactor.com/wp-content/uploads/2015/02/anna-chlumsky-james-earl-jones.jpg
Anna Chlumsky on Her Broadway Debut: "For me, it was an opportunity to go in the direction that I hadn't played in a while"
"I think my personality lends itself to ensembles" - Anna Chlumsky
http://www.dailyactor.com/2015/02/anna-chlumsky-broadway-debut-ensemble/
http://www.dailyactor.com/wp-content/uploads/2015/02/joanne-froggatt-downton-abbey.jpg
'Downton Abbey' Star Joanne Froggatt on Creating Her Own Backstory and How She's "Not a Big-Budget Hollywood Type"
"They want the model type, classically beautiful, and I'm not" - Joanne Froggatt on Working in Hollywood
http://www.dailyactor.com/2015/02/downton-abbey-star-joanne-froggatt-character-backstory-hollywood/
http://www.dailyactor.com/wp-content/uploads/2015/01/al-pacino-the-humbling.jpg
Al Pacino on Acting: "It becomes such a part of your nature you rarely ever think about quitting"
After working infrequently in film over the last decade, Al Pacino appears in several films released in 2015, including The Humbling, an indie drama directed by Barry Levinson.
http://www.dailyactor.com/2015/02/al-pacino-on-acting-it-becomes-such-a-part-of-your-nature/