Joseph Gordon-Levitt on Being Bruce Willis in 'Looper'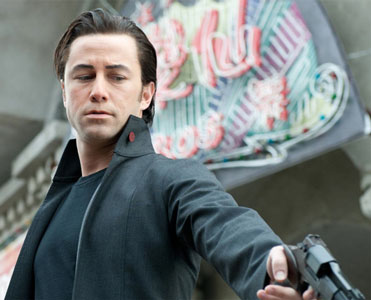 In order to play a younger version of Bruce Willis' character in Looper, Joseph Gordon-Levitt underwent three hours of makeup each day before filming.  While I personally don't think the changes are that drastic (I mean, it isn't like he has to look like the Elephant Man to play Bruce Willis), Gordon-Levitt talked to Moviefone about transforming into Willis and what audiences might discover when watching Looper.
In fact, since actors like to "disappear" into their roles, Gordon-Levitt admits that putting on all that makeup helped him separate himself from the character.  He says, "I love it. One of the main ways that I measure my work is if I can't tell that it's me. If it's convincingly somebody else, that means that the transformation of that character is thorough enough that I did a good job. In this movie I got to transform unlike I ever had before."
Obviously Gordon-Levitt had to do more than just put on makeup — he had to act like Willis too.  So, Gordon-Levitt took a crash course in all things Bruce Willis.  He explains, "I watched a lot of his movies. Even more so I focused on the audio. I was really into his voice. I would rip the audio off of his movies and put him onto the iPod so I could just listen. He also recorded himself doing some of my voiceover monologues and sent me that recording so I could hear how I could say it… The most productive thing was hanging out with him, having dinner, talking, just soaking it in."
Beyond his transformation, Gordon-Levitt thinks audiences will appreciate Looper for its "smart" take on the sci-fi concept of time travel.  He says, "I think being an audience member is creative –you have to apply your own creativity to the story, because a good movie doesn't just serve you the point, a good movie kind of provokes some questions and sets a tone. Then it's up to the audience to bring their own meeting and interpretation to it. Those are my favorite movies. When you're familiar with a movie and you're watching it a second time, for me, I think I am more able to bring my creativity to it, to use it however I need to be using it that day. If something is bothering me that day, I can bring that to the movie, and the movie will often kind of give me back things, depending on what I brought. "
Latest Videos
http://www.dailyactor.com/wp-content/uploads/2014/08/bryan-cranston-emmy-award-speech.jpg
Watch: Bryan Cranston's Emmy Award Speech: "I love to act. It is a passion of mine and I will do it until my last breath."
The Emmy Awards weren't the most exciting awards show this year but with Bryan Cranston winning for Outstanding Actor in a Drama for Breaking Bad, we at least got to hear one heck of a fantastic acceptance speech. "I was a kid who always looked for the shortcut," he said. "I did happen to stumble […]
http://www.dailyactor.com/2014/08/watch-bryan-cranston-and-aaron-pauls-emmy-award-speeches/
http://www.dailyactor.com/wp-content/uploads/2014/08/audition-tapes-gerard-butler-aud.jpg
Audition Tapes: Gerard Butler Auditions for 'Dracula 2000′
Check out Gerard Butler auditioning for the role of Dracula in the movie, Dracula 2000. The film, about a group of thieves who break into a chamber expecting to find paintings, but instead find Dracula himself, also starred Christopher Plummer, Jonny Lee Miller and Nathan Fillion. Bulter has some sweet rock star hair, huh?
http://www.dailyactor.com/2014/08/audition-tapes-gerard-butler-dracula-2000/
http://www.dailyactor.com/wp-content/uploads/2014/08/interview-matt-dillon-and-carla.jpg
Interview: Matt Dillon and Carla Gugino Talk 'Wayward Pines'
FOX has a new limited-series that's got a terrific cast and interesting premise. It's called Wayward Pines and stars Matt Dillon, Carla Gugino, Melissa Leo, Toby Jones, Terrance Howard, Juliette Lewis, Tim Griffin and Shannyn Sossamon. The show, whose pilot was directed by M. Night Shyamalan, is about a Secret Service agent (Dillon) goes to […]
http://www.dailyactor.com/2014/08/interview-matt-dillon-carla-gugino-wayward-pines-comic-con/
http://www.dailyactor.com/wp-content/uploads/2014/08/interview-wayward-pines-stars-ti.jpg
Interview: 'Wayward Pines' Stars Tim Griffin and Shannyn Sossamon on the Show, Their Characters and More!
Griffin and Sossamonwere at Comic-Con where they sat in on some roundtable interviews to talk about the show.
http://www.dailyactor.com/2014/08/interview-wayward-pines-stars-tim-griffin-shannyn-sossamon-comic-con/
http://www.dailyactor.com/wp-content/uploads/2014/08/interview-m-night-shyamalan-talk.jpg
Interview: M. Night Shyamalan Talks 'Wayward Pines' and Why He Expanded a Young Actors Role on the Show
I talked to Shyamalan at Comic-Con in a roundtable interview where he talked about the cast, what he learned from working in TV and how young actor Charlie Tahan started out with a small part but as the story grew, so did his role.
http://www.dailyactor.com/2014/08/interview-m-night-shyamalan-wayward-pines-comic-con/