Jake Gyllenhaal talks 'End of Watch', Preparation and Choosing His Roles: "I am interested in anything that has a heart to it"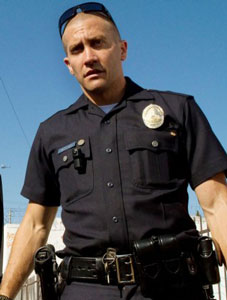 Jake Gyllenhaal took his role as a police officer in End of Watch extremely seriously, getting hands-on training and experience for his part.
Gyllenhaal shot his own scenes with a handheld camera every day for the first person point-of-view for the film.  "We went on ride-alongs for five months, two to three times a week with the LAPD and sheriff's department and Inglewood PD," the actor told Moviefone. 
"We would work with them from about 4 p.m. to about four or five in the morning.  Then we did tactical training about two or three times a week with live ammunition and training exercises, then fight training almost every morning with [director] Dave Ayer's best friend, who has a dojo, getting the crap beat out of us by 14 to 20-year-old kids," he said.  "That coupled with rehearsing on our time off and just spending time with [costar] Mike [Pena] out of work and getting to know each other."
Gyllenhaal is proud of the time they spent preparing for the film.  "When I hear an actor say they went on a ride-along to do research for a part, it probably means that they went two or three times.  Michael and I went over 40, maybe 50 times.  We changed up partners.  We kept circling around and coming back to different ones, four or five sets over that period of time.  Two guys from that experience are some of my closest friends now.  This is unlike anything that any actor I've heard in preparation to play a role like that has done.  But I don't know, I could be wrong."
The actor, despite his success, still chooses his projects carefully.  "I am interested in anything that has a heart to it," he said.  "To me, it's about variation always.  That's what turns me on.  I don't know if I am looking for anything specific, I am looking to work with great artists—people who are committed and disciplined and ready to put in hard work, because that's what I am ready to do.  Inevitably, after you do one kind of movie, everybody starts thinking you should play this kind of role, the role you played in the last one.  For such a creative environment, there's not a whole lot of creativity in that."
"I don't know if the craft is what's important to the business, you know [laughs]?  I think there are other elements.  I just think it's about the community and the family you make when you make the movie, and the collaboration and being able to support each other and cheer each other on and have no ego about it.  And sometimes that's rare to find."
End of Watch comes out Friday, September 21.
http://www.dailyactor.com/wp-content/uploads/2015/02/Larry-David.jpg
Larry David on Who he Wanted to Star in his Broadway Play 'Fish in the Dark': "Anybody but me"
"It's one of the reasons I didn't like acting. I don't like not being able to interject" – Larry David on acting with a script Who doesn't like Larry David? Well, to be honest, Larry David probably doesn't like Larry David. In fact, David didn't even want to cast himself in the lead of […]
http://www.dailyactor.com/2015/02/larry-david-on-who-he-wanted-to-star-broadway-play-fish-in-the-dark/
http://www.dailyactor.com/wp-content/uploads/2015/02/Helen-Mirren-The-Queen.jpg
Helen Mirren on Winning an Oscar: "It's an indescribable moment"
"It's hard to say, because you don't know what would have happened if you hadn't won" - Helen Mirren When Asked If Winning an Oscar Changed Her Career
http://www.dailyactor.com/2015/02/helen-mirren-on-winning-an-oscar/
http://www.dailyactor.com/wp-content/uploads/2015/02/anna-chlumsky-james-earl-jones.jpg
Anna Chlumsky on Her Broadway Debut: "For me, it was an opportunity to go in the direction that I hadn't played in a while"
"I think my personality lends itself to ensembles" - Anna Chlumsky
http://www.dailyactor.com/2015/02/anna-chlumsky-broadway-debut-ensemble/
http://www.dailyactor.com/wp-content/uploads/2015/02/joanne-froggatt-downton-abbey.jpg
'Downton Abbey' Star Joanne Froggatt on Creating Her Own Backstory and How She's "Not a Big-Budget Hollywood Type"
"They want the model type, classically beautiful, and I'm not" - Joanne Froggatt on Working in Hollywood
http://www.dailyactor.com/2015/02/downton-abbey-star-joanne-froggatt-character-backstory-hollywood/
http://www.dailyactor.com/wp-content/uploads/2015/01/al-pacino-the-humbling.jpg
Al Pacino on Acting: "It becomes such a part of your nature you rarely ever think about quitting"
After working infrequently in film over the last decade, Al Pacino appears in several films released in 2015, including The Humbling, an indie drama directed by Barry Levinson.
http://www.dailyactor.com/2015/02/al-pacino-on-acting-it-becomes-such-a-part-of-your-nature/