Ed O'Neill Might Have Wound Up in the Mob If It Wasn't For Acting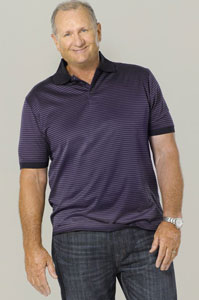 Speaking with Rolling Stone, Modern Family co-star Ed O'Neill reveals where he might have been headed if he didn't get into acting… and it's a bit surprising.
It turns out O'Neill wasn't always the lovable guy we know him as today.  While talking about his youth, he reveals "I was drinking too much and fighting almost every night.  I liked speed, too. Man, I liked speed."  After earning a rep around the neighborhood, O'Neill's friends in the mafia in Youngstown, Ohio almost made him an offer he couldn't refuse.  He explains, "They said, 'You're a tough guy, we trust you, we could find some things for you to do, light work, collecting money.'  But I knew how that was going to end.  It was going to end badly."
O'Neill went on to star on television shows like Married… with Children and L.A. Dragnet before his current success as one of the leads on the ABC comedy Modern Family.  Though O'Neill was game for the series from the get-go, he was initially passed over for the part because the producers wanted former Coach star Craig T. Nelson. 
So how did O'Neill end up in the role?  He explains, "After I read the pilot, all I could think was, 'This is a hit!' But the offer went to Craig T. Nelson. Then my manager tells me that Nelson asked for too much money. I said, 'Make the deal.' Craig T., I heard, wanted to fire every fucking body that was connected to him when the show started doing what it's doing."
It has turned out pretty well for O'Neill so far: he has gotten two Emmy nominations for his work on the show in the past two years.  Not bad for a second choice!
http://www.dailyactor.com/wp-content/uploads/2015/05/Caitriona-Balfe-Outlander.jpg
Outlander's Caitriona Balfe On The Emotional Toll of Filming Violent Scenes
"Having to put yourself in that place is tough. To sit in that emotional space, especially when you're doing it day after day." - Caitriona Balfe
http://www.dailyactor.com/2015/05/outlander-catriona-balfe-emotional-toll-of-filming-violent-scenes/
http://www.dailyactor.com/wp-content/uploads/2015/05/Chrissie-Fit.jpg
Chrissie Fit on How She Landed Her Role in 'Pitch Perfect 2′
"I remember getting the audition and being like, "This might not happen," just because it is such a massive movie." - Chrissie Fit
http://www.dailyactor.com/2015/05/chrissie-fit-on-how-she-landed-her-role-in-pitch-perfect-2/
http://www.dailyactor.com/wp-content/uploads/2015/05/Sam-Elliott.jpg
Sam Elliot on How he "F–ked" Himself Out of a Career as a Lead Actor
The rugged Sam Elliot has most often cast in character actor roles throughout his long career in film, though the 70 year-old Elliot thinks it wasn't always meant to be that way.
http://www.dailyactor.com/2015/05/sam-elliot-on-how-he-f-ked-himself-out-of-a-career-as-a-lead-actor/
http://www.dailyactor.com/wp-content/uploads/2015/05/Anna-Kendrick-Pitch-Perfect-2.jpg
Anna Kendrick Talks Hollywood and its Gender Bias
"As an actress you're perpetually about to be unemployed." - Anna Kendrick
http://www.dailyactor.com/2015/05/anna-kendrick-talks-hollywood-and-its-gender-bias/
http://www.dailyactor.com/wp-content/uploads/2015/05/tom-hardy-mad-max-fury-road.jpg
Tom Hardy on Fame, Acting School, and His 'Mad Respect' for Michael Fassbender
"Do what you love doing, do it well—everything should fit into place." - Tom Hardy
http://www.dailyactor.com/2015/05/tom-hardy-fame-acting-school-michael-fassbender/