Documentary Trailer: 'Casting By' Follows the History and Impact of Casting Directors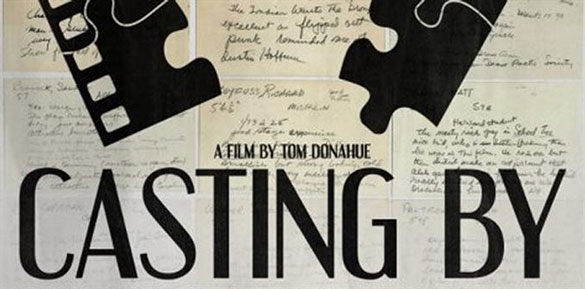 Casting By is a documentary by Tom Donahue that features Martin Scorsese, Woody Allen, Clint Eastwood, Glenn Close, Robert Duvall, Jeff Bridges, Al Pacino, Robert De Niro, Diane Lane, Jon Voight, Bette Midler and John Travolta all discussing Hollywood's unsung heroes – the casting director.
Synopsis: The doc is about the history and impact of the Hollywood Casting Director featuring the accomplishments of the "one-woman casting revolution" Marion Dougherty. One of the last of the true Hollywood originals, legendary casting director Marion Dougherty had a career in movies and television that spanned 50 years. Marion Dougherty's legacy, well-represented in over 100 motion pictures  and over 1000 television programs, brought to the screens, large and  small, the likes of Al Pacino, Glenn Close, Robert Redford, Dustin Hoffman, Gene Hackman, Richard Gere, Christopher Walken, Mel Gibson, Debra Winger, Robert Duvall, Diane Lane, Brooke Shields, Brendan Fraser, Martin Sheen and Bette Midler, and enduring, timeless movie unforgettables such as The Sting, Midnight Cowboy, Slaughterhouse-Five, Lenny, Pretty Baby, The Last  Picture Show, The Killing Fields, A Little Romance, The Great Gatsby, The Man Without A Face, Lethal Weapon and Batman.
HBO Documentary Films has just acquired U.S. rights to the film and plans to premiere it in the near future. 
http://www.dailyactor.com/wp-content/uploads/2015/05/Caitriona-Balfe-Outlander.jpg
Outlander's Caitriona Balfe On The Emotional Toll of Filming Violent Scenes
"Having to put yourself in that place is tough. To sit in that emotional space, especially when you're doing it day after day." - Caitriona Balfe
http://www.dailyactor.com/2015/05/outlander-catriona-balfe-emotional-toll-of-filming-violent-scenes/
http://www.dailyactor.com/wp-content/uploads/2015/05/Chrissie-Fit.jpg
Chrissie Fit on How She Landed Her Role in 'Pitch Perfect 2′
"I remember getting the audition and being like, "This might not happen," just because it is such a massive movie." - Chrissie Fit
http://www.dailyactor.com/2015/05/chrissie-fit-on-how-she-landed-her-role-in-pitch-perfect-2/
http://www.dailyactor.com/wp-content/uploads/2015/05/Sam-Elliott.jpg
Sam Elliot on How he "F–ked" Himself Out of a Career as a Lead Actor
The rugged Sam Elliot has most often cast in character actor roles throughout his long career in film, though the 70 year-old Elliot thinks it wasn't always meant to be that way.
http://www.dailyactor.com/2015/05/sam-elliot-on-how-he-f-ked-himself-out-of-a-career-as-a-lead-actor/
http://www.dailyactor.com/wp-content/uploads/2015/05/Anna-Kendrick-Pitch-Perfect-2.jpg
Anna Kendrick Talks Hollywood and its Gender Bias
"As an actress you're perpetually about to be unemployed." - Anna Kendrick
http://www.dailyactor.com/2015/05/anna-kendrick-talks-hollywood-and-its-gender-bias/
http://www.dailyactor.com/wp-content/uploads/2015/05/tom-hardy-mad-max-fury-road.jpg
Tom Hardy on Fame, Acting School, and His 'Mad Respect' for Michael Fassbender
"Do what you love doing, do it well—everything should fit into place." - Tom Hardy
http://www.dailyactor.com/2015/05/tom-hardy-fame-acting-school-michael-fassbender/