Director Tom Hooper Made Stars Russell Crowe, Hugh Jackman and Anne Hathaway Audition For 'Les Miserables'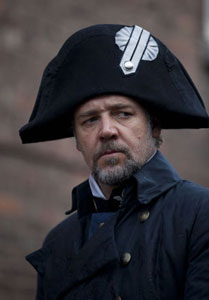 One of the perks of being a big star is not having to audition for parts.  After all, if an actor is well-known enough, his or her reputation and ability precedes him or her.  But that wasn't the case for the next big movie musical, Les Miserables
.  Despite stars like
Russell Crowe
,
Hugh Jackman
, and
Anne Hathaway
starring in the film, director
Tom Hooper
made all of them audition for their roles. 
Hooper explains how important it was for everyone to audition.  He says, "For a musical, everyone accepted that they had to audition for the roles because of the particular need to both sing and act. So I had someone like Russell Crowe auditioning, and I don't think Russell has had to audition for a movie for many years."  Since the singing was done live on the set, the actors had to be able to do it without studio magic, making the auditions even more important.
Surprisingly, the big names didn't scoff at having to audition.  Hooper reveals, "The list of actresses who auditioned for Fantine was outrageous. It was like half a dozen of the biggest female movie stars on the planet all wanted to play the role. The competition was insane, and they were all willing to go through the auditioning process."
Ultimately the role of Francine went to Hathaway, who Hooper believes was destined to play the role.  He explains, "It was rather wonderful and some poetic justice that Anne Hathaway ends up getting the role given that her mother was the understudy for Fantine on the American tour when she was growing up.  The first day of filming, she actually wore her mother's Les Mis cast jacket from all those years ago. When she sings I Dreamed A Dream… it is quite extraordinary. This performance, it is quite breathtaking. She went to this incredibly raw and intense place to play this role."
via The Press Association
Latest Videos
http://www.dailyactor.com/wp-content/uploads/2014/11/sag-foundation-conversation-with.jpg
SAG Foundation Conversation with the Cast of NBC's 'Marry Me'
Earlier this month NBC put in an order for five additional episodes of its freshman romantic comedy series, Marry Me. While that isn't exactly the shot of confidence that a full-season renewal provides, it's enough to keep fans of the comedy — which is about an engaged couple who are determined to get married despite […]
http://www.dailyactor.com/2014/11/conversation-cast-of-nbc-marry-me-casey-wilson-ken-marino/
http://www.dailyactor.com/wp-content/uploads/2012/12/michael-caine.jpg
Michael Caine Talks About Acting With Your Eyes and Does an Amazing Cold Read of a Script
This week acting legend Michael Caine appears in his sixth film directed by Christopher Nolan, Interstellar. In an interview clip from The New York Times that was shot around the release of the last movie Caine worked on with Nolan, The Dark Knight Rises, reporter Melena Ryzik spoke to Caine about his six-decade career. In […]
http://www.dailyactor.com/2014/11/michael-caine-acting-with-your-eyes-cold-read-of-a-script/
http://www.dailyactor.com/wp-content/uploads/2014/11/director-dan-gilroy-narrates-a-s.jpg
Director Dan Gilroy Narrates a Scene from 'Nightcrawler' Featuring Jake Gyllenhaal and Rene Russo
Nightcrawler is easily one of the best movies of the year and its star, Jake Gyllenhaal, is outstanding. Definitely check this out when you have a chance. In the above clip, writer/director Dan Gilroy narrates a sequence from the film that features Gyllenhaal and Rene Russo. He talks about giving Gyllenhaal a small piece of […]
http://www.dailyactor.com/2014/11/director-dan-gilroy-narrates-a-scene-nightcrawler-jake-gyllenhaal-rene-russo/
http://www.dailyactor.com/wp-content/uploads/2014/11/matthew-mcconaughey-talks-losing.png
Matthew McConaughey Talks Losing the Lead Role in 'Bernie' to Jack Black
Though Matthew McConaughey has increased his earned plenty of respect since he started taking on more substantive movie roles in the last few years (with Dallas Buyers Club even earning him an Oscar for Best Actor), one director that always has been a fan of McConaughey is Richard Linklater. Linklater gave McConaughey his first big […]
http://www.dailyactor.com/2014/11/matthew-mcconaughey-talks-losing-the-lead-role-in-bernie-to-jack-black/
http://www.dailyactor.com/wp-content/uploads/2014/11/watch-benedict-cumberbatch-film.jpg
Watch: Benedict Cumberbatch Film the Smaug Motion Capture for 'The Hobbit: The Desolation of Smaug'
Though Peter Jackson's movie adaptations of The Hobbit haven't received the same critical acclaim as his films based on the book's sequel, The Lord of the Rings (turning a 300 page book into 9+ hours of film tends to do that), fans are still eagerly anticipating the release of the final part of The Hobbit […]
http://www.dailyactor.com/2014/11/watch-benedict-cumberbatch-film-smaug-motion-capture-the-hobbit/