Director Tom Hooper Made Stars Russell Crowe, Hugh Jackman and Anne Hathaway Audition For 'Les Miserables'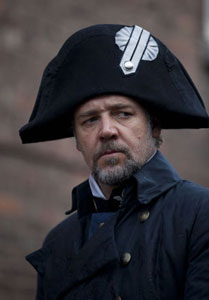 One of the perks of being a big star is not having to audition for parts.  After all, if an actor is well-known enough, his or her reputation and ability precedes him or her.  But that wasn't the case for the next big movie musical, Les Miserables.  Despite stars like Russell Crowe, Hugh Jackman, and Anne Hathaway starring in the film, director Tom Hooper made all of them audition for their roles. 
Hooper explains how important it was for everyone to audition.  He says, "For a musical, everyone accepted that they had to audition for the roles because of the particular need to both sing and act. So I had someone like Russell Crowe auditioning, and I don't think Russell has had to audition for a movie for many years."  Since the singing was done live on the set, the actors had to be able to do it without studio magic, making the auditions even more important.
Surprisingly, the big names didn't scoff at having to audition.  Hooper reveals, "The list of actresses who auditioned for Fantine was outrageous. It was like half a dozen of the biggest female movie stars on the planet all wanted to play the role. The competition was insane, and they were all willing to go through the auditioning process."
Ultimately the role of Francine went to Hathaway, who Hooper believes was destined to play the role.  He explains, "It was rather wonderful and some poetic justice that Anne Hathaway ends up getting the role given that her mother was the understudy for Fantine on the American tour when she was growing up.  The first day of filming, she actually wore her mother's Les Mis cast jacket from all those years ago. When she sings I Dreamed A Dream… it is quite extraordinary. This performance, it is quite breathtaking. She went to this incredibly raw and intense place to play this role."
via The Press Association
http://www.dailyactor.com/wp-content/uploads/2015/02/Larry-David.jpg
Larry David on Who he Wanted to Star in his Broadway Play 'Fish in the Dark': "Anybody but me"
"It's one of the reasons I didn't like acting. I don't like not being able to interject" – Larry David on acting with a script Who doesn't like Larry David? Well, to be honest, Larry David probably doesn't like Larry David. In fact, David didn't even want to cast himself in the lead of […]
http://www.dailyactor.com/2015/02/larry-david-on-who-he-wanted-to-star-broadway-play-fish-in-the-dark/
http://www.dailyactor.com/wp-content/uploads/2015/02/Helen-Mirren-The-Queen.jpg
Helen Mirren on Winning an Oscar: "It's an indescribable moment"
"It's hard to say, because you don't know what would have happened if you hadn't won" - Helen Mirren When Asked If Winning an Oscar Changed Her Career
http://www.dailyactor.com/2015/02/helen-mirren-on-winning-an-oscar/
http://www.dailyactor.com/wp-content/uploads/2015/02/anna-chlumsky-james-earl-jones.jpg
Anna Chlumsky on Her Broadway Debut: "For me, it was an opportunity to go in the direction that I hadn't played in a while"
"I think my personality lends itself to ensembles" - Anna Chlumsky
http://www.dailyactor.com/2015/02/anna-chlumsky-broadway-debut-ensemble/
http://www.dailyactor.com/wp-content/uploads/2015/02/joanne-froggatt-downton-abbey.jpg
'Downton Abbey' Star Joanne Froggatt on Creating Her Own Backstory and How She's "Not a Big-Budget Hollywood Type"
"They want the model type, classically beautiful, and I'm not" - Joanne Froggatt on Working in Hollywood
http://www.dailyactor.com/2015/02/downton-abbey-star-joanne-froggatt-character-backstory-hollywood/
http://www.dailyactor.com/wp-content/uploads/2015/01/al-pacino-the-humbling.jpg
Al Pacino on Acting: "It becomes such a part of your nature you rarely ever think about quitting"
After working infrequently in film over the last decade, Al Pacino appears in several films released in 2015, including The Humbling, an indie drama directed by Barry Levinson.
http://www.dailyactor.com/2015/02/al-pacino-on-acting-it-becomes-such-a-part-of-your-nature/