Director Tom Hooper Made Stars Russell Crowe, Hugh Jackman and Anne Hathaway Audition For 'Les Miserables'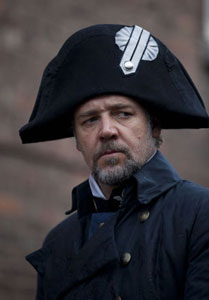 One of the perks of being a big star is not having to audition for parts.  After all, if an actor is well-known enough, his or her reputation and ability precedes him or her.  But that wasn't the case for the next big movie musical, Les Miserables.  Despite stars like Russell Crowe, Hugh Jackman, and Anne Hathaway starring in the film, director Tom Hooper made all of them audition for their roles. 
Hooper explains how important it was for everyone to audition.  He says, "For a musical, everyone accepted that they had to audition for the roles because of the particular need to both sing and act. So I had someone like Russell Crowe auditioning, and I don't think Russell has had to audition for a movie for many years."  Since the singing was done live on the set, the actors had to be able to do it without studio magic, making the auditions even more important.
Surprisingly, the big names didn't scoff at having to audition.  Hooper reveals, "The list of actresses who auditioned for Fantine was outrageous. It was like half a dozen of the biggest female movie stars on the planet all wanted to play the role. The competition was insane, and they were all willing to go through the auditioning process."
Ultimately the role of Francine went to Hathaway, who Hooper believes was destined to play the role.  He explains, "It was rather wonderful and some poetic justice that Anne Hathaway ends up getting the role given that her mother was the understudy for Fantine on the American tour when she was growing up.  The first day of filming, she actually wore her mother's Les Mis cast jacket from all those years ago. When she sings I Dreamed A Dream… it is quite extraordinary. This performance, it is quite breathtaking. She went to this incredibly raw and intense place to play this role."
via The Press Association
http://www.dailyactor.com/wp-content/uploads/2015/01/watch-al-pacino-talks-the-humbli.jpg
Watch: Al Pacino Talks 'The Humbling' and His Extraordinary Career
In this conversation with Al Pacino talks about his role in The Humbling -- including working with Greta Gerwig -- and his historic acting career
http://www.dailyactor.com/2015/01/watch-al-pacino-extraordinary-career/
http://www.dailyactor.com/wp-content/uploads/2015/01/watch-oscar-nominee-steve-carell.jpg
Watch: Oscar Nominee Steve Carell Talks Improv, Auditioning for 'The Office' and 'Foxcatcher'
Carell talks about his entire career as an actor, including his background in improv, how he landed the Michael Scott role on The Office, and Foxcatcher
http://www.dailyactor.com/2015/01/oscar-nominee-steve-carell-improv-auditioning-for-the-office-foxcatcher/
http://www.dailyactor.com/wp-content/uploads/2015/01/ethan-hawke-ellar-coltrane-boyhood.jpg
Ethan Hawke Calls 'Boyhood' the "most special endeavor of my life"
Ethan Hawke is riding high with his fourth Oscar nomination for the Richard Linklater-directed Boyhood. In a recent "Ask Me Anything" on Reddit, the 44-year-old actor gave some thoughtful insight into his career and the 12-year creative endeavor that became the biggest film of the Oscar season. When asked what was the most difficult thing about […]
http://www.dailyactor.com/2015/01/ethan-hawke-boyhood-reddit-amaife/
http://www.dailyactor.com/wp-content/uploads/2015/01/martha-plimpton-a-delicate-balance.jpg
Martha Plimpton Takes a Refreshing Approach to a Long-Lasting Career
Martha Plimpton is an actress who enjoys the work, she's not in it for the fame. The proof is in her continually excellent work that she is doing on-screen and on the stage. She's currently starring in A Delicate Balance on Broadway. It's the audience who gives her the ultimate thrill. "I try to get […]
http://www.dailyactor.com/2015/01/martha-plimpton-long-lasting-career/
http://www.dailyactor.com/wp-content/uploads/2015/01/watch-michael-keaton-talks-candi.jpg
Watch: Michael Keaton Talks Candidly About His Career and His Approach to Acting in 'Birdman'
In this nearly 90 minute conversation, Michael Keaton is his usual affable self but is also remarkably candid about his career and his approach to acting.
http://www.dailyactor.com/2015/01/michael-keaton-career-approach-to-acting-birdman/