Clint Eastwood: "Acting gets in your blood after so many years, and you just always like revisiting it"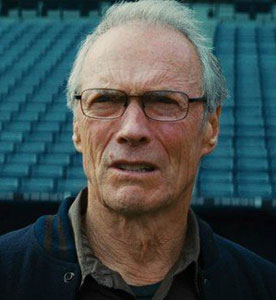 There have been numerous actors who have turned to directing (such as recent convert Ben Affleck), but none of them have quite as impressive of a resume as Clint Eastwood, who for decades has been praised for both his acting and his directing and is one of the very few in the industry who can be undoubtedly labeled "iconic." 
Though Eastwood said he wasn't planning on acting anymore after his well-received performance in Grant Torino, a break in his schedule allowed him to star in Trouble with the Curve, the directing debut of his long-time producer and assistant director Robert Lorenz.  Eastwood spoke about that experience to NBC New York, and also talked about why he's still in this industry at the age of 82.
As for what it was like having to listen to Lorenz for a change, Eastwood jokes, "Oh, it's gotten horrible. I had to listen to everything he said! [Laughs] Actually, he's terrific – he did a terrific job. Rob's been making noises about wanting to direct for some years now and when this property came along, it was what I wanted to do. After Gran Torino I kind of thought this is kind of stupid to be doing both jobs. I've been only doing it for 40 some years and I thought I should just do one or the other. It allowed myself a little bit of comfort zone, so this was an opportunity for that and he stepped right in and just took over. I didn't have to do anything [but] watch Amy throw the ball."
Eastwood began to limit his acting performances in the last two decades, and the last time he starred in a movie that he didn't direct was 1993's In the Line of Fire (directed by Wolfgang Peterson).  However, he says it wasn't difficult for him to get back into the "acting-only" mindset, explaining, "I had to make no adjustments at all, because I've always maintained that there's more than one way of doing things. A lot of people come up with ideas, and out of a dozen of them, maybe three or four of them are really great. So I just put it in my mind that somebody else is going to pilot the ship. That's all, and it's actually quite relaxing because I just can sit back. When these fellas were all working, I was practicing putting or something. It was a great relaxing thing and I probably won't do both [acting and directing at the same time] again, at least for the moment – but I said I wasn't going to act again a few years ago and that changed too. Sometimes you just lie a lot."
At 82 years old and appearing in films since 1955, Eastwood has certainly earned the right to retirement — except he has no plans to.  He says, "It's just that acting gets in your blood after so many years, and you just always like revisiting it. It's fun to meet new people and watch them coming along at different stages of their career…You get to a certain age, you're just glad to be there! I don't know what to add to that. It's fun. You have to be a realist so you try to look for roles that are within the age you're in. It'd be kind of ridiculous if I say, 'Well, I want to play this 35-year-old guy,' or something like that. They'd have to get a sandblasting machine out! Be realistic about where you are in life and enjoy it. I've enjoyed the journey to this stage so I intend to enjoy the rest of the journey – a long one, I hope."
Latest Videos
http://www.dailyactor.com/wp-content/uploads/2014/09/audtion-tapes-robin-wright-and-h.jpg
Audition Tapes: Robin Wright and Haley Joel Osment Audition with Tom Hanks for 'Forrest Gump'
Check out Robin Wright auditioning for the role of Jenny from Forest Gump opposite Tom Hanks. Interestingly enough, Hanks doesn't quite have Gump's southern drawl down just yet while the other actors audition with him. In fact, Hanks would base Gump's voice on the voice of Michael Conner Humphreys, who played the young Forrest and […]
http://www.dailyactor.com/2014/09/audtion-tapes-robin-wright-haley-joel-osment-tom-hanks-forrest-gump/
http://www.dailyactor.com/wp-content/uploads/2014/08/bryan-cranston-emmy-award-speech.jpg
Watch: Bryan Cranston's Emmy Award Speech: "I love to act. It is a passion of mine and I will do it until my last breath."
The Emmy Awards weren't the most exciting awards show this year but with Bryan Cranston winning for Outstanding Actor in a Drama for Breaking Bad, we at least got to hear one heck of a fantastic acceptance speech. "I was a kid who always looked for the shortcut," he said. "I did happen to stumble […]
http://www.dailyactor.com/2014/08/watch-bryan-cranston-and-aaron-pauls-emmy-award-speeches/
http://www.dailyactor.com/wp-content/uploads/2014/08/audition-tapes-gerard-butler-aud.jpg
Audition Tapes: Gerard Butler Auditions for 'Dracula 2000′
Check out Gerard Butler auditioning for the role of Dracula in the movie, Dracula 2000. The film, about a group of thieves who break into a chamber expecting to find paintings, but instead find Dracula himself, also starred Christopher Plummer, Jonny Lee Miller and Nathan Fillion. Bulter has some sweet rock star hair, huh?
http://www.dailyactor.com/2014/08/audition-tapes-gerard-butler-dracula-2000/
http://www.dailyactor.com/wp-content/uploads/2014/08/interview-matt-dillon-and-carla.jpg
Interview: Matt Dillon and Carla Gugino Talk 'Wayward Pines'
FOX has a new limited-series that's got a terrific cast and interesting premise. It's called Wayward Pines and stars Matt Dillon, Carla Gugino, Melissa Leo, Toby Jones, Terrance Howard, Juliette Lewis, Tim Griffin and Shannyn Sossamon. The show, whose pilot was directed by M. Night Shyamalan, is about a Secret Service agent (Dillon) goes to […]
http://www.dailyactor.com/2014/08/interview-matt-dillon-carla-gugino-wayward-pines-comic-con/
http://www.dailyactor.com/wp-content/uploads/2014/08/interview-wayward-pines-stars-ti.jpg
Interview: 'Wayward Pines' Stars Tim Griffin and Shannyn Sossamon on the Show, Their Characters and More!
Griffin and Sossamonwere at Comic-Con where they sat in on some roundtable interviews to talk about the show.
http://www.dailyactor.com/2014/08/interview-wayward-pines-stars-tim-griffin-shannyn-sossamon-comic-con/