Claire Danes on Turning Down a Role at 12 and Doing Research for Her 'Homeland' Character on YouTube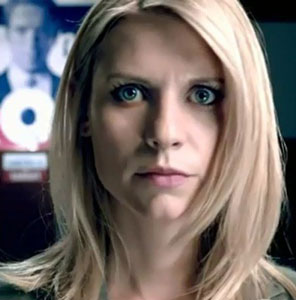 Claire Danes is up for an Emmy for her role on the Showtime drama Homeland.  The actress has already enjoyed a long career, including playing teenager Angela Chase on the much-beloved series My So-Called Life and winning a Golden Globe and an Emmy for Temple Grandin.
"I got an agent when I was 12, and I started working in more amateur productions well before that," she told NPR.  "But even as a kid, I never felt like a kid actor, you know?  I always took myself kind of absurdly seriously.  My first offer was when I was 12, and it was for a soap opera.  And I turned it down because I knew that I was an unformed actor, and I didn't want to develop bad habits."
That decision has certainly paid off for Danes, who has often been praised for her intense performances.  "I focus on the intention of the character and whatever thoughts and feelings she's having, and they seem to kind of naturally communicate themselves on the face," she said.  "But I have to say that my dad's face is very malleable.  He's barely got any cartilage in his face.  I think I maybe inherited that Play-Doh-like physicality from him."
Danes' acting is also stronger because of the preparation she does for her roles, including that of bipolar CIA Agent Carrie Mathison on Homeland.  "I had to do a lot of research for this role," the actress said.  "And actually, I found great material on YouTube.  There was a lot of footage of people who recorded themselves when they were in manic states.  I think they were probably up in the middle of the night and lonely and, you know, needed to talk.  So they talked to the camera.  So I gorged on sort of manic confessionals on YouTube.
"They talk at a very fast clip.  But, you know, it's not a strictly unpleasant phenomenon.  A lot of people are reluctant to treat themselves because they're so protective of those manic highs."
The new season of Homeland airs on Showtime, September 30 at 10 p.m.
Latest Videos
http://www.dailyactor.com/wp-content/uploads/2014/08/seth-rudetsky-reveals-the-5-wors.jpg
Seth Rudetsky Reveals the 5 Worst Musical Theater Audition Mistakes (video)
Seth Rudetsky, actor, musician and a host on SiriusXM's Broadway channel, has been teaching auditioning master classes this summer and he's seen his share of bad auditions lately. In this video, he reveals the 5 worst audition mistakes you can make in a musical theater audition and how to choose the perfect 16-bar audition song. [...]
http://www.dailyactor.com/2014/08/seth-rudetsky-5-worst-audition-mistakes/
http://www.dailyactor.com/wp-content/uploads/2014/07/sir-ben-kingsley-talks-about-the.jpg
Sir Ben Kingsley Talks about the Unique Way He Voiced His Character in the Animated Film, 'The Boxtrolls' (video)
I could listen to Sir Ben Kingsley talk about acting and.. well, I could listen to him talk about anything. He's starring in the new Laika stop-motion animated film, The Boxtrolls, and he and some of the cast (along with the director) joined in on a Comic-Con panel about the film. The Boxtrolls is about [...]
http://www.dailyactor.com/2014/07/sir-ben-kingsley-the-boxtrolls-comic-con/
http://www.dailyactor.com/wp-content/uploads/2014/07/bill-hader.jpg
Bill Hader: "I kind of fell into acting" (video)
Bill Hader, starring in the soon to be released The Skeleton Twins, talks about the film and how he fell into acting and then got "crazy lucky" in this quick video from USA Today.
http://www.dailyactor.com/2014/07/bill-hader-fell-into-acting-video/
http://www.dailyactor.com/wp-content/uploads/2014/07/director-john-carney-narrates-a.jpg
Director John Carney Narrates a Scene from 'Begin Again' Starring Kiera Knightley and Mark Ruffalo
Director John Carney (Once) narrates a scene from his new film, Begin Again. Starring Keira Knightley and Mark Ruffalo, the scene shows the first time the two characters meet. I haven't seen it yet but I've heard it's great.
http://www.dailyactor.com/2014/07/begin-again-scene-director-john-carney-keira-knightley-mark-ruffalo/
http://www.dailyactor.com/wp-content/uploads/2014/07/holler-if-you-hear-me-gma.jpg
Watch the Cast of Broadway's 'Holler If You Hear Me' Perform 'California Love' on GMA
The cast of Broadway's newest musical, Holler If You Hear Me with music from Tupac Shakur, performed on Good Morning America this morning. Singing 'California Love', the cast (including the teriffic Christopher Jackson – read our interview here), show why they're the most energetic and inspiring group of actors on Broadway. Holler If Ya Hear [...]
http://www.dailyactor.com/2014/07/watch-cast-broadways-holler-hear-perform-california-love-gma/