Claire Danes on Turning Down a Role at 12 and Doing Research for Her 'Homeland' Character on YouTube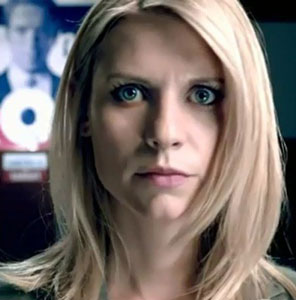 Claire Danes is up for an Emmy for her role on the Showtime drama Homeland.  The actress has already enjoyed a long career, including playing teenager Angela Chase on the much-beloved series My So-Called Life and winning a Golden Globe and an Emmy for Temple Grandin.
"I got an agent when I was 12, and I started working in more amateur productions well before that," she told NPR.  "But even as a kid, I never felt like a kid actor, you know?  I always took myself kind of absurdly seriously.  My first offer was when I was 12, and it was for a soap opera.  And I turned it down because I knew that I was an unformed actor, and I didn't want to develop bad habits."
That decision has certainly paid off for Danes, who has often been praised for her intense performances.  "I focus on the intention of the character and whatever thoughts and feelings she's having, and they seem to kind of naturally communicate themselves on the face," she said.  "But I have to say that my dad's face is very malleable.  He's barely got any cartilage in his face.  I think I maybe inherited that Play-Doh-like physicality from him."
Danes' acting is also stronger because of the preparation she does for her roles, including that of bipolar CIA Agent Carrie Mathison on Homeland.  "I had to do a lot of research for this role," the actress said.  "And actually, I found great material on YouTube.  There was a lot of footage of people who recorded themselves when they were in manic states.  I think they were probably up in the middle of the night and lonely and, you know, needed to talk.  So they talked to the camera.  So I gorged on sort of manic confessionals on YouTube.
"They talk at a very fast clip.  But, you know, it's not a strictly unpleasant phenomenon.  A lot of people are reluctant to treat themselves because they're so protective of those manic highs."
The new season of Homeland airs on Showtime, September 30 at 10 p.m.
http://www.dailyactor.com/wp-content/uploads/2015/05/Caitriona-Balfe-Outlander.jpg
Outlander's Caitriona Balfe On The Emotional Toll of Filming Violent Scenes
"Having to put yourself in that place is tough. To sit in that emotional space, especially when you're doing it day after day." - Caitriona Balfe
http://www.dailyactor.com/2015/05/outlander-catriona-balfe-emotional-toll-of-filming-violent-scenes/
http://www.dailyactor.com/wp-content/uploads/2015/05/Chrissie-Fit.jpg
Chrissie Fit on How She Landed Her Role in 'Pitch Perfect 2′
"I remember getting the audition and being like, "This might not happen," just because it is such a massive movie." - Chrissie Fit
http://www.dailyactor.com/2015/05/chrissie-fit-on-how-she-landed-her-role-in-pitch-perfect-2/
http://www.dailyactor.com/wp-content/uploads/2015/05/Sam-Elliott.jpg
Sam Elliot on How he "F–ked" Himself Out of a Career as a Lead Actor
The rugged Sam Elliot has most often cast in character actor roles throughout his long career in film, though the 70 year-old Elliot thinks it wasn't always meant to be that way.
http://www.dailyactor.com/2015/05/sam-elliot-on-how-he-f-ked-himself-out-of-a-career-as-a-lead-actor/
http://www.dailyactor.com/wp-content/uploads/2015/05/Anna-Kendrick-Pitch-Perfect-2.jpg
Anna Kendrick Talks Hollywood and its Gender Bias
"As an actress you're perpetually about to be unemployed." - Anna Kendrick
http://www.dailyactor.com/2015/05/anna-kendrick-talks-hollywood-and-its-gender-bias/
http://www.dailyactor.com/wp-content/uploads/2015/05/tom-hardy-mad-max-fury-road.jpg
Tom Hardy on Fame, Acting School, and His 'Mad Respect' for Michael Fassbender
"Do what you love doing, do it well—everything should fit into place." - Tom Hardy
http://www.dailyactor.com/2015/05/tom-hardy-fame-acting-school-michael-fassbender/