La Jolla Playhouse Announces Casting for the World Premiere Musical, 'Yoshimi Battles The Pink Robots'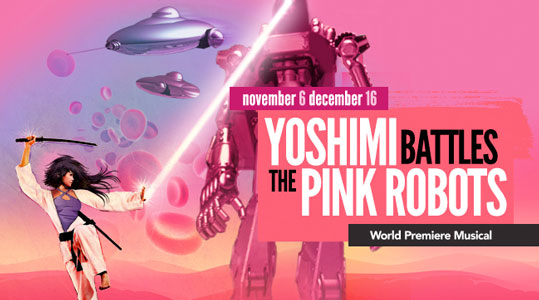 The La Jolla Playhouse has announced the cast and creative team for its upcoming world-premiere musical, Yoshimi Battles the Pink Robots.
The show features a story by The Flaming Lips' Wayne Coyne and Playhouse Director Emeritus Des McAnuff (Jersey Boys, Jesus Christ
Superstar), music and lyrics by The Flaming Lips and direction by McAnuff. The show will run November 6 – December 16 in the Mandell Weiss Theatre.
I'm super excited to see this show! It sounds incredible already.
The cast features actors familiar to Playhouse audiences; Kimiko Glenn (The Nightingale) as "Yoshimi," and several Jesus Christ Superstar alumni: Tom Hewitt as "Dr. Peterson," Paul Nolan as "Ben" and ensemble members Mary Antonini, Laurin Padolina, Jaz Sealy, Jason Sermonia and Julius Sermonia. Also in the cast are Pearl Sun (The Seven) as "Mrs. Yasukawa" and ensemble member Albert Guerzon (The Wiz), Nik Walker as "Booker," John Haggerty as "Mr. Yasukawa," and ensemble members Michael Balderrama, Emmanuel Brown, Ian Paget, Vasthy Mompoint, Catherine Ricafort, Vanden Thurgood and Jesse Wildman.
Seven actors, local to San Diego join the cast, including ensemble members Richard Bulda, LaMae Caparas and Jonny Wexler; swings Chelsea Diggs-Smith (The Nightingale) and Christopher Cortex; and two UC San Diego M.F.A. students: Katie McGehee and Jack Mikesell.
The creative team includes Des McAnuff, Director; Ron Melrose (Jersey Boys, The Wiz), Musical Supervisor; Bradley Rapier (Jesus Christ Superstar), Choreographer; Robert Brill (Jesus Christ Superstar, Creditors, The Wiz), Scenic Designer; Paul Tazewell (Jesus Christ Superstar, Private Fittings), Costume Designer; Michael Walton, Lighting Designer; Steve Canyon Kennedy (Hands on a Hardbody, Jersey Boys), Sound Designer, Sean Nieuwenhuis (Jesus Christ Superstar), Projection Designer; Basil Twist (A Midsummer Night's Dream, Dogugaeshi), Puppet Designer; Steve Rankin, Fight Director; and Gabriel Greene, Dramaturg.
"The cast and creative team feature many of our favorite Playhouse alumni: actors Tom Hewitt, Kimiko Glenn and Paul Nolan, designers Robert Brill, Paul Tazewell and puppeteer Basil Twist, in addition to local and student actors in UC San Diego's graduate theatre program," said Playhouse Artistic Director Christopher Ashley. "With Des' return engagement to the Playhouse to stage this dazzlingly imaginative and technologically trendsetting new musical, this incredible company will bring this wildly theatrical piece to life. As a home dedicated to
adventurous new work, La Jolla Playhouse is the perfect place to launch Yoshimi Battles the Pink Robots."
The story is about "Yoshimi, a young Japanese artist facing the battle of her life: the battle for her life. Adrift from her family and lover, Yoshimi journeys alone into a fantastical robot-world where she wages a war with fate. Her will to survive must be powerful enough to master the evil forces that threaten to destroy her."
Tickets to Yoshimi Battles the Pink Robots are available online at LaJollaPlayhouse.org or by calling the Playhouse Box Office at (858) 550-1010.
http://www.dailyactor.com/wp-content/uploads/2015/02/Larry-David.jpg
Larry David on Who he Wanted to Star in his Broadway Play 'Fish in the Dark': "Anybody but me"
"It's one of the reasons I didn't like acting. I don't like not being able to interject" – Larry David on acting with a script Who doesn't like Larry David? Well, to be honest, Larry David probably doesn't like Larry David. In fact, David didn't even want to cast himself in the lead of […]
http://www.dailyactor.com/2015/02/larry-david-on-who-he-wanted-to-star-broadway-play-fish-in-the-dark/
http://www.dailyactor.com/wp-content/uploads/2015/02/Helen-Mirren-The-Queen.jpg
Helen Mirren on Winning an Oscar: "It's an indescribable moment"
"It's hard to say, because you don't know what would have happened if you hadn't won" - Helen Mirren When Asked If Winning an Oscar Changed Her Career
http://www.dailyactor.com/2015/02/helen-mirren-on-winning-an-oscar/
http://www.dailyactor.com/wp-content/uploads/2015/02/anna-chlumsky-james-earl-jones.jpg
Anna Chlumsky on Her Broadway Debut: "For me, it was an opportunity to go in the direction that I hadn't played in a while"
"I think my personality lends itself to ensembles" - Anna Chlumsky
http://www.dailyactor.com/2015/02/anna-chlumsky-broadway-debut-ensemble/
http://www.dailyactor.com/wp-content/uploads/2015/02/joanne-froggatt-downton-abbey.jpg
'Downton Abbey' Star Joanne Froggatt on Creating Her Own Backstory and How She's "Not a Big-Budget Hollywood Type"
"They want the model type, classically beautiful, and I'm not" - Joanne Froggatt on Working in Hollywood
http://www.dailyactor.com/2015/02/downton-abbey-star-joanne-froggatt-character-backstory-hollywood/
http://www.dailyactor.com/wp-content/uploads/2015/01/al-pacino-the-humbling.jpg
Al Pacino on Acting: "It becomes such a part of your nature you rarely ever think about quitting"
After working infrequently in film over the last decade, Al Pacino appears in several films released in 2015, including The Humbling, an indie drama directed by Barry Levinson.
http://www.dailyactor.com/2015/02/al-pacino-on-acting-it-becomes-such-a-part-of-your-nature/