Biography: Paul Dano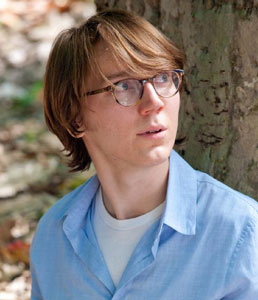 Paul Dano is currently in the midst of a long period of wildly varied, challenging, intriguing work.
Dano most recently received acclaim for his performance as an aspiring rock star and young father in So Yong Kim's For Ellen, which Tribeca Films will release on September 5, following the world premiere at the 2012 Sundance Film Festival. Dano served as an executive producer.
September 28 marks the release of Looper (TriStar Pictures), Rian Johnson's sci-fi thriller that features Dano in a pivotal appearance alongside Joseph Gordon-Levitt. This spring, Dano starred opposite Robert De Niro in Being Flynn (Focus Features), Paul Weitz's adaptation of Nick Flynn's celebrated memoir Another Bullshit Night in Suck City.
Later this summer, Dano will play a slave owner in Steve McQueen's Twelve Years A Slave (New Regency), the screen version of Solomon Northup's novel about a free black man who, promised a job playing violin in the circus, is drugged and dragged to Louisiana and sold into slavery. The cast also includes Chiwetel Ejiofor, Michael Fassbender, Brad Pitt and Adepero Oduye.
For his work opposite Brian Cox in Michael Cuesta's L.I.E., Dano earned an Independent Spirit Award for Best Debut Performance. For Little Miss Sunshine, he garnered a second Spirit Award nomination, a Broadcast Film Critics Association Award for Best Young Actor and a Screen Actors Guild Award® (ensemble) with cast mates Alan Arkin, Abigail Breslin, Steve Carell, Toni Collette and Greg Kinnear.
The following year, Dano earned a BAFTA Award nomination for Best Supporting Actor opposite Academy Award winner Daniel Day-Lewis in Paul Thomas Anderson's There Will Be Blood.
Dano's film credits also include Kelly Reichardt's Meek's Cutoff, Jon Favreau's Cowboys & Aliens, Spike Jonze's Where The Wild Things Are (as the goat-like Alexander), James Mangold's Knight and Day, Dagur Kári's The Good Heart with Cox, Matt Aselton's Gigantic (which also marked his first executive producer credit), Ang Lee's Taking Woodstock, Richard Linklater's Fast Food Nation, James Marsh's The King, Rebecca Miller's The Ballad of Jack and Rose with Day-Lewis, D.J. Caruso's Taking Lives, Luke Greenfield's The Girl Next Door, Michael Hoffman's The Emperor's Club and Shari Springer Berman and Robert Pulcini's The Extra Man, both with Kevin Kline.
Growing up in Manhattan and Connecticut, Dano began his career on the New York stage with roles in Broadway productions of Inherit the Wind, opposite George C. Scott and Charles Durning and A Christmas Carol, with Ben Vereen and Terrence Mann. He returned to the stage in 2007 in The New Group's off-Broadway production of Jonathan Marc Sherman's Things We Want, directed by Ethan Hawke and starring Peter Dinklage, Josh Hamilton, and Zoe Kazan. In late 2010, he appeared with Jeffrey Wright and Mos in the world premiere of John Guare's A Free Man of Color, directed by George C. Wolfe at Lincoln Center Theatre,
Latest Videos
http://www.dailyactor.com/wp-content/uploads/2014/04/director-david-gordon-greene-nar.jpg
Director David Gordon Green Narrates a Scene From 'Joe'
Director David Gordon Green narrates a sequence from his new film, Joe, featuring Nicolas Cage and Tye Sheridan. In the video, he mentions his reasons why he likes to hire non-traditional actors. He likes people who have real skill-sets and not actors who have the skills on their resume. He also talked about this in […]
http://www.dailyactor.com/2014/04/director-david-gordon-green-narrates-a-scene-from-joe/
http://www.dailyactor.com/wp-content/uploads/2014/04/david-gordon-green-joe.jpg
Director David Gordon Green: "I find actors in unusual places"
I keep missing screenings of director David Gordon Greene's new film, Joe. I hear it's really good so I'm looking forward to catching it at some point. Joe stars Nicholas Cage as ex-con Joe Ransom, who isn't the greatest of role models until he meets a 15-year-old boy (Mud's Tye Sheridan). In this featurette, Green […]
http://www.dailyactor.com/2014/04/director-david-gordon-green-i-find-actors-in-unusual-places/
http://www.dailyactor.com/wp-content/uploads/2014/04/judy-greer-i-dont-know-why-you-know-me-from.jpg
Please Don't Say These Things To Judy Greer (video)
Judy Greer - who we love here at Daily Actor – has a new book called, I Don't Know What You Know Me From (Confessions of a Co-Star), a series of essays about her life as an actress, friend and someone who everyone thinks they might know. Here's a blurb about the book: "Want to […]
http://www.dailyactor.com/2014/04/please-dont-say-these-things-to-judy-greer-video/
http://www.dailyactor.com/wp-content/uploads/2014/04/Captain-America-SamuelNick-Fury.jpg
How Samuel L. Jackson Learns His Lines for the Marvel Movies (video)
Samuel L. Jackson stopped by Good Morning America earlier this week to talk about Captain America: The Winter Soldier – which is terrific, by the way – and he told Robin Roberts that for the first Cap film, he had trouble learning his lines. "I sat at home and I did all my studying, and […]
http://www.dailyactor.com/2014/04/how-samuel-l-jackson-learns-his-lines-for-the-marvel-movies-video/
http://www.dailyactor.com/wp-content/uploads/2014/04/andy-karl-margot-seibert-rocky.jpg
Andy Karl and Margo Seibert Talk 'Rocky: The Musical' on 'Today'
Andy Karl and Margo Seibert, the stars of Rocky: The Musical, talked to Today's Matt Lauer about the new Broadway musical. Karl talks about the final fight and taking on the iconic role. This is Seibert's Broadway debut and she's asked about her callbacks (9 in all!) and more. Check it out!
http://www.dailyactor.com/2014/04/andy-karl-and-margo-seibert-talk-rocky-the-musical-on-today/