Biography: Deborah Ann Woll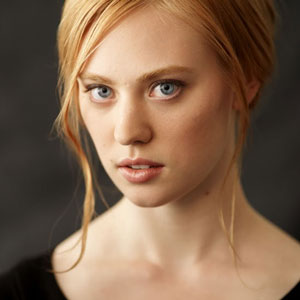 Originally a dancer and pianist, Deborah Ann Woll caught the acting bug in high school when she landed starring roles in several productions. Continuing her education at the most prestigious institutions, Woll attended Carnegie Mellon's pre-college program, London's Royal Academy of Dramatic Arts Shakespeare Intensive, and the University of Southern California's School of Theatre.
Woll thrived in USC's conservatory environment, expanding her repertoire, winning several performance-based scholarships and awards, and starring in over 20 productions including her personal favorite, Polly Peachum in the Brecht/Weill classic Three Penny Opera.
Upon graduation, Woll was immediately signed and began booking guest star roles on acclaimed shows such as Life, ER, The Mentalist, and My Name is Earl. Woll's big break came when Alan Ball cast her as the irresistible ingénue Jessica Hamby in the first season of True Blood.
During two hiatuses from True Blood, Woll starred in six films: Seven Days of Utopia with Robert Duvall, Melissa Leo and Lucas Black, Catch .44 with Bruce Willis, Forest Whitaker, Malin Ackerman, and Nikki Reed, Someday This Pain Will Be Useful To You with Marcia Gay Hardin and Ellen Burstyn, Mother's Day with Rebecca DeMornay; Little Murder with Terrence Howard, Josh Lucas and Lake Bell; and HighLand Park with Billy Burke, Parker Posey and Danny Glover.
A self-proclaimed nerd, Woll enjoys computer games, Mystery Science Theater 3000, and every kind of puzzling game imaginable.
Latest Videos
http://www.dailyactor.com/wp-content/uploads/2014/07/bill-hader.jpg
Bill Hader: "I kind of fell into acting" (video)
Bill Hader, starring in the soon to be released The Skeleton Twins, talks about the film and how he fell into acting and then got "crazy lucky" in this quick video from USA Today. Share on Tumblr
http://www.dailyactor.com/2014/07/bill-hader-fell-into-acting-video/
http://www.dailyactor.com/wp-content/uploads/2014/07/director-john-carney-narrates-a.jpg
Director John Carney Narrates a Scene from 'Begin Again' Starring Kiera Knightley and Mark Ruffalo
Director John Carney (Once) narrates a scene from his new film, Begin Again. Starring Keira Knightley and Mark Ruffalo, the scene shows the first time the two characters meet. I haven't seen it yet but I've heard it's great.
http://www.dailyactor.com/2014/07/begin-again-scene-director-john-carney-keira-knightley-mark-ruffalo/
http://www.dailyactor.com/wp-content/uploads/2014/07/holler-if-you-hear-me-gma.jpg
Watch the Cast of Broadway's 'Holler If You Hear Me' Perform 'California Love' on GMA
The cast of Broadway's newest musical, Holler If You Hear Me with music from Tupac Shakur, performed on Good Morning America this morning. Singing 'California Love', the cast (including the teriffic Christopher Jackson – read our interview here), show why they're the most energetic and inspiring group of actors on Broadway. Holler If Ya Hear [...]
http://www.dailyactor.com/2014/07/watch-cast-broadways-holler-hear-perform-california-love-gma/
http://www.dailyactor.com/wp-content/uploads/2014/07/behind-the-scenes-of-dawn-of-the.jpg
Behind the Scenes of 'Dawn of the Planet of the Apes' with Performance Capture Actor Terry Notary
Actor Terry Notary is 1 of 5 actors playing the apes in the new Dawn of the Planet of the Apes. "When you see armies of apes," he says, that's "five of us." Check out the video where you can watch his performance capture work.
http://www.dailyactor.com/2014/07/dawn-planet-apes-performance-capture-actor-terry-notary/
http://www.dailyactor.com/wp-content/uploads/2014/07/melissa-mccarthy-daily-show.jpg
Melissa McCarthy and John Stewart Talk About Terrible Commercial Auditions on 'The Daily Show'
Melissa McCarthy stopped by The Daily Show last week to plug about her new movie, Tammy. She talked about how she loved working with her husband, Ben Falcone (director of Tammy) and then segued into talking about some horrible working situations. The always hilarious McCarthy then started to tell host John Stewart about a particular [...]
http://www.dailyactor.com/2014/07/melissa-mccarthy-john-stewart-commercial-auditions-the-daily-show/