Biography: Antonio Banderas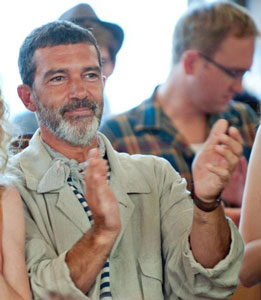 Since his introduction to American cinema in the highly acclaimed Mambo Kings, Antonio Banderas is irrefutably one of the leading international actors of his generation. He has received critical praise for his performances in film, television and theater, as well as behind the scenes as a feature film director. In 2005, he was honored with a Star on the Hollywood Walk of Fame.
His second directorial feature is the Spanish film El Camino De Los Ingleses (titled Summer Rain in the U.S.). A coming of age story, the film follows the first loves, lusts and obsessions of friends on vacation at the end of the 1970s. He made his directorial debut with Crazy In Alabama  starring his wife Melanie Griffith.
Banderas stole the show in the 2004 blockbuster animated film Shrek 2  as the voice of "Puss in Boots." He reprised this role in the widely anticipated sequel Shrek The Third, the ABC Christmas special Shrek The Halls, and the fourth installment of the franchise Shrek Forever After.
In 2003, Banderas earned a Tony nomination for Best Actor in a Musical for his Broadway debut in the Roundabout Theater Company production of Nine, a musical inspired by Fellini's 8 ½. He also received a Best Actor Drama Desk Award, Outer Critics Circle Award, Drama League Award and Theatre World Award. Nine, directed by David Leveaux, also starred Chita Rivera.
Banderas has worked with some of Hollywood's best directors and leading actors including Robert Rodriquez's Desperado opposite Selma Hayek and the sequel Once Upon A Time In Mexico opposite Johnny Depp; Original Sin opposite Angelina Jolie; Alan Parker's Evita opposite Madonna, in which he received his first Best Actor Golden Globe nomination; Martin Campbell's The Mask of Zorro opposite Catherine Zeta-Jones, in which he received his second Best Actor Golden Globe nomination, and the sequel The Legend of Zorro; Neil Jordan's Interview With A Vampire with Tom Cruise and Brad Pitt; Jonathan Demme's Philadelphia opposite Tom Hanks and Denzel Washington; Bille August's House of the Spirits with Meryl Streep and Glenn Close; and Brian de Palma's Femme Fatale.
Other film credits include the Take The Lead, Spy Kids Trilogy, Miami Rhapsody, Four Rooms, Assassins, Never Talk To Strangers, Two Much, The 13th Warrior, Play It To The Bone and Ballistic: Ecks Vs. Sever.
He was nominated for his third Best Actor Golden Globe for his performance as the infamous Pancho Villa in HBO's 2003 release of And Starring Pancho Villa as Himself.
Born in Malaga, Spain, Banderas attended the School of Dramatic Arts in his hometown, and upon graduation he began his acting career working in a small theater company based there. He later moved to Madrid and became an ensemble member of the prestigious National Theater of Spain.
In 1982, Banderas was cast by writer/director Pedro Almodovar in Labyrinth of Passion. It was the first of five films Banderas would do with Almodovar, the others being Matador, Law of Desire, Women on the Verge of a Nervous Breakdown and Tie Me Up! Tie Me Down! The international success of these films introduced to him to Hollywood. Banderas recenetly appeared in La Piel Que Habito (The Skin I Live In), written and directed by Almodovar – reuniting with him after 21 years.
He also starred in Woody Allen's You Will Meet A Tall Dark Stranger for Sony Classics, in which he was part of an all-star cast that includes Naomi Watts, Anthony Hopkins, Josh Brolin and Freida Pinto. He also starred in the action thriller The Big Bang, directed by Tony Krantz, and will appear alongside Channing Tatum and Ewan McGregor in Steven Soderbergh's Haywire for Relativity, and The Other Man starring Laura Linney and Liam Neeson directed by Richard Eyre.
Banderas can last be seen in the film Black Gold, directed by Jean Jacques Annoud, opposite Freida Pinto, Mark Strong, and Tahar Rahim. He was also the voice lead for the animated film Puss In Boots, alongside Salma Hayek.
Latest Videos
http://www.dailyactor.com/wp-content/uploads/2014/04/director-david-gordon-greene-nar.jpg
Director David Gordon Green Narrates a Scene From 'Joe'
Director David Gordon Green narrates a sequence from his new film, Joe, featuring Nicolas Cage and Tye Sheridan. In the video, he mentions his reasons why he likes to hire non-traditional actors. He likes people who have real skill-sets and not actors who have the skills on their resume. He also talked about this in […]
http://www.dailyactor.com/2014/04/director-david-gordon-green-narrates-a-scene-from-joe/
http://www.dailyactor.com/wp-content/uploads/2014/04/david-gordon-green-joe.jpg
Director David Gordon Green: "I find actors in unusual places"
I keep missing screenings of director David Gordon Greene's new film, Joe. I hear it's really good so I'm looking forward to catching it at some point. Joe stars Nicholas Cage as ex-con Joe Ransom, who isn't the greatest of role models until he meets a 15-year-old boy (Mud's Tye Sheridan). In this featurette, Green […]
http://www.dailyactor.com/2014/04/director-david-gordon-green-i-find-actors-in-unusual-places/
http://www.dailyactor.com/wp-content/uploads/2014/04/judy-greer-i-dont-know-why-you-know-me-from.jpg
Please Don't Say These Things To Judy Greer (video)
Judy Greer - who we love here at Daily Actor – has a new book called, I Don't Know What You Know Me From (Confessions of a Co-Star), a series of essays about her life as an actress, friend and someone who everyone thinks they might know. Here's a blurb about the book: "Want to […]
http://www.dailyactor.com/2014/04/please-dont-say-these-things-to-judy-greer-video/
http://www.dailyactor.com/wp-content/uploads/2014/04/Captain-America-SamuelNick-Fury.jpg
How Samuel L. Jackson Learns His Lines for the Marvel Movies (video)
Samuel L. Jackson stopped by Good Morning America earlier this week to talk about Captain America: The Winter Soldier – which is terrific, by the way – and he told Robin Roberts that for the first Cap film, he had trouble learning his lines. "I sat at home and I did all my studying, and […]
http://www.dailyactor.com/2014/04/how-samuel-l-jackson-learns-his-lines-for-the-marvel-movies-video/
http://www.dailyactor.com/wp-content/uploads/2014/04/andy-karl-margot-seibert-rocky.jpg
Andy Karl and Margo Seibert Talk 'Rocky: The Musical' on 'Today'
Andy Karl and Margo Seibert, the stars of Rocky: The Musical, talked to Today's Matt Lauer about the new Broadway musical. Karl talks about the final fight and taking on the iconic role. This is Seibert's Broadway debut and she's asked about her callbacks (9 in all!) and more. Check it out!
http://www.dailyactor.com/2014/04/andy-karl-and-margo-seibert-talk-rocky-the-musical-on-today/