The New Normal's Andrew Rannells on How He Got His Start and Pitching Himself to Series Creator, Ryan Murphy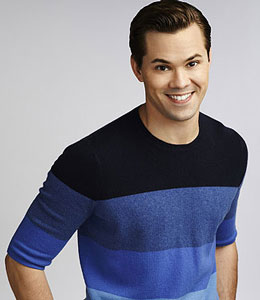 There has already been quite a bit of controversy surrounding Andrew Rannells' new show, The New Normal.  Ryan Murphy's (American Horror Story, Glee) NBC comedy is about a gay couple who decide to have a baby via a surrogate mother.  A Utah syndicate already decided to ban the show from airing because of the content.  So Rannells feels a certain responsibility to represent the show's positive qualities.
"It's a rather serious and loving subject matter, so I didn't want to dumb it down with stereotypical over-the-top gay flash and sass," Rannells told NPR.  "I certainly didn't want to be a gay clown on this, you know, because the subject matter is actually a very sweet one, and I think a very lovely one about these people who are so in love and so committed to each other that they realize that what's missing in their life is to share that love with a child."
Rannells was convinced he wouldn't get the role after pitching himself as the lead to Murphy, who didn't call the actor back for over a month.  "I was like, 'Oh my God, I've completely overstepped—I've over-Oprah-ed this,'" he said.  "I've ruined my chances of working with this man because I was too bold."
But Murphy decided Rannells was perfect to star alongside Justin Bartha in the series.  The actor was glad he was able to play a gay character who isn't a typical portrayal of a gay man.  "So luckily, the writing—coming from Ryan Murphy and [Allison] Adler and all of our writers—really allows me to play a little bit of that, but I think the more straightforward you play all those jokes, particularly the flamboyant ones, the more it becomes a character trait and not a joke, if that makes any sense.  It just becomes something ingrained in this guy and not a put-on idea to get a laugh.  And I've been really lucky, particularly moving forward with these scripts, that there's just been more and more of that.  And I feel like the characters get richer and more human as we go along."
Rannells' path to this show hasn't always been an easy one.  He recently appeared as Elijah on Girls and won a Tony nomination for Book of Mormon, but he still faced his share of rejection before hitting it big.
"At a certain point, I realized I'm going into great debt to get a [bachelor of fine arts] in acting," he said.  "And I was like, 'What is that?  What is that even going to be when I'm finished?'  So I just started auditioning and I got a couple jobs and got an equity card and joined the union and dropped out of school.  And I thought, 'Well, let's just do it.'  Like if I had been really passionate about studying anything else, I completely would have stayed in college and I would have gotten that degree.
"But the fact that my passion was acting, and I was paying for college myself, I was just like, 'I can't justify going this deep into debt for something that might not mean anything.  So I want to just try it.  I want to try and see if I'm good enough to do this before I invest anymore financially in this.'  Luckily I was given the proper encouragement via jobs that I kept going.  But my career, definitely, the early years were a little scattershot, in terms of—it was a little regional theater, it was a lot of voiceovers, it was a lot of random day jobs.  I mean, it was hard.  It was hard to scrap around, and once Hairspray happened, then it all kind of clicked into place."
The New Normal airs Tuesdays at 9:30 p.m. on NBC.
http://www.dailyactor.com/wp-content/uploads/2015/02/Larry-David.jpg
Larry David on Who he Wanted to Star in his Broadway Play 'Fish in the Dark': "Anybody but me"
"It's one of the reasons I didn't like acting. I don't like not being able to interject" – Larry David on acting with a script Who doesn't like Larry David? Well, to be honest, Larry David probably doesn't like Larry David. In fact, David didn't even want to cast himself in the lead of […]
http://www.dailyactor.com/2015/02/larry-david-on-who-he-wanted-to-star-broadway-play-fish-in-the-dark/
http://www.dailyactor.com/wp-content/uploads/2015/02/Helen-Mirren-The-Queen.jpg
Helen Mirren on Winning an Oscar: "It's an indescribable moment"
"It's hard to say, because you don't know what would have happened if you hadn't won" - Helen Mirren When Asked If Winning an Oscar Changed Her Career
http://www.dailyactor.com/2015/02/helen-mirren-on-winning-an-oscar/
http://www.dailyactor.com/wp-content/uploads/2015/02/anna-chlumsky-james-earl-jones.jpg
Anna Chlumsky on Her Broadway Debut: "For me, it was an opportunity to go in the direction that I hadn't played in a while"
"I think my personality lends itself to ensembles" - Anna Chlumsky
http://www.dailyactor.com/2015/02/anna-chlumsky-broadway-debut-ensemble/
http://www.dailyactor.com/wp-content/uploads/2015/02/joanne-froggatt-downton-abbey.jpg
'Downton Abbey' Star Joanne Froggatt on Creating Her Own Backstory and How She's "Not a Big-Budget Hollywood Type"
"They want the model type, classically beautiful, and I'm not" - Joanne Froggatt on Working in Hollywood
http://www.dailyactor.com/2015/02/downton-abbey-star-joanne-froggatt-character-backstory-hollywood/
http://www.dailyactor.com/wp-content/uploads/2015/01/al-pacino-the-humbling.jpg
Al Pacino on Acting: "It becomes such a part of your nature you rarely ever think about quitting"
After working infrequently in film over the last decade, Al Pacino appears in several films released in 2015, including The Humbling, an indie drama directed by Barry Levinson.
http://www.dailyactor.com/2015/02/al-pacino-on-acting-it-becomes-such-a-part-of-your-nature/