Adrienne Warren, Starring in Broadway's 'Bring it On: The Musical', on How She Was Cast and Those Crazy Cheerleading Stunts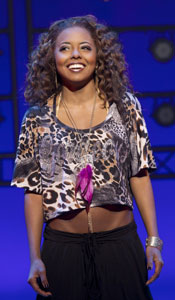 It's been a long journey from dreamgirl to cheerleader.
Actress Adrienne Warren is currently starring in the Broadway musical Bring It On: The Musical, after getting her start in the touring production of Dreamgirls.
"I was on tour with Dreamgirls—the one that started at the Apollo a couple of years ago—and Andy Blankenbuehler gave me a phone call," Warren related to Playbill.com.  "I had worked with him at Encores! during The Wiz a couple summers before, and he called and said, 'I can't find a girl to play this role.  I know you're on tour, but are you interested in coming on a day off and auditioning?'  And, I said, 'Sure.'  So I came, I sang for the producers, and I got the job."
Warren was raised in Virginia, but moved to New York when she was 18.  "I got my Equity card doing the 25th anniversary of Dreamgirls, actually with Jennifer Holiday," she said.  "She actually cast me…at the Fox Theatre in Atlanta during my sophomore year of college.  I think I was 19, and that's when I got my card…I promised my parents that I would only do shows during the summer so I could graduate because I knew once I stopped then I wouldn't go back! [Laughs]  And I have a family full of educators, so that was not an option."
The production is a difficult one, including singing, dancing, and intense cheerleading stunts.  "Preview night I was very emotional," Warren remembered.  "There were certain points in the show where tears were just coming to my eyes because this has been a two-and-a-half-year journey for a lot of us.  And, to think, 'Oh my gosh, we're finally here.  I'm finally on this stage at this moment, feeling this energy from the audience and my cast members'—that was just crazy and amazing.  But the opening night was very special.  I had a lot of family and friends in the audience—some who have never seen the show before—and I had a lot of people in my life that had helped me get to this point."
Bring It On is currently playing at the St. James Theatre in New York City.
http://www.dailyactor.com/wp-content/uploads/2015/02/Larry-David.jpg
Larry David on Who he Wanted to Star in his Broadway Play 'Fish in the Dark': "Anybody but me"
"It's one of the reasons I didn't like acting. I don't like not being able to interject" – Larry David on acting with a script Who doesn't like Larry David? Well, to be honest, Larry David probably doesn't like Larry David. In fact, David didn't even want to cast himself in the lead of […]
http://www.dailyactor.com/2015/02/larry-david-on-who-he-wanted-to-star-broadway-play-fish-in-the-dark/
http://www.dailyactor.com/wp-content/uploads/2015/02/Helen-Mirren-The-Queen.jpg
Helen Mirren on Winning an Oscar: "It's an indescribable moment"
"It's hard to say, because you don't know what would have happened if you hadn't won" - Helen Mirren When Asked If Winning an Oscar Changed Her Career
http://www.dailyactor.com/2015/02/helen-mirren-on-winning-an-oscar/
http://www.dailyactor.com/wp-content/uploads/2015/02/anna-chlumsky-james-earl-jones.jpg
Anna Chlumsky on Her Broadway Debut: "For me, it was an opportunity to go in the direction that I hadn't played in a while"
"I think my personality lends itself to ensembles" - Anna Chlumsky
http://www.dailyactor.com/2015/02/anna-chlumsky-broadway-debut-ensemble/
http://www.dailyactor.com/wp-content/uploads/2015/02/joanne-froggatt-downton-abbey.jpg
'Downton Abbey' Star Joanne Froggatt on Creating Her Own Backstory and How She's "Not a Big-Budget Hollywood Type"
"They want the model type, classically beautiful, and I'm not" - Joanne Froggatt on Working in Hollywood
http://www.dailyactor.com/2015/02/downton-abbey-star-joanne-froggatt-character-backstory-hollywood/
http://www.dailyactor.com/wp-content/uploads/2015/01/al-pacino-the-humbling.jpg
Al Pacino on Acting: "It becomes such a part of your nature you rarely ever think about quitting"
After working infrequently in film over the last decade, Al Pacino appears in several films released in 2015, including The Humbling, an indie drama directed by Barry Levinson.
http://www.dailyactor.com/2015/02/al-pacino-on-acting-it-becomes-such-a-part-of-your-nature/