Tommy Lee Jones on 'Hope Springs' and the Upcoming Spielberg Film, 'Lincoln'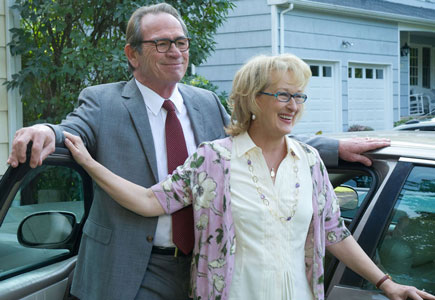 Tommy Lee Jones is known for playing some iconic roles with real bravado—the marshal in The Fugitive, Agent K in the Men in Black series—so his newest part in the marriage drama Hope Springs is a bit of a departure.
Jones told The Olathe News, "It seemed to be about real people: very common, widespread, with real difficulties: namely complacency, dedication to a day-in, day-out routine, deadened emotions.  Just the ordinary, miserable qualities of a normal person.  The originality was to discover how preposterous and funny that is.  I thought it might be a chance to make a real movie that would give people the opportunity to laugh at something that made them cry yesterday."
Jones did a great deal of preparation for his character of the unhappily wed Arnold, opposite Meryl Streep.  "There is no change in me," he said.  "It's a creation of a character….You just have to look at the character and know the character and look at me and know me.  But you're not going to know me."
The Oscar-winner had a good collaborative relationship with the director of the film, David Frankel.  "I don't say anything to him that's not well thought out," he said.  "He takes my comments into due consideration and responds accordingly.  I don't direct him.  No director wants to be directed, but no good director…would shy away from the good ideas of others."
Jones is also gearing up for the release of his next project, Stephen Spielberg's Lincoln, in which he plays the club-footed congressman Thaddeus Stevens.  He noted, "A delight for any actor.  You have no hair and you get to limp all the time."
Hope Springs opens in theaters August 8, and Lincoln is set to be released November 16.
Latest Videos
http://www.dailyactor.com/wp-content/uploads/2014/07/bill-hader.jpg
Bill Hader: "I kind of fell into acting" (video)
Bill Hader, starring in the soon to be released The Skeleton Twins, talks about the film and how he fell into acting and then got "crazy lucky" in this quick video from USA Today. Share on Tumblr
http://www.dailyactor.com/2014/07/bill-hader-fell-into-acting-video/
http://www.dailyactor.com/wp-content/uploads/2014/07/director-john-carney-narrates-a.jpg
Director John Carney Narrates a Scene from 'Begin Again' Starring Kiera Knightley and Mark Ruffalo
Director John Carney (Once) narrates a scene from his new film, Begin Again. Starring Keira Knightley and Mark Ruffalo, the scene shows the first time the two characters meet. I haven't seen it yet but I've heard it's great.
http://www.dailyactor.com/2014/07/begin-again-scene-director-john-carney-keira-knightley-mark-ruffalo/
http://www.dailyactor.com/wp-content/uploads/2014/07/holler-if-you-hear-me-gma.jpg
Watch the Cast of Broadway's 'Holler If You Hear Me' Perform 'California Love' on GMA
The cast of Broadway's newest musical, Holler If You Hear Me with music from Tupac Shakur, performed on Good Morning America this morning. Singing 'California Love', the cast (including the teriffic Christopher Jackson – read our interview here), show why they're the most energetic and inspiring group of actors on Broadway. Holler If Ya Hear [...]
http://www.dailyactor.com/2014/07/watch-cast-broadways-holler-hear-perform-california-love-gma/
http://www.dailyactor.com/wp-content/uploads/2014/07/behind-the-scenes-of-dawn-of-the.jpg
Behind the Scenes of 'Dawn of the Planet of the Apes' with Performance Capture Actor Terry Notary
Actor Terry Notary is 1 of 5 actors playing the apes in the new Dawn of the Planet of the Apes. "When you see armies of apes," he says, that's "five of us." Check out the video where you can watch his performance capture work.
http://www.dailyactor.com/2014/07/dawn-planet-apes-performance-capture-actor-terry-notary/
http://www.dailyactor.com/wp-content/uploads/2014/07/melissa-mccarthy-daily-show.jpg
Melissa McCarthy and John Stewart Talk About Terrible Commercial Auditions on 'The Daily Show'
Melissa McCarthy stopped by The Daily Show last week to plug about her new movie, Tammy. She talked about how she loved working with her husband, Ben Falcone (director of Tammy) and then segued into talking about some horrible working situations. The always hilarious McCarthy then started to tell host John Stewart about a particular [...]
http://www.dailyactor.com/2014/07/melissa-mccarthy-john-stewart-commercial-auditions-the-daily-show/