Tommy Lee Jones on 'Hope Springs' and the Upcoming Spielberg Film, 'Lincoln'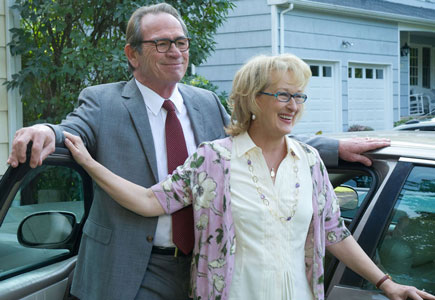 Tommy Lee Jones is known for playing some iconic roles with real bravado—the marshal in The Fugitive, Agent K in the Men in Black series—so his newest part in the marriage drama Hope Springs is a bit of a departure.
Jones told The Olathe News, "It seemed to be about real people: very common, widespread, with real difficulties: namely complacency, dedication to a day-in, day-out routine, deadened emotions.  Just the ordinary, miserable qualities of a normal person.  The originality was to discover how preposterous and funny that is.  I thought it might be a chance to make a real movie that would give people the opportunity to laugh at something that made them cry yesterday."
Jones did a great deal of preparation for his character of the unhappily wed Arnold, opposite Meryl Streep.  "There is no change in me," he said.  "It's a creation of a character….You just have to look at the character and know the character and look at me and know me.  But you're not going to know me."
The Oscar-winner had a good collaborative relationship with the director of the film, David Frankel.  "I don't say anything to him that's not well thought out," he said.  "He takes my comments into due consideration and responds accordingly.  I don't direct him.  No director wants to be directed, but no good director…would shy away from the good ideas of others."
Jones is also gearing up for the release of his next project, Stephen Spielberg's Lincoln, in which he plays the club-footed congressman Thaddeus Stevens.  He noted, "A delight for any actor.  You have no hair and you get to limp all the time."
Hope Springs opens in theaters August 8, and Lincoln is set to be released November 16.
http://www.dailyactor.com/wp-content/uploads/2015/05/Caitriona-Balfe-Outlander.jpg
Outlander's Caitriona Balfe On The Emotional Toll of Filming Violent Scenes
"Having to put yourself in that place is tough. To sit in that emotional space, especially when you're doing it day after day." - Caitriona Balfe
http://www.dailyactor.com/2015/05/outlander-catriona-balfe-emotional-toll-of-filming-violent-scenes/
http://www.dailyactor.com/wp-content/uploads/2015/05/Chrissie-Fit.jpg
Chrissie Fit on How She Landed Her Role in 'Pitch Perfect 2′
"I remember getting the audition and being like, "This might not happen," just because it is such a massive movie." - Chrissie Fit
http://www.dailyactor.com/2015/05/chrissie-fit-on-how-she-landed-her-role-in-pitch-perfect-2/
http://www.dailyactor.com/wp-content/uploads/2015/05/Sam-Elliott.jpg
Sam Elliot on How he "F–ked" Himself Out of a Career as a Lead Actor
The rugged Sam Elliot has most often cast in character actor roles throughout his long career in film, though the 70 year-old Elliot thinks it wasn't always meant to be that way.
http://www.dailyactor.com/2015/05/sam-elliot-on-how-he-f-ked-himself-out-of-a-career-as-a-lead-actor/
http://www.dailyactor.com/wp-content/uploads/2015/05/Anna-Kendrick-Pitch-Perfect-2.jpg
Anna Kendrick Talks Hollywood and its Gender Bias
"As an actress you're perpetually about to be unemployed." - Anna Kendrick
http://www.dailyactor.com/2015/05/anna-kendrick-talks-hollywood-and-its-gender-bias/
http://www.dailyactor.com/wp-content/uploads/2015/05/tom-hardy-mad-max-fury-road.jpg
Tom Hardy on Fame, Acting School, and His 'Mad Respect' for Michael Fassbender
"Do what you love doing, do it well—everything should fit into place." - Tom Hardy
http://www.dailyactor.com/2015/05/tom-hardy-fame-acting-school-michael-fassbender/