BBC America's 'Copper' Star, Tom Weston-Jones on Accents, Character Research and Historical Drama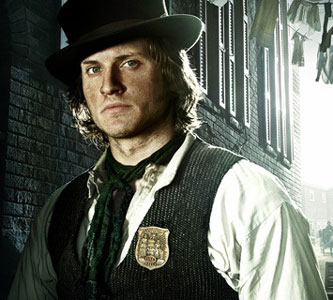 Working on period pieces can be one of the hardest challenges an actor can face in his career.  But Tom Weston-Jones is ready to tackle any obstacles in BBC America's new series, Copper.
"When you're playing a part in a historical piece you can't imagine everything like, 'I'm in the 1860s, I carry myself as an 1860s person would,'" he told The Wall Street Journal.  "You kind of have to forget all that because people's motivations haven't changed all that much.  We all want the same things, it's how we go about getting them that's changed.  The costumes, makeup, hair, the way the sets are put together—all of that does lot of work for you.  You just exist in it…It's great fun.  As soon as you put the costume on, you just feel like you're there."
Weston-Jones plays Kevin Corcoran who's a detective or 'copper' in New York City after the Civil War.  "I tried to find records of a Detective Corcoran at the time and I couldn't find anything," the 25-year-old said.  "So I didn't necessarily use a real person to base him on.  I just tried to put different things together.  One of the first things I wrote down was, 'He's a hero but he doesn't do anything heroic.'"
Weston-Jones grew up in Dubai, but went to the UK for school.  Corcoran's accent could have been another hurdle for the actor.  "Accents are one of those things you have back catalog of," he said.  "There are the ones you did as a kid messing around.  American is one of those for me… At first I was quite bullheaded, I wanted [Corcoran] to be Irish through and through.  But looking at his back story—he was born in Ireland and raised in New York—we came up with a bit of a hybrid."
Copper airs on BBC America, Sundays at 10 p.m.
Latest Videos
http://www.dailyactor.com/wp-content/uploads/2014/08/seth-rudetsky-reveals-the-5-wors.jpg
Seth Rudetsky Reveals the 5 Worst Musical Theater Audition Mistakes (video)
Seth Rudetsky, actor, musician and a host on SiriusXM's Broadway channel, has been teaching auditioning master classes this summer and he's seen his share of bad auditions lately. In this video, he reveals the 5 worst audition mistakes you can make in a musical theater audition and how to choose the perfect 16-bar audition song. [...]
http://www.dailyactor.com/2014/08/seth-rudetsky-5-worst-audition-mistakes/
http://www.dailyactor.com/wp-content/uploads/2014/07/sir-ben-kingsley-talks-about-the.jpg
Sir Ben Kingsley Talks about the Unique Way He Voiced His Character in the Animated Film, 'The Boxtrolls' (video)
I could listen to Sir Ben Kingsley talk about acting and.. well, I could listen to him talk about anything. He's starring in the new Laika stop-motion animated film, The Boxtrolls, and he and some of the cast (along with the director) joined in on a Comic-Con panel about the film. The Boxtrolls is about [...]
http://www.dailyactor.com/2014/07/sir-ben-kingsley-the-boxtrolls-comic-con/
http://www.dailyactor.com/wp-content/uploads/2014/07/bill-hader.jpg
Bill Hader: "I kind of fell into acting" (video)
Bill Hader, starring in the soon to be released The Skeleton Twins, talks about the film and how he fell into acting and then got "crazy lucky" in this quick video from USA Today.
http://www.dailyactor.com/2014/07/bill-hader-fell-into-acting-video/
http://www.dailyactor.com/wp-content/uploads/2014/07/director-john-carney-narrates-a.jpg
Director John Carney Narrates a Scene from 'Begin Again' Starring Kiera Knightley and Mark Ruffalo
Director John Carney (Once) narrates a scene from his new film, Begin Again. Starring Keira Knightley and Mark Ruffalo, the scene shows the first time the two characters meet. I haven't seen it yet but I've heard it's great.
http://www.dailyactor.com/2014/07/begin-again-scene-director-john-carney-keira-knightley-mark-ruffalo/
http://www.dailyactor.com/wp-content/uploads/2014/07/holler-if-you-hear-me-gma.jpg
Watch the Cast of Broadway's 'Holler If You Hear Me' Perform 'California Love' on GMA
The cast of Broadway's newest musical, Holler If You Hear Me with music from Tupac Shakur, performed on Good Morning America this morning. Singing 'California Love', the cast (including the teriffic Christopher Jackson – read our interview here), show why they're the most energetic and inspiring group of actors on Broadway. Holler If Ya Hear [...]
http://www.dailyactor.com/2014/07/watch-cast-broadways-holler-hear-perform-california-love-gma/