BBC America's 'Copper' Star, Tom Weston-Jones on Accents, Character Research and Historical Drama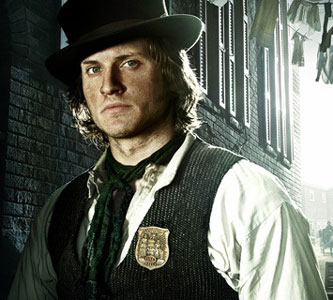 Working on period pieces can be one of the hardest challenges an actor can face in his career.  But Tom Weston-Jones is ready to tackle any obstacles in BBC America's new series, Copper.
"When you're playing a part in a historical piece you can't imagine everything like, 'I'm in the 1860s, I carry myself as an 1860s person would,'" he told The Wall Street Journal.  "You kind of have to forget all that because people's motivations haven't changed all that much.  We all want the same things, it's how we go about getting them that's changed.  The costumes, makeup, hair, the way the sets are put together—all of that does lot of work for you.  You just exist in it…It's great fun.  As soon as you put the costume on, you just feel like you're there."
Weston-Jones plays Kevin Corcoran who's a detective or 'copper' in New York City after the Civil War.  "I tried to find records of a Detective Corcoran at the time and I couldn't find anything," the 25-year-old said.  "So I didn't necessarily use a real person to base him on.  I just tried to put different things together.  One of the first things I wrote down was, 'He's a hero but he doesn't do anything heroic.'"
Weston-Jones grew up in Dubai, but went to the UK for school.  Corcoran's accent could have been another hurdle for the actor.  "Accents are one of those things you have back catalog of," he said.  "There are the ones you did as a kid messing around.  American is one of those for me… At first I was quite bullheaded, I wanted [Corcoran] to be Irish through and through.  But looking at his back story—he was born in Ireland and raised in New York—we came up with a bit of a hybrid."
Copper airs on BBC America, Sundays at 10 p.m.
http://www.dailyactor.com/wp-content/uploads/2015/02/Larry-David.jpg
Larry David on Who he Wanted to Star in his Broadway Play 'Fish in the Dark': "Anybody but me"
"It's one of the reasons I didn't like acting. I don't like not being able to interject" – Larry David on acting with a script Who doesn't like Larry David? Well, to be honest, Larry David probably doesn't like Larry David. In fact, David didn't even want to cast himself in the lead of […]
http://www.dailyactor.com/2015/02/larry-david-on-who-he-wanted-to-star-broadway-play-fish-in-the-dark/
http://www.dailyactor.com/wp-content/uploads/2015/02/Helen-Mirren-The-Queen.jpg
Helen Mirren on Winning an Oscar: "It's an indescribable moment"
"It's hard to say, because you don't know what would have happened if you hadn't won" - Helen Mirren When Asked If Winning an Oscar Changed Her Career
http://www.dailyactor.com/2015/02/helen-mirren-on-winning-an-oscar/
http://www.dailyactor.com/wp-content/uploads/2015/02/anna-chlumsky-james-earl-jones.jpg
Anna Chlumsky on Her Broadway Debut: "For me, it was an opportunity to go in the direction that I hadn't played in a while"
"I think my personality lends itself to ensembles" - Anna Chlumsky
http://www.dailyactor.com/2015/02/anna-chlumsky-broadway-debut-ensemble/
http://www.dailyactor.com/wp-content/uploads/2015/02/joanne-froggatt-downton-abbey.jpg
'Downton Abbey' Star Joanne Froggatt on Creating Her Own Backstory and How She's "Not a Big-Budget Hollywood Type"
"They want the model type, classically beautiful, and I'm not" - Joanne Froggatt on Working in Hollywood
http://www.dailyactor.com/2015/02/downton-abbey-star-joanne-froggatt-character-backstory-hollywood/
http://www.dailyactor.com/wp-content/uploads/2015/01/al-pacino-the-humbling.jpg
Al Pacino on Acting: "It becomes such a part of your nature you rarely ever think about quitting"
After working infrequently in film over the last decade, Al Pacino appears in several films released in 2015, including The Humbling, an indie drama directed by Barry Levinson.
http://www.dailyactor.com/2015/02/al-pacino-on-acting-it-becomes-such-a-part-of-your-nature/