Tippi Hedren's Troubled Relationship with Alfred Hitchcock Portrayed in the HBO Film 'The Girl'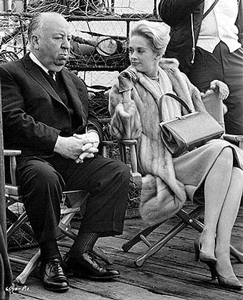 With the current biggest tabloid story about a director having an extramarital affair with a young Hollywood actress (to which Tom Cruise breathes a sigh of relief for taking the spotlight off his issues), it's important to note that such behavior isn't totally unheard of in the long histroy of Hollywood. 
Take Tippi Hedren for example, who put up with some very uncomfortable advances from master director Alfred Hitchcock during the productions of The Birds and Marnie, which Hitchcock directed and starred Hedren.
Hedren, now 82, is now watching those events play out in HBO's The Girl, which stars Sienna Miller as Hedren and Toby Jones as Hitchcock.  Of the director, she recalls moments of "delight and joy" working with the director, though Hitchcock made no effort to reign in his advances.  She says, "I think he was an extremely sad character.  We are dealing with a brain here that was an unusual genius, and evil, and deviant, almost to the point of dangerous, because of the effect that he could have on people that were totally unsuspecting."
Unfortunately, Hedren's career took a major hit because she refused to work with Hitchcock again after Marnie — and since was under contract Hitchcock refused to let her work for anyone else because she refused his advances.  On that, Hedren points out, "He ruined my career but he didn't ruin my life.  If this had happened today I would be a very rich woman."
Hedren was able to show the completed film, which is based on the book Spellbound by Beauty, to her daughter, actress Melanie Griffith.   Hedren says that after she saw the film and what her mother had to deal with, her daughter "jumped up and said, 'Now I have to go back into therapy.'"
Hedren has worked steadily in film, even if she never starred in a movie as popular or acclaimed as her two with Hitchcock.  As for Miller, who plays Hedren, she is obviously thankful that she hasn't had the same experience with her directors, adding "I think it's a very different world for women in film today than it was for women then."
via Yahoo!
Latest Videos
http://www.dailyactor.com/wp-content/uploads/2014/08/bryan-cranston-emmy-award-speech.jpg
Watch: Bryan Cranston's Emmy Award Speech: "I love to act. It is a passion of mine and I will do it until my last breath."
The Emmy Awards weren't the most exciting awards show this year but with Bryan Cranston winning for Outstanding Actor in a Drama for Breaking Bad, we at least got to hear one heck of a fantastic acceptance speech. "I was a kid who always looked for the shortcut," he said. "I did happen to stumble […]
http://www.dailyactor.com/2014/08/watch-bryan-cranston-and-aaron-pauls-emmy-award-speeches/
http://www.dailyactor.com/wp-content/uploads/2014/08/audition-tapes-gerard-butler-aud.jpg
Audition Tapes: Gerard Butler Auditions for 'Dracula 2000′
Check out Gerard Butler auditioning for the role of Dracula in the movie, Dracula 2000. The film, about a group of thieves who break into a chamber expecting to find paintings, but instead find Dracula himself, also starred Christopher Plummer, Jonny Lee Miller and Nathan Fillion. Bulter has some sweet rock star hair, huh?
http://www.dailyactor.com/2014/08/audition-tapes-gerard-butler-dracula-2000/
http://www.dailyactor.com/wp-content/uploads/2014/08/interview-matt-dillon-and-carla.jpg
Interview: Matt Dillon and Carla Gugino Talk 'Wayward Pines'
FOX has a new limited-series that's got a terrific cast and interesting premise. It's called Wayward Pines and stars Matt Dillon, Carla Gugino, Melissa Leo, Toby Jones, Terrance Howard, Juliette Lewis, Tim Griffin and Shannyn Sossamon. The show, whose pilot was directed by M. Night Shyamalan, is about a Secret Service agent (Dillon) goes to […]
http://www.dailyactor.com/2014/08/interview-matt-dillon-carla-gugino-wayward-pines-comic-con/
http://www.dailyactor.com/wp-content/uploads/2014/08/interview-wayward-pines-stars-ti.jpg
Interview: 'Wayward Pines' Stars Tim Griffin and Shannyn Sossamon on the Show, Their Characters and More!
Griffin and Sossamonwere at Comic-Con where they sat in on some roundtable interviews to talk about the show.
http://www.dailyactor.com/2014/08/interview-wayward-pines-stars-tim-griffin-shannyn-sossamon-comic-con/
http://www.dailyactor.com/wp-content/uploads/2014/08/interview-m-night-shyamalan-talk.jpg
Interview: M. Night Shyamalan Talks 'Wayward Pines' and Why He Expanded a Young Actors Role on the Show
I talked to Shyamalan at Comic-Con in a roundtable interview where he talked about the cast, what he learned from working in TV and how young actor Charlie Tahan started out with a small part but as the story grew, so did his role.
http://www.dailyactor.com/2014/08/interview-m-night-shyamalan-wayward-pines-comic-con/