Review: 'ParaNorman'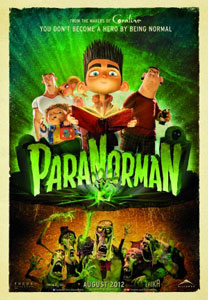 Norman (Kodi Smit-McPhee) is a normal, young boy. He loves to sit on the couch and watch TV with his Grandmother (Elaine Stritch), chat with people as he walks down the street in his small town and play with all of the dogs and cats as he passes them by.
There's only one problem. They're all dead.
Ok, so he might not be your typical young boy.
But that's ok, because when the town suddenly becomes overrun with ghosts, ghouls and zombies, Norman is the only one who can help. But from his disbelieving family and the school bullies, will Norman – ParaNorman – have enough confidence in himself to get rid of the horrors?
The film, from the stop-motion animation studio that gave us 2009's Coraline, is entertaining and the visuals are outstanding. It's got humor for young kids – not too young though, there is some creepy stuff going on in the film – and older and a lot of don't-blink-or-you'll miss-it moments that someone my age got a big kick out of. The film also has a solid (but not preachy) attitude about bullying and what it's like to be different.
Kodi Smit-McPhee is wonderful as Norman and as his exasperated sister, Anna Kendrick can do an animated 'sigh' better than anyone.
The one problem I had with the film, and this is with all animated films nowadays, were some of the voices: The trend to use name actors in roles where a voice-over actor would be a million times better. In films and TV, I really like Leslie Mann and Jeff Garlin (they play Norman's mother and father) and Casey Affleck but their voices don't do anything for animation. They're flat and just took me out of the film most of the time. With Garlin, he didn't do anything with his voice. He wasn't flat like the others, but again, it took me out because his voice is so recognizable to me. Kendrick and Smit-McPhee were hands down great but, I do think they are the exception rather than the norm.
That being said, it will in no way diminish the enjoyment you'll get from this film.
Latest Videos
Watch: Benedict Cumberbatch Film the Smaug Motion Capture for 'The Hobbit: The Desolation of Smaug'
Though Peter Jackson's movie adaptations of The Hobbit haven't received the same critical acclaim as his films based on the book's sequel, The Lord of the Rings (turning a 300 page book into 9+ hours of film tends to do that), fans are still eagerly anticipating the release of the final part of The Hobbit […]
http://www.dailyactor.com/2014/11/watch-benedict-cumberbatch-film-smaug-motion-capture-the-hobbit/
http://www.dailyactor.com/wp-content/uploads/2014/10/watch-daniel-radcliffe-on-the-di.jpg
Watch: Daniel Radcliffe on the Differences Between American and British Theater Audiences
Though moviegoers can see Daniel Radcliffe in the fantasy film Horns, which opens today, Broadway fans will have to wait a bit longer. Radcliffe is an unapologetic fan of Broadway — he has starred in Equus, How to Succeed in Business Without Really Trying, and The Cripple of Inishmaan — but he hasn't yet made […]
http://www.dailyactor.com/2014/10/daniel-radcliffe-differences-between-american-british-theater-audiences/
http://www.dailyactor.com/wp-content/uploads/2014/10/watch-anna-gunn-jacki-weaver-and.jpg
Watch: Anna Gunn, Jacki Weaver and Virginia Kull on 'Gracepoint' and Strong Female Roles on TV
The actresses also speak candidly about how they feel about their characters in the series and why its important for TV to feature series with strong female leads.Check out the conversation above!
http://www.dailyactor.com/2014/10/watch-anna-gunn-jacki-weaver-virginia-kull-gracepoint-strong-female-roles-on-tv/
http://www.dailyactor.com/wp-content/uploads/2014/10/watch-cristin-milioti-talks-a-to.jpg
Watch: Cristin Milioti Talks 'A to Z', 'Once' and 'How I Met Your Mother'
Few actresses have the kind of rise as Cristin Milioti has had in the last few years. A virtual unknown in 2011, she became a bona fide Broadway star in the 2012 hit Once, appeared in a supporting role in the 2013 film The Wolf of Wall Street, and was featured as the titular mother […]
http://www.dailyactor.com/2014/10/watch-cristin-milioti-a-to-z-once-how-i-met-your-mother/
http://www.dailyactor.com/wp-content/uploads/2014/10/watch-bryan-cranstons-acting-adv.jpg
Watch: Bryan Cranston's Acting Advice
With Breaking Bad: The Complete Series Barrel being released on Blu-ray with all kinds of goodies today, it gives us yet another opportunity to reflect on the series' star Bryan Cranston and all of the incredible advice he has offered actors in the wake of his success. In a video he filmed in 2013 for […]
http://www.dailyactor.com/2014/10/bryan-cranston-acting-advice-video/