Review: 'Les Miserables' 25th Anniversary Production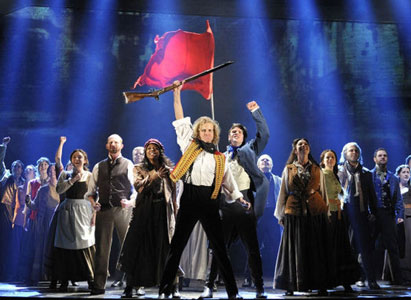 I got my first taste of Les Miesrables years ago when I was in London. The show was a smash and since I'd never seen it, what better way to experience the show than it's birthplace. The theater was small and my seats were way up in the balcony but from what I remember, it was it was a fine production. Nothing exactly stood out for me or I would have remembered it.
My memory won't fade with the show I saw last night.
Touring around the country and now currently in San Diego, the 25th Anniversary production of Les Miserable is excellent.
I don't say that lightly. With most touring shows, there are some week links – usually in the cast (unfortunately). In this show, there isn't one week link. The cast is fantastic and the two leads, Peter Lockyer as Jean Valjean and Andrew Varela as Javert, are worth the ticket price alone. They both have singing voices that will knock your socks off and in a few cases, your eyes might start to mist up. They've both taken two iconic roles and owned them. Wonderful, wonderful, wonderful work.
Other notable standouts in the cast were Betsy Morgan as Fantine and Timothy Gulan and Shawna M. Hamic as the the Thenadier's. Morgan's performance was delicate and beautiful while Gulan and Hamic bring the laughs every time they're on stage.
The famous rotating stage is gone and in its place is a backdrop that has scenery projected onto it. If you're thinking you'll miss the stage of the past, don't worry because this projections give the show an almost 3D effect to it. You actually feel like you're closer to the stage and immersed into the show.
If you're in San Diego or in one of the upcoming tour stops, definitely grab a ticket. Click here for more information.
http://www.dailyactor.com/wp-content/uploads/2015/01/watch-al-pacino-talks-the-humbli.jpg
Watch: Al Pacino Talks 'The Humbling' and His Extraordinary Career
In this conversation with Al Pacino talks about his role in The Humbling -- including working with Greta Gerwig -- and his historic acting career
http://www.dailyactor.com/2015/01/watch-al-pacino-extraordinary-career/
http://www.dailyactor.com/wp-content/uploads/2015/01/watch-oscar-nominee-steve-carell.jpg
Watch: Oscar Nominee Steve Carell Talks Improv, Auditioning for 'The Office' and 'Foxcatcher'
Carell talks about his entire career as an actor, including his background in improv, how he landed the Michael Scott role on The Office, and Foxcatcher
http://www.dailyactor.com/2015/01/oscar-nominee-steve-carell-improv-auditioning-for-the-office-foxcatcher/
http://www.dailyactor.com/wp-content/uploads/2015/01/ethan-hawke-ellar-coltrane-boyhood.jpg
Ethan Hawke Calls 'Boyhood' the "most special endeavor of my life"
Ethan Hawke is riding high with his fourth Oscar nomination for the Richard Linklater-directed Boyhood. In a recent "Ask Me Anything" on Reddit, the 44-year-old actor gave some thoughtful insight into his career and the 12-year creative endeavor that became the biggest film of the Oscar season. When asked what was the most difficult thing about […]
http://www.dailyactor.com/2015/01/ethan-hawke-boyhood-reddit-amaife/
http://www.dailyactor.com/wp-content/uploads/2015/01/martha-plimpton-a-delicate-balance.jpg
Martha Plimpton Takes a Refreshing Approach to a Long-Lasting Career
Martha Plimpton is an actress who enjoys the work, she's not in it for the fame. The proof is in her continually excellent work that she is doing on-screen and on the stage. She's currently starring in A Delicate Balance on Broadway. It's the audience who gives her the ultimate thrill. "I try to get […]
http://www.dailyactor.com/2015/01/martha-plimpton-long-lasting-career/
http://www.dailyactor.com/wp-content/uploads/2015/01/watch-michael-keaton-talks-candi.jpg
Watch: Michael Keaton Talks Candidly About His Career and His Approach to Acting in 'Birdman'
In this nearly 90 minute conversation, Michael Keaton is his usual affable self but is also remarkably candid about his career and his approach to acting.
http://www.dailyactor.com/2015/01/michael-keaton-career-approach-to-acting-birdman/