Book Review: 'Acting Lions: Unleash Your Craft in Today's Lightening Fast World of Film, Television & Theatre'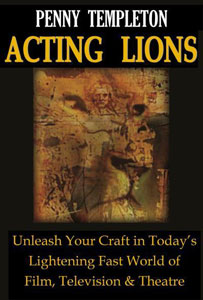 I get a lot of books to review for Daily Actor. Some of them are perfectly fine; some have modest bits of new info that we can use; some of them just regurgitate what others have said in an effort to get our precious money out of our pocket. So, when I read an acting book, I'm usually skeptical.
When I picked up Acting Lions, the new book by acting coach Penny Templeton, I read it with a "Uh-huh, whatcha got for me?" attitude.
A couple hours later (ok, days – I'm a slow reader. I blame the Maryland education system and not my lack of focus), I finished and was pleasantly surprised by how much I liked it. People say that this book or that book has it "all"? Well, this book seriously does have it "all".
Penny Templeton is a New York based acting coach with 20 years of teaching under her belt and the knowledge and understanding of acting and the business side of acting shows. In the book, she's taken the lessons and styles of all of the great acting teachers – Stanislavsky, Strasberg, Adler, Meisner and Uta Hagen – and combines them all into her own technique.
She teaches you how to break down a script in a way so easy that you'll immediately want to grab some sides from Actors Access and try her technique for yourself.  And, this is one of the first books that I can remember or even know of that takes a scene that most of us would be auditioning for – 1 to 2 page scenes – and shows you what to do with it. She even shows you how to break down a scene where you'd have 1 line of dialogue. If you try it out like I did, you'll be itching for your next audition.
She also has a section about memorizing dialogue, which I have a hard time with in audition situations. For some reason, the dialogue tends not to stick to my brain. So, I tried her suggestions in my last audition and guess what? It worked like a charm.
Other sections include Creating a Character, Structure and how to use a video camera to help you grow your skills and behind the camera confidence – alone or with a partner.
The book then moves to the business side of acting; headshots and reels, finding an agent and getting work and what happens when you finally do get on set. To be honest, most of the stuff – at least for me – were things I already knew but it was presented in a new format that was easily digested. But for the young (or new) actor, this section can prove invaluable.
An artist never stops growing. Ever. If they do, their work becomes their "job" rather than their passion. – Penny Templeton
For more information on Penny Templeton, check out here website here.
To purchase Acting Lions, click here.
http://www.dailyactor.com/wp-content/uploads/2015/02/Larry-David.jpg
Larry David on Who he Wanted to Star in his Broadway Play 'Fish in the Dark': "Anybody but me"
"It's one of the reasons I didn't like acting. I don't like not being able to interject" – Larry David on acting with a script Who doesn't like Larry David? Well, to be honest, Larry David probably doesn't like Larry David. In fact, David didn't even want to cast himself in the lead of […]
http://www.dailyactor.com/2015/02/larry-david-on-who-he-wanted-to-star-broadway-play-fish-in-the-dark/
http://www.dailyactor.com/wp-content/uploads/2015/02/Helen-Mirren-The-Queen.jpg
Helen Mirren on Winning an Oscar: "It's an indescribable moment"
"It's hard to say, because you don't know what would have happened if you hadn't won" - Helen Mirren When Asked If Winning an Oscar Changed Her Career
http://www.dailyactor.com/2015/02/helen-mirren-on-winning-an-oscar/
http://www.dailyactor.com/wp-content/uploads/2015/02/anna-chlumsky-james-earl-jones.jpg
Anna Chlumsky on Her Broadway Debut: "For me, it was an opportunity to go in the direction that I hadn't played in a while"
"I think my personality lends itself to ensembles" - Anna Chlumsky
http://www.dailyactor.com/2015/02/anna-chlumsky-broadway-debut-ensemble/
http://www.dailyactor.com/wp-content/uploads/2015/02/joanne-froggatt-downton-abbey.jpg
'Downton Abbey' Star Joanne Froggatt on Creating Her Own Backstory and How She's "Not a Big-Budget Hollywood Type"
"They want the model type, classically beautiful, and I'm not" - Joanne Froggatt on Working in Hollywood
http://www.dailyactor.com/2015/02/downton-abbey-star-joanne-froggatt-character-backstory-hollywood/
http://www.dailyactor.com/wp-content/uploads/2015/01/al-pacino-the-humbling.jpg
Al Pacino on Acting: "It becomes such a part of your nature you rarely ever think about quitting"
After working infrequently in film over the last decade, Al Pacino appears in several films released in 2015, including The Humbling, an indie drama directed by Barry Levinson.
http://www.dailyactor.com/2015/02/al-pacino-on-acting-it-becomes-such-a-part-of-your-nature/