Kelsey Grammer on Why He Loves His 'Boss' Character and How He Takes Criticism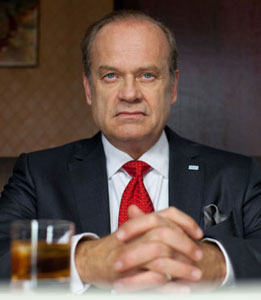 Sure, we all saw Kelsey Grammer play Dr. Frasier Crane for about a hundred years, but deep down inside we all knew that with that scowl and deep timbre of voice that he would make a fantastic villain.  I mean, the minds behind The Simpsons were obviously on to something with Sideshow Bob, right?  So Grammer was the perfect fit to play the corrupt Chicago Mayor Tom Kane in Boss, which will soon begin its second season. 
In an interview with Reuters, Grammer talks about transitioning from comedy to drama and his feelings on critics of his performances, including not being nominated for an Emmy.
Grammer admits that despite the character's evil nature, he loves the role.  He points out, "He is a great character to play because he is so energetic. The guy's vitality is fantastic. He is dying and yet he has more vitality than most people who have another 50 years to live. It is more energizing to play in a weird way.  We have explored and lifted from Shakespeare quite a bit. Apparitions in Shakespeare are common place and in the culture of that time they were meant as real things. It is up to the audience whether they want to accept it as a real thing or a figment of his imagination."
As for the transition to drama after twenty-five-plus years of mostly comedic roles, Grammer is planning on sticking with dramatic roles, but it all depends on the material.  He explains, "I'd love to do another comedy too if the right thing came along. It's all about the role. At this point in my life, if the material is good, if it's a character I think 'Wow! I'd love to do that,' it won't matter what the venue or the reason is except it's a fascinating character to try to wrap my brain around."
Despite the critical praise — including winning a Golden Globe — Grammer confesses he was upset that he wasn't nominated for an Emmy.  He reveals, "Oh yes, it hurts a lot. It is a little confusing, actually. I still don't know what to make of it. I am still not sure how it happened, but I am stuck with it, so there we go."  Then again, I doubt the five-time Emmy winner has lost much sleep over the snub.  Still, Grammer points out that he finds criticism helpful in assisting him grow as an actor, adding, "I find critical writing to be helpful sometimes so I often will investigate what they are saying. If it's a slaughter piece, I am not going to continue to read it or let it impact my spirit too much. But if it's what I grew up understanding as critical writing, they might make some interesting statement. I can slough off the stuff that is negative, personal attacks."
The second season of Boss starts Friday on Starz
Latest Videos
http://www.dailyactor.com/wp-content/uploads/2014/09/watch-david-mamet-in-the-1976-sh.jpg
Watch: David Mamet in the 1976 Short Documentary 'The Playwright Directs'
Though David Mamet is best known for his distinctive writing style in his scripts for the stage and screen, he has also directed theater and film. The 1976 short documentary titled The Playwright Directs depicts Mamet directing actors through several scenes at an almost frantic pace, dispensing pearls of wisdom throughout, like his thoughts on […]
http://www.dailyactor.com/2014/09/watch-david-mamet-1976-documentary-the-playwright-directs/
http://www.dailyactor.com/wp-content/uploads/2014/09/watch-marvels-agents-of-s-h-i-e.jpg
Watch: Marvel's Agents of S.H.I.E.L.D. Season 1 Bloopers
Forgetting lines? Corpsing? Delivering lines in Spanish? Unruly props? All in a day's work on the set of Marvel's Agents of S.H.I.E.L.D, apparently. Clark Gregg, Ming-Na Wen, and the rest of the cast find plenty of humor while playing super-serious secret agents in the Marvel Universe. While you're waiting for season 2 of the series […]
http://www.dailyactor.com/2014/09/watch-marvels-agents-of-s-h-i-e-l-d-season-1-bloopers/
http://www.dailyactor.com/wp-content/uploads/2014/09/audtion-tapes-robin-wright-and-h.jpg
Audition Tapes: Robin Wright and Haley Joel Osment Audition with Tom Hanks for 'Forrest Gump'
Check out Robin Wright auditioning for the role of Jenny from Forest Gump opposite Tom Hanks. Interestingly enough, Hanks doesn't quite have Gump's southern drawl down just yet while the other actors audition with him. In fact, Hanks would base Gump's voice on the voice of Michael Conner Humphreys, who played the young Forrest and […]
http://www.dailyactor.com/2014/09/audtion-tapes-robin-wright-haley-joel-osment-tom-hanks-forrest-gump/
http://www.dailyactor.com/wp-content/uploads/2014/08/bryan-cranston-emmy-award-speech.jpg
Watch: Bryan Cranston's Emmy Award Speech: "I love to act. It is a passion of mine and I will do it until my last breath."
The Emmy Awards weren't the most exciting awards show this year but with Bryan Cranston winning for Outstanding Actor in a Drama for Breaking Bad, we at least got to hear one heck of a fantastic acceptance speech. "I was a kid who always looked for the shortcut," he said. "I did happen to stumble […]
http://www.dailyactor.com/2014/08/watch-bryan-cranston-and-aaron-pauls-emmy-award-speeches/
http://www.dailyactor.com/wp-content/uploads/2014/08/audition-tapes-gerard-butler-aud.jpg
Audition Tapes: Gerard Butler Auditions for 'Dracula 2000′
Check out Gerard Butler auditioning for the role of Dracula in the movie, Dracula 2000. The film, about a group of thieves who break into a chamber expecting to find paintings, but instead find Dracula himself, also starred Christopher Plummer, Jonny Lee Miller and Nathan Fillion. Bulter has some sweet rock star hair, huh?
http://www.dailyactor.com/2014/08/audition-tapes-gerard-butler-dracula-2000/