Joseph Gordon-Levitt Talks About his Stunt Doubles on 'Premium Rush' and Getting Injured During the Shoot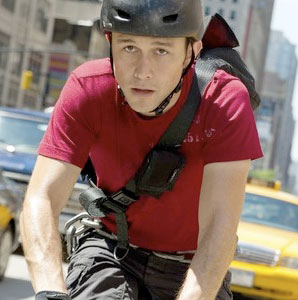 While I like Joseph Gordon-Levitt and really like Michael Shannon and films set in New York City, I'm not sure how much I'm going to get into Premium Rush, a movie featuring Gordon-Levitt as a bike courier in New York.  But I'm sure the film will be filled with a lot of great action sequences that we haven't seen before since there aren't many action bike movies, although I'd love to see a flying bike tackle take-down like on USA's old Pacific Blue series.
But that's neither here nor there.  What we do have here is an interview with Gordon-Levitt with NBC New York about Premium Rush.  He talks about doing stunts and an injury he suffered on-set.
While Gordon-Levitt did most of his own riding in the film, his stunt doubles obviously did most of the action sequences.  He praises them, saying, "I think for what I was doing, the danger was certainly minimized. I was riding fast and riding hard all day long, but what my doubles were doing was so dangerous. Absolutely 100 percent dangerous. That's part of the appeal of this movie. When you watch action sequences that are fake or computer generated – basically what amounts to cartoons – there's a big difference between that and watching a human being really risk their life. It's just exhilarating. Take it back to vaudeville or Evil Knievel or whatever – it's exhilarating. And that's the foundation of the action in this movie."
Nonetheless, Gordon-Levitt admits that when he's in the moment it's harder to let someone step in and take the hit for you.  He explains, "There's always a temptation. And you see it all the time, especially with actors. The testosterone kicks in and they think, 'I can do that!' Especially in actors who maybe haven't been in as many movies, but I am guilty of it, too. It's not the right move. I did a movie with Bruce Willis, Looper, and you've never seen someone so safety conscious doing an action sequence. And [Dark Knight Rises director] Christopher Nolan is like that, as well. Both extremely safety conscious."  However, he also adds, "I was also a bit more bull-headed until I got hurt," and points out, "I got in an accident and needed 31 stitches during shooting. On my arm."
That injury did affect the film, which had to subsequently incorporate the injury into the movie.  Gordon-Levitt reveals, "That scene at the end of the movie was shot the morning after I had this stitched up. That bandage is actually there to cover a huge gash on my arm. So we stuck with it and incorporated it into the movie."
http://www.dailyactor.com/wp-content/uploads/2015/02/Larry-David.jpg
Larry David on Who he Wanted to Star in his Broadway Play 'Fish in the Dark': "Anybody but me"
"It's one of the reasons I didn't like acting. I don't like not being able to interject" – Larry David on acting with a script Who doesn't like Larry David? Well, to be honest, Larry David probably doesn't like Larry David. In fact, David didn't even want to cast himself in the lead of […]
http://www.dailyactor.com/2015/02/larry-david-on-who-he-wanted-to-star-broadway-play-fish-in-the-dark/
http://www.dailyactor.com/wp-content/uploads/2015/02/Helen-Mirren-The-Queen.jpg
Helen Mirren on Winning an Oscar: "It's an indescribable moment"
"It's hard to say, because you don't know what would have happened if you hadn't won" - Helen Mirren When Asked If Winning an Oscar Changed Her Career
http://www.dailyactor.com/2015/02/helen-mirren-on-winning-an-oscar/
http://www.dailyactor.com/wp-content/uploads/2015/02/anna-chlumsky-james-earl-jones.jpg
Anna Chlumsky on Her Broadway Debut: "For me, it was an opportunity to go in the direction that I hadn't played in a while"
"I think my personality lends itself to ensembles" - Anna Chlumsky
http://www.dailyactor.com/2015/02/anna-chlumsky-broadway-debut-ensemble/
http://www.dailyactor.com/wp-content/uploads/2015/02/joanne-froggatt-downton-abbey.jpg
'Downton Abbey' Star Joanne Froggatt on Creating Her Own Backstory and How She's "Not a Big-Budget Hollywood Type"
"They want the model type, classically beautiful, and I'm not" - Joanne Froggatt on Working in Hollywood
http://www.dailyactor.com/2015/02/downton-abbey-star-joanne-froggatt-character-backstory-hollywood/
http://www.dailyactor.com/wp-content/uploads/2015/01/al-pacino-the-humbling.jpg
Al Pacino on Acting: "It becomes such a part of your nature you rarely ever think about quitting"
After working infrequently in film over the last decade, Al Pacino appears in several films released in 2015, including The Humbling, an indie drama directed by Barry Levinson.
http://www.dailyactor.com/2015/02/al-pacino-on-acting-it-becomes-such-a-part-of-your-nature/