Joseph Gordon-Levitt Talks About his Stunt Doubles on 'Premium Rush' and Getting Injured During the Shoot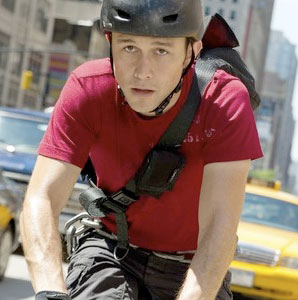 While I like Joseph Gordon-Levitt and really like Michael Shannon and films set in New York City, I'm not sure how much I'm going to get into Premium Rush, a movie featuring Gordon-Levitt as a bike courier in New York.  But I'm sure the film will be filled with a lot of great action sequences that we haven't seen before since there aren't many action bike movies, although I'd love to see a flying bike tackle take-down like on USA's old Pacific Blue series.
But that's neither here nor there.  What we do have here is an interview with Gordon-Levitt with NBC New York about Premium Rush.  He talks about doing stunts and an injury he suffered on-set.
While Gordon-Levitt did most of his own riding in the film, his stunt doubles obviously did most of the action sequences.  He praises them, saying, "I think for what I was doing, the danger was certainly minimized. I was riding fast and riding hard all day long, but what my doubles were doing was so dangerous. Absolutely 100 percent dangerous. That's part of the appeal of this movie. When you watch action sequences that are fake or computer generated – basically what amounts to cartoons – there's a big difference between that and watching a human being really risk their life. It's just exhilarating. Take it back to vaudeville or Evil Knievel or whatever – it's exhilarating. And that's the foundation of the action in this movie."
Nonetheless, Gordon-Levitt admits that when he's in the moment it's harder to let someone step in and take the hit for you.  He explains, "There's always a temptation. And you see it all the time, especially with actors. The testosterone kicks in and they think, 'I can do that!' Especially in actors who maybe haven't been in as many movies, but I am guilty of it, too. It's not the right move. I did a movie with Bruce Willis, Looper, and you've never seen someone so safety conscious doing an action sequence. And [Dark Knight Rises director] Christopher Nolan is like that, as well. Both extremely safety conscious."  However, he also adds, "I was also a bit more bull-headed until I got hurt," and points out, "I got in an accident and needed 31 stitches during shooting. On my arm."
That injury did affect the film, which had to subsequently incorporate the injury into the movie.  Gordon-Levitt reveals, "That scene at the end of the movie was shot the morning after I had this stitched up. That bandage is actually there to cover a huge gash on my arm. So we stuck with it and incorporated it into the movie."
Latest Videos
http://www.dailyactor.com/wp-content/uploads/2014/07/sir-ben-kingsley-talks-about-the.jpg
Sir Ben Kingsley Talks about the Unique Way He Voiced His Character in the Animated Film, 'The Boxtrolls' (video)
I could listen to Sir Ben Kingsley talk about acting and.. well, I could listen to him talk about anything. He's starring in the new Laika stop-motion animated film, The Boxtrolls, and he and some of the cast (along with the director) joined in on a Comic-Con panel about the film. The Boxtrolls is about [...]
http://www.dailyactor.com/2014/07/sir-ben-kingsley-the-boxtrolls-comic-con/
http://www.dailyactor.com/wp-content/uploads/2014/07/bill-hader.jpg
Bill Hader: "I kind of fell into acting" (video)
Bill Hader, starring in the soon to be released The Skeleton Twins, talks about the film and how he fell into acting and then got "crazy lucky" in this quick video from USA Today.
http://www.dailyactor.com/2014/07/bill-hader-fell-into-acting-video/
http://www.dailyactor.com/wp-content/uploads/2014/07/director-john-carney-narrates-a.jpg
Director John Carney Narrates a Scene from 'Begin Again' Starring Kiera Knightley and Mark Ruffalo
Director John Carney (Once) narrates a scene from his new film, Begin Again. Starring Keira Knightley and Mark Ruffalo, the scene shows the first time the two characters meet. I haven't seen it yet but I've heard it's great.
http://www.dailyactor.com/2014/07/begin-again-scene-director-john-carney-keira-knightley-mark-ruffalo/
http://www.dailyactor.com/wp-content/uploads/2014/07/holler-if-you-hear-me-gma.jpg
Watch the Cast of Broadway's 'Holler If You Hear Me' Perform 'California Love' on GMA
The cast of Broadway's newest musical, Holler If You Hear Me with music from Tupac Shakur, performed on Good Morning America this morning. Singing 'California Love', the cast (including the teriffic Christopher Jackson – read our interview here), show why they're the most energetic and inspiring group of actors on Broadway. Holler If Ya Hear [...]
http://www.dailyactor.com/2014/07/watch-cast-broadways-holler-hear-perform-california-love-gma/
http://www.dailyactor.com/wp-content/uploads/2014/07/behind-the-scenes-of-dawn-of-the.jpg
Behind the Scenes of 'Dawn of the Planet of the Apes' with Performance Capture Actor Terry Notary
Actor Terry Notary is 1 of 5 actors playing the apes in the new Dawn of the Planet of the Apes. "When you see armies of apes," he says, that's "five of us." Check out the video where you can watch his performance capture work.
http://www.dailyactor.com/2014/07/dawn-planet-apes-performance-capture-actor-terry-notary/