Emile Hirsch on Why He Decided to Star in 'Killer Joe' and Its Connection to… 'Hamlet'?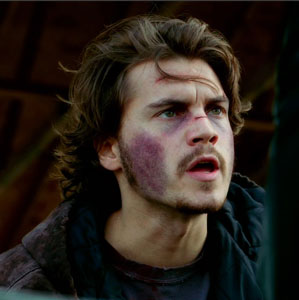 As twisted as it is, the NC-17 rated Killer Joe is one of the best films I've seen this year.  One of the reasons why is the movie's stellar cast, which includes Emile Hirsch as Chris Smith, a scummy drug addict who arranges the murder of his mother in order to get her life insurance.
With the film now in limited release, Hirsch spoke to The Seattle Times on what inspired him to take on such a dark role in the violent and unsettling film.
Hirsch's character waivers about his decision to off his mother for money, something that Hirsch thought was comparable to one of the greatest roles in the history of theater.  He explains, "In the two years before we shot Killer Joe, I was trying to make a film version of a contemporary Hamlet, which we ended up not getting the financing for.  But studying the play as much as I did — and I watched all the film versions I could find and I watched a bunch of stage versions and read some books on it — I think it really helped me portray Chris. I do."
Hirsch explains that another aspect that drew him to the project was working with director William Friedkin.  "They didn't tell me much about the script.  They just told me that Billy was directing. So I went into it totally blind. I hate synopses and little plot lines that agents pitch.  So I read Killer Joe, and I didn't know what to think. It was a very odd experience reading it — much akin to the feelings I had watching the film the first time: a mixture of comedy and drama and confusion and alternating revulsion and terror — which I love. I think that's the strength of it, the kind of places that it goes."
Latest Videos
http://www.dailyactor.com/wp-content/uploads/2014/07/bill-hader.jpg
Bill Hader: "I kind of fell into acting" (video)
Bill Hader, starring in the soon to be released The Skeleton Twins, talks about the film and how he fell into acting and then got "crazy lucky" in this quick video from USA Today. Share on Tumblr
http://www.dailyactor.com/2014/07/bill-hader-fell-into-acting-video/
http://www.dailyactor.com/wp-content/uploads/2014/07/director-john-carney-narrates-a.jpg
Director John Carney Narrates a Scene from 'Begin Again' Starring Kiera Knightley and Mark Ruffalo
Director John Carney (Once) narrates a scene from his new film, Begin Again. Starring Keira Knightley and Mark Ruffalo, the scene shows the first time the two characters meet. I haven't seen it yet but I've heard it's great.
http://www.dailyactor.com/2014/07/begin-again-scene-director-john-carney-keira-knightley-mark-ruffalo/
http://www.dailyactor.com/wp-content/uploads/2014/07/holler-if-you-hear-me-gma.jpg
Watch the Cast of Broadway's 'Holler If You Hear Me' Perform 'California Love' on GMA
The cast of Broadway's newest musical, Holler If You Hear Me with music from Tupac Shakur, performed on Good Morning America this morning. Singing 'California Love', the cast (including the teriffic Christopher Jackson – read our interview here), show why they're the most energetic and inspiring group of actors on Broadway. Holler If Ya Hear [...]
http://www.dailyactor.com/2014/07/watch-cast-broadways-holler-hear-perform-california-love-gma/
http://www.dailyactor.com/wp-content/uploads/2014/07/behind-the-scenes-of-dawn-of-the.jpg
Behind the Scenes of 'Dawn of the Planet of the Apes' with Performance Capture Actor Terry Notary
Actor Terry Notary is 1 of 5 actors playing the apes in the new Dawn of the Planet of the Apes. "When you see armies of apes," he says, that's "five of us." Check out the video where you can watch his performance capture work.
http://www.dailyactor.com/2014/07/dawn-planet-apes-performance-capture-actor-terry-notary/
http://www.dailyactor.com/wp-content/uploads/2014/07/melissa-mccarthy-daily-show.jpg
Melissa McCarthy and John Stewart Talk About Terrible Commercial Auditions on 'The Daily Show'
Melissa McCarthy stopped by The Daily Show last week to plug about her new movie, Tammy. She talked about how she loved working with her husband, Ben Falcone (director of Tammy) and then segued into talking about some horrible working situations. The always hilarious McCarthy then started to tell host John Stewart about a particular [...]
http://www.dailyactor.com/2014/07/melissa-mccarthy-john-stewart-commercial-auditions-the-daily-show/