Dick Van Dyke to Receive the 2012 SAG Life Achievement Award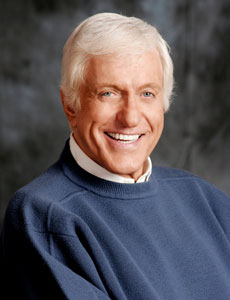 Dick Van Dyke will receive SAG's Life Achievement Award for career achievement and humanitarian accomplishment at the 19th Annual Screen Actors Guild Awards®, which airs Sunday, Jan. 27.
Mr. Van Dyke will be presented SAG-AFTRA's most prestigious award, given annually to an actor who fosters the "finest ideals of the acting profession." 
I personally think Mr. Van Dyke should win every single achievement award ever so this is excellent news.
SAG-AFTRA Co-President Ken Howard said, "Dick is the consummate entertainer — an enormously talented performer whose work has crossed nearly every major category of entertainment. From his career-changing Broadway turn in 'Bye Bye Birdie' and his deadpan humor in the Emmy® winning 'Dick Van Dyke Show,' to his unforgettable performance as Bert in 'Mary Poppins," he sets a high bar for actors. Stage, big screen, small screen, literally everywhere he has worked he has inspired millions of fans and has had a tremendously positive impact on the industry and the world. He is so deserving of this honor and I congratulate him."
SAG-AFTRA Co-President Roberta Reardon said: "With Dick, it's so much more than the proverbial 'triple threat.' He started his career as a radio announcer, game show host and comedian and was a spokesman for Kodak, among numerous other roles over his nearly 60-year career. His contributions to the success of the business and to his fellow performers is legendary as is his work with a number of the leading ladies of our times, including Julie Andrews and Mary Tyler Moore — both previous Life Achievement Award recipients. His infectious laugh has warmed audiences for decades and is an unforgettable facet of his fabulous personality."
From the Press Release:
Holder of five Emmys®, a Tony® Award and a Grammy®, Van Dyke at 86 still possesses the zest for life that first propelled him into the limelight more than a half-century ago with the Broadway and film versions of "Bye Bye Birdie," the seminal '60s situation comedy "The Dick Van Dyke Show" and the film classic "Mary Poppins."

He was born Richard Wayne Van Dyke in West Plains, Missouri, on December 13, 1925, and raised in Danville, Illinois, hometown as well to Donald O'Connor, Gene Hackman and Bobby Short. As a youngster he taught himself music, magic and pantomime. By 16, he was appearing in school plays, running track, serving as junior class president and working part time as an announcer on a local radio station. Enlisting in the Air Force at 18, he soon was performing for the troops and hosting a radio show called "Flight Time." After one year of duty he was back in Danville, giving advertising a try, but it was not a fit. With another Danville local, Phil Erickson, he hit the road in a record-pantomime act called "The Merry Mutes," a perfect showcase for his physical comedy gifts. While appearing in Los Angeles, he sent for his high school sweetheart, Marjorie Willet. The two were married on "Bride and Groom," a network radio program offering gifts and a honeymoon to newlyweds.

After a run hosting a daytime talk show in Atlanta and a morning show in New Orleans, CBS put him under contract. Van Dyke moved to New York where in 1954 he began hosting "The Morning Show" (which featured up and coming newscaster Walter Cronkite). Other hosting jobs preceded his 1957 television-acting debut on an episode of "The Phil Silvers Show." and his Broadway debut in 1959 with Bert Lahr in the comedy revue "The Boys Against the Girls." The following year his career soared when he was cast by director/choreographer Gower Champion opposite Chita Rivera in "Bye Bye Birdie." His performance as rock star Conrad Birdie's songwriter/manager Albert Peterson earned Van Dyke a Tony® Award and brought him to the attention of Sheldon Leonard and Carl Reiner, who signed him for a pilot opposite newcomer Mary Tyler Moore. The now eponymous "The Dick Van Dyke Show," starring Van Dyke and Moore as Rob and Laura Petrie, premiered in 1961 and ran for five seasons. With a perfect ensemble cast including Rose Marie and Morey Amsterdam, the wittily written series was a showcase for Van Dyke's genius for physical comedy, earning him three lead actor Emmy® Awards.

The tireless Van Dyke spent his series' hiatus shooting the film version of "Bye Bye Birdie" in 1963 followed by "What a Way to Go" and Disney's 1964 musical classic "Mary Poppins," It won five Academy Awards® including one for star Julie Andrews (SAG's 2006 Life Achievement Award recipient) and earned Van Dyke a Golden Globe® nomination and, with Andrews, a Grammy®. A run of films followed including "Lt. Robin Crusoe, USN," (1966), "Divorce American Style" (1967), "Fitzwilly" (1967), the musical "Chitty Chitty Bang-Bang" (1968), Garson Kanin's satire on conformity "Some Kind of a Nut" (1969) and Norman Lear's anti-smoking "Cold Turkey" (1970). Van Dyke, who had delivered the eulogies for his comedy idols Stan Laurel and Buster Keaton, explored the role of a fictional silent movie star in 1969's "The Comic," He would return to the big screen again in Stanley Kramer's "The Runner Stumbles" (1978), Warren Beatty's "Dick Tracy" (1990) and more recently the Ben Stiller comedy  "Night at the Museum" (2006).

After a year of filming "Chitty Chitty Bang-Bang" in England, Van Dyke moved with his family to their ranch in Carefree, Arizona where "The New Dick Van Dyke Show" was produced for CBS for three seasons. In 1974, his stunning portrayal of an alcoholic family man in David Wolper's groundbreaking ABC Television movie "The Morning After" earned Van Dyke an Emmy nomination. A guest-star turn as a homicidal photographer opposite Peter Falk's "Columbo" followed.

It was back to song, dance and comedy in NBC's variety series "Van Dyke and Company," earning him a fourth Emmy® (this time shared with his fellow producers,) followed by a national tour in "The Music Man," which brought Van Dyke back to Broadway and a national tour in "Damn Yankees." The 1980s brought a run of television movies including the Showtime production of "The Country Girl" opposite Faye Dunaway, "Drop-Out Father," opposite Mariette Hartley, "Found Money" opposite Sid Caesar, "Breakfast with Les and Bess" opposite Cloris Leachman for PBS's "American Playhouse" and the miniseries "Strong Medicine."

In 1982, Van Dyke earned his fifth Emmy for his vocal performance as the Father in the CBS Library special "Wrong Way Kid." His voice over talents were employed most recently in the 2006 animated feature "Curious George" and the 2010 short "The Caretaker 3D," a tribute to the Hollywood Sign.

Van Dyke's crime solving physician, Dr. Mark Sloan, was introduced in a 1991 episode of "Jake and the Fat Man" and became the central character in three TV movies before evolving into the CBS series "Diagnosis: Murder." It ran from 1993 to 2001, followed by two Dr. Sloan television movies in 2002. "Diagnosis: Murder" co-starred Van Dyke's son Barry as a police detective and during its run provided guest-star opportunities for Van Dyke's daughter Stacy, grandchildren Carey, Shane, Wes and Taryn and brother Jerry Van Dyke.  From 2006 to 2008, the father-son team reunited for a series of four Hallmark Channel "Murder 101" movies, casting Barry as a private investigator opposite Dick's absent-minded but brilliant criminology professor, Dr. Jonathan Maxwell.

In 2003, Van Dyke and Mary Tyler Moore re-teamed to portray lonely seniors in D.L. Coburn's Pulitzer Prize-winning drama "The Gin Game" on "PBS Hollywood Presents" and the following year recreated husband and wife Rob and Laura Petrie for Carl Reiner's CBS telefilm "The Dick Van Dyke Show Revisited." They were notably reunited this past January when Van Dyke presented Moore with SAG's 48th Life Achievement Award on the 18th Annual Screen Actors Guild Awards.

Van Dyke, whose 2011 memoir "My Lucky Life In and Out of Show Business" made the New York Times Best Sellers list, admits that his retirement plans have yet to work out. In 2006 he returned to Broadway receiving standing ovations in his "Bye Bye Birdie" leading lady's "Chita Rivera: The Dancers Life."  In addition to his memoir, Van Dyke is the author of "Faith, Hope and Hilarity: The Child's Eye View of Religion" (1970) and "Those Funny Kids" (1975), a collection of classroom humor.

Music, Van Dyke's spiritual nourishment, became richer when he teamed twelve years ago with Eric Bradley, Bryan Chadima and Mike Mendyke to form The Vantastix.  Their first major public appearance was at the Society of Singers Ella Awards honoring his "Mary Poppins" leading lady Julie Andrews. They've since performed the National Anthem at L.A. Lakers playoffs, mounted a musical memoir at L.A.'s Geffen Theatre, appeared at the Hollywood Bowl, Disney Hall and at Ford's Theatre in Washington D.C. with the President and First Lady in the front row and released an album of children's song: "Put on A Happy Face."  

For nearly twenty years Van Dyke has been tirelessly committed to his volunteer work at The Midnight Mission, Los Angeles' century-old downtown shelter for the troubled and homeless. He helped raise millions for their new building program and is there without fail every Thanksgiving, Christmas, Easter and times in between offering comfort and cheer, often with the Vantastix and members of his own family.  He is passionate about raising funds for music and art programs for public schools and has performed at countless fundraisers. He became a spokesperson for the National Reye's Syndrome Foundation in 1967 after losing a granddaughter to that disease and in 2010 was named the first spokesperson for the Cell Therapy Foundation.

Van Dyke has four children from his marriage to the late Marjorie Willet Van Dyke — sons Christian and Barry, and daughters Stacey and Carrie Beth — and seven grandchildren.

On February 29, 2012, he married make-up artist Arlene Silver (whom he met at the 2007 SAG Awards) and whose vocal talents now occasionally blend with those of Dick and The Vantastix.  They live in Malibu, California.
Latest Videos
http://www.dailyactor.com/wp-content/uploads/2014/04/director-david-gordon-greene-nar.jpg
Director David Gordon Green Narrates a Scene From 'Joe'
Director David Gordon Green narrates a sequence from his new film, Joe, featuring Nicolas Cage and Tye Sheridan. In the video, he mentions his reasons why he likes to hire non-traditional actors. He likes people who have real skill-sets and not actors who have the skills on their resume. He also talked about this in […]
http://www.dailyactor.com/2014/04/director-david-gordon-green-narrates-a-scene-from-joe/
http://www.dailyactor.com/wp-content/uploads/2014/04/david-gordon-green-joe.jpg
Director David Gordon Green: "I find actors in unusual places"
I keep missing screenings of director David Gordon Greene's new film, Joe. I hear it's really good so I'm looking forward to catching it at some point. Joe stars Nicholas Cage as ex-con Joe Ransom, who isn't the greatest of role models until he meets a 15-year-old boy (Mud's Tye Sheridan). In this featurette, Green […]
http://www.dailyactor.com/2014/04/director-david-gordon-green-i-find-actors-in-unusual-places/
http://www.dailyactor.com/wp-content/uploads/2014/04/judy-greer-i-dont-know-why-you-know-me-from.jpg
Please Don't Say These Things To Judy Greer (video)
Judy Greer - who we love here at Daily Actor – has a new book called, I Don't Know What You Know Me From (Confessions of a Co-Star), a series of essays about her life as an actress, friend and someone who everyone thinks they might know. Here's a blurb about the book: "Want to […]
http://www.dailyactor.com/2014/04/please-dont-say-these-things-to-judy-greer-video/
http://www.dailyactor.com/wp-content/uploads/2014/04/Captain-America-SamuelNick-Fury.jpg
How Samuel L. Jackson Learns His Lines for the Marvel Movies (video)
Samuel L. Jackson stopped by Good Morning America earlier this week to talk about Captain America: The Winter Soldier – which is terrific, by the way – and he told Robin Roberts that for the first Cap film, he had trouble learning his lines. "I sat at home and I did all my studying, and […]
http://www.dailyactor.com/2014/04/how-samuel-l-jackson-learns-his-lines-for-the-marvel-movies-video/
http://www.dailyactor.com/wp-content/uploads/2014/04/andy-karl-margot-seibert-rocky.jpg
Andy Karl and Margo Seibert Talk 'Rocky: The Musical' on 'Today'
Andy Karl and Margo Seibert, the stars of Rocky: The Musical, talked to Today's Matt Lauer about the new Broadway musical. Karl talks about the final fight and taking on the iconic role. This is Seibert's Broadway debut and she's asked about her callbacks (9 in all!) and more. Check it out!
http://www.dailyactor.com/2014/04/andy-karl-and-margo-seibert-talk-rocky-the-musical-on-today/