Bryan Cranston on His 'Total Recall' Role and What It's Like to Go Bald for 'Breaking Bad' Every Season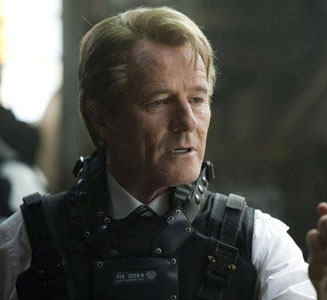 Bryan Cranston is best known as a television star, having two successful series in the last decade, Malcolm in the Middle and the current Breaking Bad.  He also stars in the remake of Total Recall as the villain Cohaagen, but his work on Breaking Bad caused a visual issue: Cranston's character on Breaking Bad, Walter White, is completely bald, but Cohaagen has what Cranston refers to as a "lion's mane" of hair… and shooting on Total Recall started shortly after he wrapped on the latest season of Breaking Bad.
Of course, it's nothing that a wig can't fix, and in an interview with HitFix Cranston elaborates on exactly what putting a wig on does to help him portray different characters, and how freeing it actually is to go clean-shaven to play White.  He also talks about how his portrayal of Cohaagen compares to Renny Cox's, who starred as Cohaagen in Paul Verhoeven's original 1990 film and how the new film compares to the source material, Philip K. Dick's short story "We Can Remember It For You Wholesale."
Check out the HitFix interview with Cranston below:
http://www.dailyactor.com/wp-content/uploads/2015/05/Caitriona-Balfe-Outlander.jpg
Outlander's Caitriona Balfe On The Emotional Toll of Filming Violent Scenes
"Having to put yourself in that place is tough. To sit in that emotional space, especially when you're doing it day after day." - Caitriona Balfe
http://www.dailyactor.com/2015/05/outlander-catriona-balfe-emotional-toll-of-filming-violent-scenes/
http://www.dailyactor.com/wp-content/uploads/2015/05/Chrissie-Fit.jpg
Chrissie Fit on How She Landed Her Role in 'Pitch Perfect 2′
"I remember getting the audition and being like, "This might not happen," just because it is such a massive movie." - Chrissie Fit
http://www.dailyactor.com/2015/05/chrissie-fit-on-how-she-landed-her-role-in-pitch-perfect-2/
http://www.dailyactor.com/wp-content/uploads/2015/05/Sam-Elliott.jpg
Sam Elliot on How he "F–ked" Himself Out of a Career as a Lead Actor
The rugged Sam Elliot has most often cast in character actor roles throughout his long career in film, though the 70 year-old Elliot thinks it wasn't always meant to be that way.
http://www.dailyactor.com/2015/05/sam-elliot-on-how-he-f-ked-himself-out-of-a-career-as-a-lead-actor/
http://www.dailyactor.com/wp-content/uploads/2015/05/Anna-Kendrick-Pitch-Perfect-2.jpg
Anna Kendrick Talks Hollywood and its Gender Bias
"As an actress you're perpetually about to be unemployed." - Anna Kendrick
http://www.dailyactor.com/2015/05/anna-kendrick-talks-hollywood-and-its-gender-bias/
http://www.dailyactor.com/wp-content/uploads/2015/05/tom-hardy-mad-max-fury-road.jpg
Tom Hardy on Fame, Acting School, and His 'Mad Respect' for Michael Fassbender
"Do what you love doing, do it well—everything should fit into place." - Tom Hardy
http://www.dailyactor.com/2015/05/tom-hardy-fame-acting-school-michael-fassbender/