Breaking Bad's Dean Norris Went to Harvard and Has Always Played 10-Years Older Than His Real Age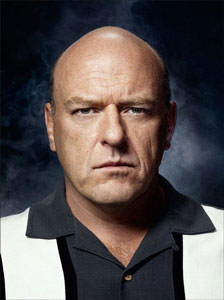 Dean Norris has turned out to be one of the more compelling characters on AMC's Breaking Bad, playing DEA agent Hank Schrader but it was difficult for Norris to choose acting as his career.
"It was a tough decision, because I went to Harvard, and I was the first kid in my family to go to college—and my parents didn't go to college," he told NPR.  "So on one level, you're like, wow, here's the lottery out of the lower middle class by getting this ticket into Harvard.  And I had a choice to either go into investment banking or pursue acting, and I talked to a lot of people.  I had done some plays with the American Repertory Theater there in Boston, so I had other professional actors who were making a living…and I asked them what they thought my chances were.
"And I figured these guys all made a living.  They didn't make as much money as someone on TV or film, but I said, I'm standing backstage in some tights and a codpiece, watching grown men onstage, and it was just electric.  There's 800 people out there, and there's just something magical about being backstage, ready to go onstage, and all your colleagues are out there.  And I said, man, if this is as good as it gets and I can do this the rest of my life—be a repertory actor—I'd be a happy man."
However, Norris has been faced with some typecasting issues in his career.  "Well, you know, if you stop in any doughnut shop, and you see three cops eating doughnuts, one of them is gonna look like me," he said.  "I don't know why that is…but I guess you have a certain look, it's kind of an authoritative law enforcement-type look, and that look is certainly the first thing that people cast you with before you get a chance to do some acting."
Not only does Norris have the face of a cop, he also has the face of someone slightly older.  "I was always playing 10 years older than I was because I was losing my hair, and I just had that kind of look," he said.  "So I was playing 35-year-olds when I was 25, always playing 45-year-olds when I was 35.  And I always felt when I got into my mid-to-late 30s, that would be the time when I would be playing characters that fit who I was…I think people kind of hit their peak when they're young, and I have no complaints because I made a really good living…I would rather be having all this stuff happening now than having had it happen at 25 and not happen again."
Breaking Bad airs on AMC, Sundays at 10 p.m.
Latest Videos
Watch: Benedict Cumberbatch Film the Smaug Motion Capture for 'The Hobbit: The Desolation of Smaug'
Though Peter Jackson's movie adaptations of The Hobbit haven't received the same critical acclaim as his films based on the book's sequel, The Lord of the Rings (turning a 300 page book into 9+ hours of film tends to do that), fans are still eagerly anticipating the release of the final part of The Hobbit […]
http://www.dailyactor.com/2014/11/watch-benedict-cumberbatch-film-smaug-motion-capture-the-hobbit/
http://www.dailyactor.com/wp-content/uploads/2014/10/watch-daniel-radcliffe-on-the-di.jpg
Watch: Daniel Radcliffe on the Differences Between American and British Theater Audiences
Though moviegoers can see Daniel Radcliffe in the fantasy film Horns, which opens today, Broadway fans will have to wait a bit longer. Radcliffe is an unapologetic fan of Broadway — he has starred in Equus, How to Succeed in Business Without Really Trying, and The Cripple of Inishmaan — but he hasn't yet made […]
http://www.dailyactor.com/2014/10/daniel-radcliffe-differences-between-american-british-theater-audiences/
http://www.dailyactor.com/wp-content/uploads/2014/10/watch-anna-gunn-jacki-weaver-and.jpg
Watch: Anna Gunn, Jacki Weaver and Virginia Kull on 'Gracepoint' and Strong Female Roles on TV
The actresses also speak candidly about how they feel about their characters in the series and why its important for TV to feature series with strong female leads.Check out the conversation above!
http://www.dailyactor.com/2014/10/watch-anna-gunn-jacki-weaver-virginia-kull-gracepoint-strong-female-roles-on-tv/
http://www.dailyactor.com/wp-content/uploads/2014/10/watch-cristin-milioti-talks-a-to.jpg
Watch: Cristin Milioti Talks 'A to Z', 'Once' and 'How I Met Your Mother'
Few actresses have the kind of rise as Cristin Milioti has had in the last few years. A virtual unknown in 2011, she became a bona fide Broadway star in the 2012 hit Once, appeared in a supporting role in the 2013 film The Wolf of Wall Street, and was featured as the titular mother […]
http://www.dailyactor.com/2014/10/watch-cristin-milioti-a-to-z-once-how-i-met-your-mother/
http://www.dailyactor.com/wp-content/uploads/2014/10/watch-bryan-cranstons-acting-adv.jpg
Watch: Bryan Cranston's Acting Advice
With Breaking Bad: The Complete Series Barrel being released on Blu-ray with all kinds of goodies today, it gives us yet another opportunity to reflect on the series' star Bryan Cranston and all of the incredible advice he has offered actors in the wake of his success. In a video he filmed in 2013 for […]
http://www.dailyactor.com/2014/10/bryan-cranston-acting-advice-video/