An Actor's Craft: Doing the Work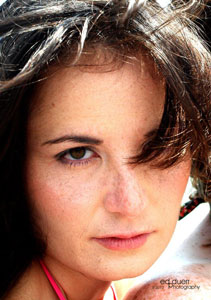 Through my experience auditioning and working as an actor in New York, Los Angeles and North Carolina, I have learned four cardinal rules governing the entertainment industry:
Having talent does not necessarily mean you will work.  Ever.
Hard work may pay off.  Or maybe not.
Sometimes there is loyalty in the business.  Most of the time there is not.
There is no such thing as fair.
Being an actor involves dealing with a lot of forces which are out of your control.  What can you do?  Be realistic about yourself.  There are a lot of people out there who want to be actors, but only ONE of you.  Know who you are.  Know what your type is.  Corner the market you fit into and do not try to be something you are not.  What makes you different and unique?  It is the uniqueness that is you which will set you apart from the hundreds of other actors auditioning for the same role. 
Once you determine where you fit in the industry, engage in the work. 
It is our goal as actors to be able to insert ourselves into the given circumstances of any script, listen to our partners and respond from our truthful point of view.  The inner objects and dialogue we give to the words of a script provide our brain with pictures and words that make our character's thinking truly human. 
We are always thinking.  The thoughts we voice are only a part of our thought process.   We often do not say what is really in our minds because that is contrary to achieving our goal.  Think about the physical actions and facial expressions you might instinctively make if you are thinking, "I am so not qualified for this job.  In fact, you would be making a mistake if you hired me."  While, at the same time, you are actually saying, "I really think I am the best person for this job and would be an asset to your company."
Subtext, or the character's thoughts, is an unspoken communication between two people.  As such, it should always be phrased as "you" when addressing your thoughts to another person.  A character's subtext is what they are thinking when not speaking, and what they are thinking that they cannot say because it will make them seem wrong, vulgar, insecure, mean, crazy, stupid, etc.  The "you" helps to make the inner monologue, subtext, interactive and produce behavior.  Behavior is especially important on film.
When you personalize your inner monologue, make sure it makes sense with your scene's objective, substitution, personalized obstacles and inner objects.  The inner monologue should be so private and personal it creates a sense of a secret.  This adds to the audience's experience by making them feel somehow in on the emotions and thoughts beyond the written word.
Heather Snow Clark is a lifetime member of the Actors Studio, currently working and teaching the art of acting to beginning and professional actors in North Carolina.  Ms. Clark teaches classes in Meisner and Strasberg techniques, audition technique, cold reading, acting in commercials, dialects, and more.  See her website at www.heathersnowclark.com for detailed class information.
Latest Videos
http://www.dailyactor.com/wp-content/uploads/2014/08/bryan-cranston-emmy-award-speech.jpg
Watch: Bryan Cranston's Emmy Award Speech: "I love to act. It is a passion of mine and I will do it until my last breath."
The Emmy Awards weren't the most exciting awards show this year but with Bryan Cranston winning for Outstanding Actor in a Drama for Breaking Bad, we at least got to hear one heck of a fantastic acceptance speech. "I was a kid who always looked for the shortcut," he said. "I did happen to stumble […]
http://www.dailyactor.com/2014/08/watch-bryan-cranston-and-aaron-pauls-emmy-award-speeches/
http://www.dailyactor.com/wp-content/uploads/2014/08/audition-tapes-gerard-butler-aud.jpg
Audition Tapes: Gerard Butler Auditions for 'Dracula 2000′
Check out Gerard Butler auditioning for the role of Dracula in the movie, Dracula 2000. The film, about a group of thieves who break into a chamber expecting to find paintings, but instead find Dracula himself, also starred Christopher Plummer, Jonny Lee Miller and Nathan Fillion. Bulter has some sweet rock star hair, huh?
http://www.dailyactor.com/2014/08/audition-tapes-gerard-butler-dracula-2000/
http://www.dailyactor.com/wp-content/uploads/2014/08/interview-matt-dillon-and-carla.jpg
Interview: Matt Dillon and Carla Gugino Talk 'Wayward Pines'
FOX has a new limited-series that's got a terrific cast and interesting premise. It's called Wayward Pines and stars Matt Dillon, Carla Gugino, Melissa Leo, Toby Jones, Terrance Howard, Juliette Lewis, Tim Griffin and Shannyn Sossamon. The show, whose pilot was directed by M. Night Shyamalan, is about a Secret Service agent (Dillon) goes to […]
http://www.dailyactor.com/2014/08/interview-matt-dillon-carla-gugino-wayward-pines-comic-con/
http://www.dailyactor.com/wp-content/uploads/2014/08/interview-wayward-pines-stars-ti.jpg
Interview: 'Wayward Pines' Stars Tim Griffin and Shannyn Sossamon on the Show, Their Characters and More!
Griffin and Sossamonwere at Comic-Con where they sat in on some roundtable interviews to talk about the show.
http://www.dailyactor.com/2014/08/interview-wayward-pines-stars-tim-griffin-shannyn-sossamon-comic-con/
http://www.dailyactor.com/wp-content/uploads/2014/08/interview-m-night-shyamalan-talk.jpg
Interview: M. Night Shyamalan Talks 'Wayward Pines' and Why He Expanded a Young Actors Role on the Show
I talked to Shyamalan at Comic-Con in a roundtable interview where he talked about the cast, what he learned from working in TV and how young actor Charlie Tahan started out with a small part but as the story grew, so did his role.
http://www.dailyactor.com/2014/08/interview-m-night-shyamalan-wayward-pines-comic-con/