Amy Adams on Her Frightening Character and the Exhausting Shoot of 'The Master'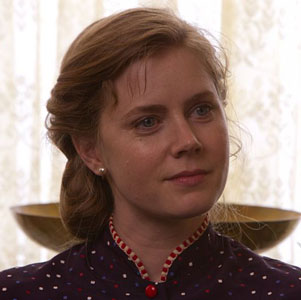 I've always been impressed by Amy Adams because there aren't many actresses who can star is cheery family films (Enchanted, The Muppets) and heavy dramas (Doubt, The Fighter) and be apt at both.  For example, in September alone she stars in two very different films, the father-daughter comedy/drama Trouble with the Curve and the controversial drama The Master written and directed by visionary Paul Thomas Anderson. 
In The Master, Adams plays Mary Sue Dodd, the wife of Philip Seymour Hoffman's Lancaster Dodd, a charismatic man who creates his own religious movement.  Adams spoke to New York about shooting the film and why Dodd is the scariest character she's ever played.
Despite the roughneck nature of her character in The Fighter, Adams admits that Dodd is a character who is far worse.  She explains, "I do not want to run into her [Dodd] in a dark alleyway.  Give me [my character] Charlene from The Fighter any day, we can have a beer, talk about it, we'll have fun. This woman scares the shit out of me. Excuse my language."
Shooting with renowned director Anderson was also a new experience for her, as Anderson required her to be on set during shooting even if she was not in the scenes being shot in order to be sure her "presence" was felt by the other actors.  In fact, there were points where she wasn't even sure if the camera was on her, so she had to stay in character.  She says, "It was exhausting, but I love the effect.  She's almost blurry."
Latest Videos
http://www.dailyactor.com/wp-content/uploads/2014/07/bill-hader.jpg
Bill Hader: "I kind of fell into acting" (video)
Bill Hader, starring in the soon to be released The Skeleton Twins, talks about the film and how he fell into acting and then got "crazy lucky" in this quick video from USA Today. Share on Tumblr
http://www.dailyactor.com/2014/07/bill-hader-fell-into-acting-video/
http://www.dailyactor.com/wp-content/uploads/2014/07/director-john-carney-narrates-a.jpg
Director John Carney Narrates a Scene from 'Begin Again' Starring Kiera Knightley and Mark Ruffalo
Director John Carney (Once) narrates a scene from his new film, Begin Again. Starring Keira Knightley and Mark Ruffalo, the scene shows the first time the two characters meet. I haven't seen it yet but I've heard it's great.
http://www.dailyactor.com/2014/07/begin-again-scene-director-john-carney-keira-knightley-mark-ruffalo/
http://www.dailyactor.com/wp-content/uploads/2014/07/holler-if-you-hear-me-gma.jpg
Watch the Cast of Broadway's 'Holler If You Hear Me' Perform 'California Love' on GMA
The cast of Broadway's newest musical, Holler If You Hear Me with music from Tupac Shakur, performed on Good Morning America this morning. Singing 'California Love', the cast (including the teriffic Christopher Jackson – read our interview here), show why they're the most energetic and inspiring group of actors on Broadway. Holler If Ya Hear [...]
http://www.dailyactor.com/2014/07/watch-cast-broadways-holler-hear-perform-california-love-gma/
http://www.dailyactor.com/wp-content/uploads/2014/07/behind-the-scenes-of-dawn-of-the.jpg
Behind the Scenes of 'Dawn of the Planet of the Apes' with Performance Capture Actor Terry Notary
Actor Terry Notary is 1 of 5 actors playing the apes in the new Dawn of the Planet of the Apes. "When you see armies of apes," he says, that's "five of us." Check out the video where you can watch his performance capture work.
http://www.dailyactor.com/2014/07/dawn-planet-apes-performance-capture-actor-terry-notary/
http://www.dailyactor.com/wp-content/uploads/2014/07/melissa-mccarthy-daily-show.jpg
Melissa McCarthy and John Stewart Talk About Terrible Commercial Auditions on 'The Daily Show'
Melissa McCarthy stopped by The Daily Show last week to plug about her new movie, Tammy. She talked about how she loved working with her husband, Ben Falcone (director of Tammy) and then segued into talking about some horrible working situations. The always hilarious McCarthy then started to tell host John Stewart about a particular [...]
http://www.dailyactor.com/2014/07/melissa-mccarthy-john-stewart-commercial-auditions-the-daily-show/