Alfred Molina on Characters with Contradictions and 'Disappearing' into a Role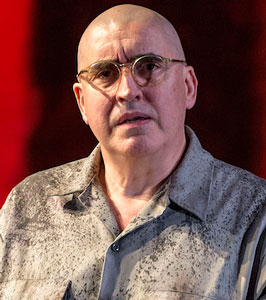 Alfred Molina stars in Red at the Mark Taper Forum through September 9, a role that he originated in London and again later in a Tony Award-winning production on Broadway.  Like the previous productions Molina stars as Mark Rothko, the eccentric real-life artist who was commissioned to paint works for New York's Four Seasons restaurant and felt conflicted about taking such a commercial job. 
Molina spoke to Southern California Public Radio about his portrayal of Rothko and what "disappearing into a role" really means to him.
Molina found himself intrigued with Mark Rothko before deciding to play him.  He points out, "Like so many interesting characters that one gets to play, he's full of contradictions. All the most interesting characters are, in the same way all the most interesting people in life are often paradoxical and seemingly contradictory … Theatrically, in terms of playing characters, that's where the really interesting grit is. It's in those areas where things get confused, things get conflicted and contradictory, that's where the most interesting part of character is in many ways because you have to resolve that for the audience and make all those contradictions equally valid. If the audience is agreeing with you one second and disagreeing with you the next, totally with you one moment and totally against you the next, then you're halfway to doing your job because that means — hopefully — they're going through the same sort of conflict that the character is."
Since Molina inhabits the roles so effectively, the interviewer asks him  if it is cliche to talk about actors "disappearing into their parts."  But Molina disagrees and explains, "I don't think it's so much a cliche as it is something character actors really aim for. There's a great joy and satisfaction in being able to in some way, disappear … If you can lose yourself in it somehow — and it's not about being real, it's about being authentic — if you can be authentic enough so the audience to relax … that's part of the craft we all take pride in is being able to somehow submerge ourselves to a certain degree.
http://www.dailyactor.com/wp-content/uploads/2015/01/watch-al-pacino-talks-the-humbli.jpg
Watch: Al Pacino Talks 'The Humbling' and His Extraordinary Career
In this conversation with Al Pacino talks about his role in The Humbling -- including working with Greta Gerwig -- and his historic acting career
http://www.dailyactor.com/2015/01/watch-al-pacino-extraordinary-career/
http://www.dailyactor.com/wp-content/uploads/2015/01/watch-oscar-nominee-steve-carell.jpg
Watch: Oscar Nominee Steve Carell Talks Improv, Auditioning for 'The Office' and 'Foxcatcher'
Carell talks about his entire career as an actor, including his background in improv, how he landed the Michael Scott role on The Office, and Foxcatcher
http://www.dailyactor.com/2015/01/oscar-nominee-steve-carell-improv-auditioning-for-the-office-foxcatcher/
http://www.dailyactor.com/wp-content/uploads/2015/01/ethan-hawke-ellar-coltrane-boyhood.jpg
Ethan Hawke Calls 'Boyhood' the "most special endeavor of my life"
Ethan Hawke is riding high with his fourth Oscar nomination for the Richard Linklater-directed Boyhood. In a recent "Ask Me Anything" on Reddit, the 44-year-old actor gave some thoughtful insight into his career and the 12-year creative endeavor that became the biggest film of the Oscar season. When asked what was the most difficult thing about […]
http://www.dailyactor.com/2015/01/ethan-hawke-boyhood-reddit-amaife/
http://www.dailyactor.com/wp-content/uploads/2015/01/martha-plimpton-a-delicate-balance.jpg
Martha Plimpton Takes a Refreshing Approach to a Long-Lasting Career
Martha Plimpton is an actress who enjoys the work, she's not in it for the fame. The proof is in her continually excellent work that she is doing on-screen and on the stage. She's currently starring in A Delicate Balance on Broadway. It's the audience who gives her the ultimate thrill. "I try to get […]
http://www.dailyactor.com/2015/01/martha-plimpton-long-lasting-career/
http://www.dailyactor.com/wp-content/uploads/2015/01/watch-michael-keaton-talks-candi.jpg
Watch: Michael Keaton Talks Candidly About His Career and His Approach to Acting in 'Birdman'
In this nearly 90 minute conversation, Michael Keaton is his usual affable self but is also remarkably candid about his career and his approach to acting.
http://www.dailyactor.com/2015/01/michael-keaton-career-approach-to-acting-birdman/