Alfred Molina on Characters with Contradictions and 'Disappearing' into a Role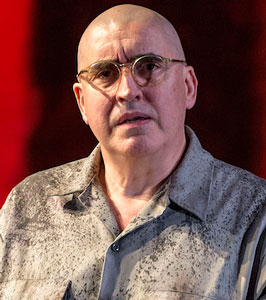 Alfred Molina stars in Red at the Mark Taper Forum through September 9, a role that he originated in London and again later in a Tony Award-winning production on Broadway.  Like the previous productions Molina stars as Mark Rothko, the eccentric real-life artist who was commissioned to paint works for New York's Four Seasons restaurant and felt conflicted about taking such a commercial job. 
Molina spoke to Southern California Public Radio about his portrayal of Rothko and what "disappearing into a role" really means to him.
Molina found himself intrigued with Mark Rothko before deciding to play him.  He points out, "Like so many interesting characters that one gets to play, he's full of contradictions. All the most interesting characters are, in the same way all the most interesting people in life are often paradoxical and seemingly contradictory … Theatrically, in terms of playing characters, that's where the really interesting grit is. It's in those areas where things get confused, things get conflicted and contradictory, that's where the most interesting part of character is in many ways because you have to resolve that for the audience and make all those contradictions equally valid. If the audience is agreeing with you one second and disagreeing with you the next, totally with you one moment and totally against you the next, then you're halfway to doing your job because that means — hopefully — they're going through the same sort of conflict that the character is."
Since Molina inhabits the roles so effectively, the interviewer asks him  if it is cliche to talk about actors "disappearing into their parts."  But Molina disagrees and explains, "I don't think it's so much a cliche as it is something character actors really aim for. There's a great joy and satisfaction in being able to in some way, disappear … If you can lose yourself in it somehow — and it's not about being real, it's about being authentic — if you can be authentic enough so the audience to relax … that's part of the craft we all take pride in is being able to somehow submerge ourselves to a certain degree.
Latest Videos
http://www.dailyactor.com/wp-content/uploads/2014/07/bill-hader.jpg
Bill Hader: "I kind of fell into acting" (video)
Bill Hader, starring in the soon to be released The Skeleton Twins, talks about the film and how he fell into acting and then got "crazy lucky" in this quick video from USA Today. Share on Tumblr
http://www.dailyactor.com/2014/07/bill-hader-fell-into-acting-video/
http://www.dailyactor.com/wp-content/uploads/2014/07/director-john-carney-narrates-a.jpg
Director John Carney Narrates a Scene from 'Begin Again' Starring Kiera Knightley and Mark Ruffalo
Director John Carney (Once) narrates a scene from his new film, Begin Again. Starring Keira Knightley and Mark Ruffalo, the scene shows the first time the two characters meet. I haven't seen it yet but I've heard it's great.
http://www.dailyactor.com/2014/07/begin-again-scene-director-john-carney-keira-knightley-mark-ruffalo/
http://www.dailyactor.com/wp-content/uploads/2014/07/holler-if-you-hear-me-gma.jpg
Watch the Cast of Broadway's 'Holler If You Hear Me' Perform 'California Love' on GMA
The cast of Broadway's newest musical, Holler If You Hear Me with music from Tupac Shakur, performed on Good Morning America this morning. Singing 'California Love', the cast (including the teriffic Christopher Jackson – read our interview here), show why they're the most energetic and inspiring group of actors on Broadway. Holler If Ya Hear [...]
http://www.dailyactor.com/2014/07/watch-cast-broadways-holler-hear-perform-california-love-gma/
http://www.dailyactor.com/wp-content/uploads/2014/07/behind-the-scenes-of-dawn-of-the.jpg
Behind the Scenes of 'Dawn of the Planet of the Apes' with Performance Capture Actor Terry Notary
Actor Terry Notary is 1 of 5 actors playing the apes in the new Dawn of the Planet of the Apes. "When you see armies of apes," he says, that's "five of us." Check out the video where you can watch his performance capture work.
http://www.dailyactor.com/2014/07/dawn-planet-apes-performance-capture-actor-terry-notary/
http://www.dailyactor.com/wp-content/uploads/2014/07/melissa-mccarthy-daily-show.jpg
Melissa McCarthy and John Stewart Talk About Terrible Commercial Auditions on 'The Daily Show'
Melissa McCarthy stopped by The Daily Show last week to plug about her new movie, Tammy. She talked about how she loved working with her husband, Ben Falcone (director of Tammy) and then segued into talking about some horrible working situations. The always hilarious McCarthy then started to tell host John Stewart about a particular [...]
http://www.dailyactor.com/2014/07/melissa-mccarthy-john-stewart-commercial-auditions-the-daily-show/